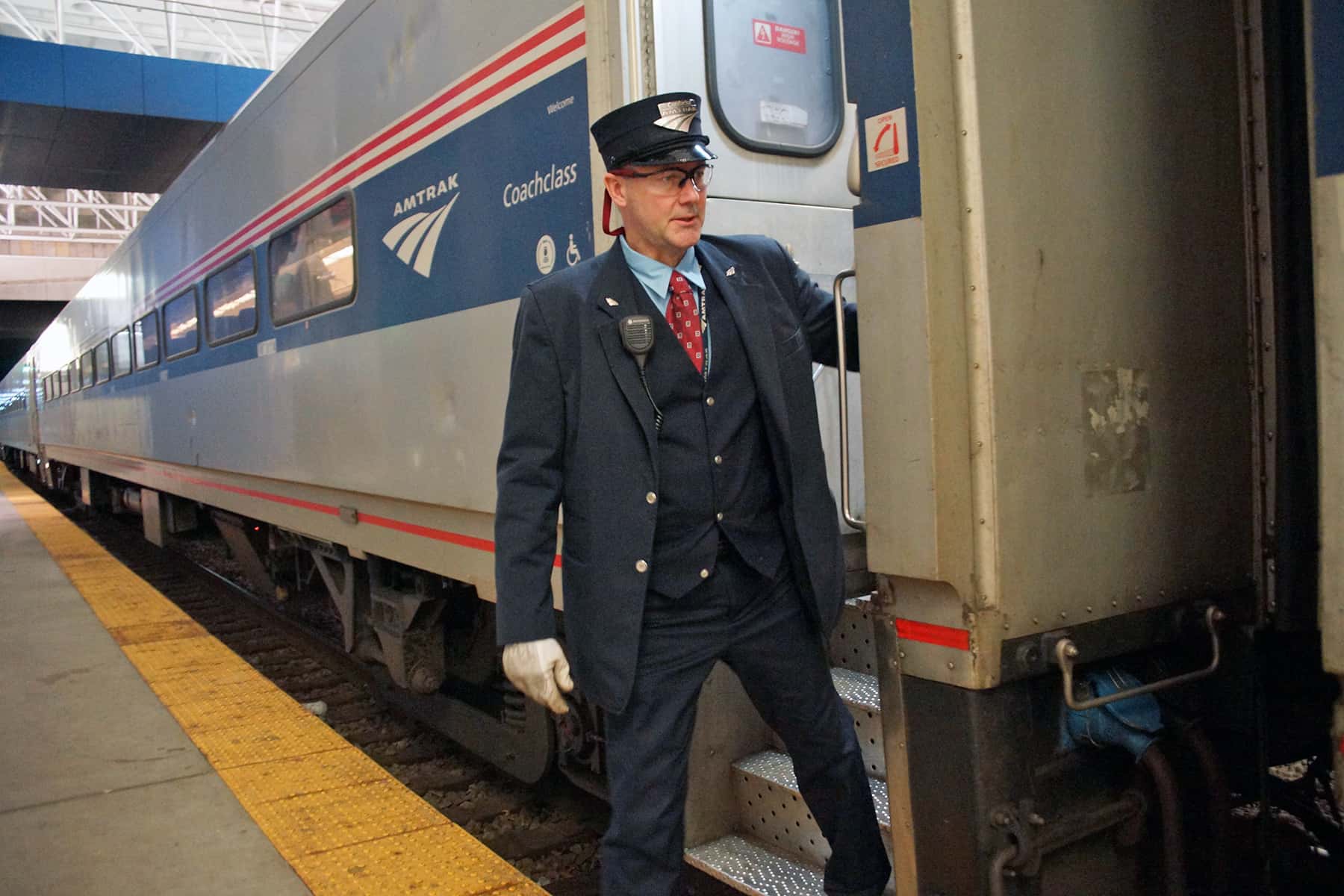 The Milwaukee-Chicago Amtrak Hiawatha Service served an all-time record of more than 858,000 passengers in calendar year 2018, a 3.6 percent increase over calendar year 2017.
Ridership has more than doubled since 2003 when the service began providing seven round-trips daily.
"More people are using the Amtrak Hiawatha every year to avoid traffic congestion, tolls, and parking, and have time to work or relax while traveling," says WisDOT Secretary-designee Craig Thompson.
Wisconsin Department of Transportation (WisDOT) recently was awarded a $5,050,000 grant to improve reliability, safety, and accessibility of the Milwaukee Airport Railroad Station(MARS). The Federal Railroad Administration (FRA) issued the Consolidated Rail Infrastructure and Safety Improvements (CRISI) program grant to construct a second platform at the station, as well as elevator towers and an overhead pedestrian bridge to connect the new platform to the station.
The new platform will enable trains to operate on both existing tracks, instead of just the eastern track which allows freight and passenger trains to operate more efficiently and reliably. The project is expected to be completed in 2022.
The Hiawatha Service travels between Milwaukee and Chicago in under 90 minutes, with stops at the Milwaukee Intermodal Station, Milwaukee's Mitchell International Airport, Sturtevant, Glenview, IL, and Chicago Union Station. It also has one of the nation's best on time records with more than 96 percent of trains arriving on-time.
"Hiawatha Service is about moving people and connecting them to work, school and family. Amtrak is proud to be a partner with Wisconsin and Illinois to provide safe, reliable and quick rail service between Milwaukee and Chicago," said Joe McHugh, Amtrak Vice President, State Supported Services. "We look forward to inviting even more customers with an expansion of the service."
The Hiawatha Service, supported by both Wisconsin and Illinois Departments of Transportation (DOT), is part of Amtrak Midwest, a network of regional trains that connect cities across the Midwest. Amtrak Midwest offers connections such as Milwaukee-St. Louis 3 times daily, Milwaukee-Dearborn/Detroit/Pontiac 2 times daily, and many more. The network made schedule adjustments this past year to improve connections between trains connecting at Chicago.
The Hiawatha Service and Amtrak Midwest trains offer premium accommodations with large reclining seats with spacious two-across seating, tray tables, reading lights, complimentary wi-fi, spacious restrooms, and power outlets.
Amtrak Thruway bus services also provide convenient connections between the Hiawatha Service trains in Milwaukee and other cities across Wisconsin including Madison, Oshkosh, Appleton, Green Bay, Wausau, Sheboygan, Manitowoc, and many more.
Frequent Amtrak Hiawatha riders have the option of purchasing a 10-ride pass or monthly pass for discounted travel. Discounts are also provided to seniors, veterans, children and college students.
Significant improvements to the service over the past few years include: roll-on bike service, allowing small pets on board, complementary wi-fi, introduction of new locomotives, improved boarding, a new late-night Friday train, and a new train concourse at the Milwaukee Intermodal Station.
Improvements planned for 2019 include additional refurbished coach cars and seating capacity to accommodate growing ridership. The Wisconsin and Illinois DOTs, in partnership with Amtrak, and in coordination with the Federal Rail Administration also are completing a plan that would expand service from seven to ten roundtrips daily.