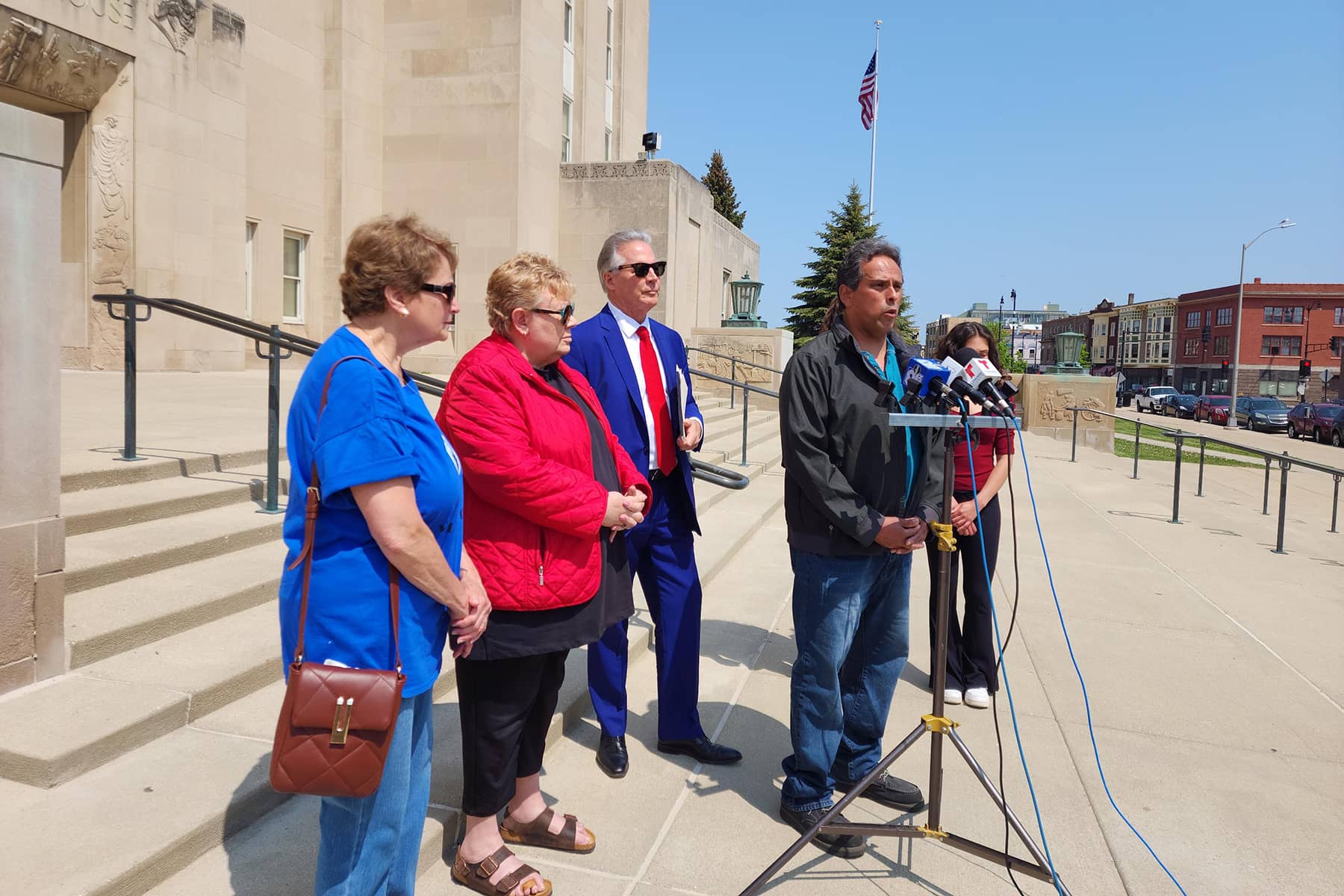 A heated lawsuit is underway in the quiet suburban neighborhood of Mount Pleasant as Carlos J. Amaya and Laura V. Amaya filed a lawsuit against their neighbors, James I. Coots and Cindy J. Coots on May 23. The lawsuit also includes ABC Insurance Company, alleging liability for damages.
The plaintiffs claim a series of incidents involving harassment, trespassing, and property disputes that have strained neighborly relations over the past few years. The Milwaukee-based Hispanic advocacy organization Forward Latino was contacted two years ago by the Amaya family, seeking legal assistance and protection from James and Cindy Coots. Over the following months, every act driven by hate was documented.
"We are here today to take an action, to let the world know that wherever people act from hate, wherever people attack the freedoms, liberties, and protections of others – you will find us there," said Darryl Morin, National President of Forward Latino. "Forward Latino, with our allies at the Racine Interfaith Coalition and others, are standing up to say not today. Not anymore. Not on our watch."
The lawsuit, filed by the Amayas' attorneys at Gingras, Thomsen & Wachs, LLP, at the Racine Courthouse on May 23 outlined a pattern of disturbing behavior allegedly displayed by the Coots since their arrival in May 2019. The complaint provided a detailed account of the incidents, which have caused emotional distress and impacted the quality of life of the Amaya family.
According to the lawsuit, the Amayas and their neighbors enjoyed a positive relationship until the Coots moved in next door. Shortly after their arrival, the Coots installed surveillance cameras that were aimed at the Amayas' property.
The action caused discomfort and was viewed as an invasion of privacy. Bright lights were also installed, directly facing the Amayas' home, which further contributed to their distress.
Incidents of confrontation escalated, including verbal altercations and threats. In mid-July 2019, Cindy Coots allegedly yelled at Carlos Amaya and removed a stake that was being used to measure the property line.
James Coots reportedly warned Carlos Amaya about his wife's temper, stating that "she can shoot." Tensions continued to rise as the Coots trespassed onto the Amayas' property, disputed lot lines, and failed to rectify the situation even after being notified of the inaccuracies.
Racial slurs and discriminatory language were also directed at the Amayas by the Coots. In September 2020, Cindy Coots accused Carlos Amaya of trespassing, claiming to have captured it on her surveillance cameras. However, it was later revealed that it was a case of mistaken identity involving another individual of Latino descent.
The situation reached a boiling point on April 25, 2021, when Cindy Coots called the Mount Pleasant Police Department to report the Amayas for watering trees. During the call, she reportedly threatened the Amayas with a gun. The incident resulted in Cindy Coots being charged with misdemeanor disorderly conduct.
"I want to thank everyone for being here today, especially to Forward Latino. Without them, this wouldn't be happening. It is a blessing to find an organization to help not just Latinos, but anyone in need," said Carlos Amaya, during a press conference after filing the lawsuit. "Unfortunately, we had to come to this level. We did everything we could to try to find peace, to make things work amongst our neighbors. But regardless of what efforts we made, things escalated and escalated aggressively. Things evolved with guns, with lights, with cameras, with violation of our property by trespassing, things of that nature. So we find ourselves here, on courthouse steps, in need of legal action to resolve things."
The Amayas further alleged instances of false police reports made by the Coots, unfounded accusations, and ongoing harassment. The Amayas maintain that their neighbor's actions have caused emotional distress and have violated their right to enjoy their property peacefully.
In response to the lawsuit, the Amayas' attorneys have called for a written answer to be filed within 45 days of receiving the summons. Failure to respond could result in a judgment being granted against the Coots. The Amayas are seeking compensation for damages and resolution of the ongoing disputes.
The Amayas' legal representatives have urged the defendants to seek legal counsel to respond appropriately. They emphasized that a failure to answer the complaint could result in adverse legal consequences for the defendants, including a potential monetary judgment and a lien on their property.
"Sadly, we continue to hear inflammatory and disingenuous statements made by certain elected officials that target individuals for their race, ethnicity, language, or orientation," added Morin. "It is this rhetoric that has empowered individuals with hate in their heart to act in a manner that attacks the dignity, the protections, and the very freedoms assured every American in our Constitution."
As the legal battle unfolds, tensions continue to run high between the neighbors in the Mount Pleasant community. The past few months have been dominated by national headlines of shootings, where neighbors target innocent individuals in proximity to their property.
On April 13, 16-year-old Ralph Yarl was shot twice and wounded by the owner of the house whose doorbell he rang, thinking it was the home where he was supposed to pick up his two younger brothers. Others have lost their lives over similar tragic errors. Just two days after Yarl was shot on April 15, Kaylin Gillis, a 20-year-old passenger in a car that turned around in a driveway in upstate New York, was shot and killed.
The reoccurring series of incidents highlights the growing national trend of armed property owners using unjustified deadly force. For the Amaya family, the outcome of their case will depend on the presentation of evidence later this summer.