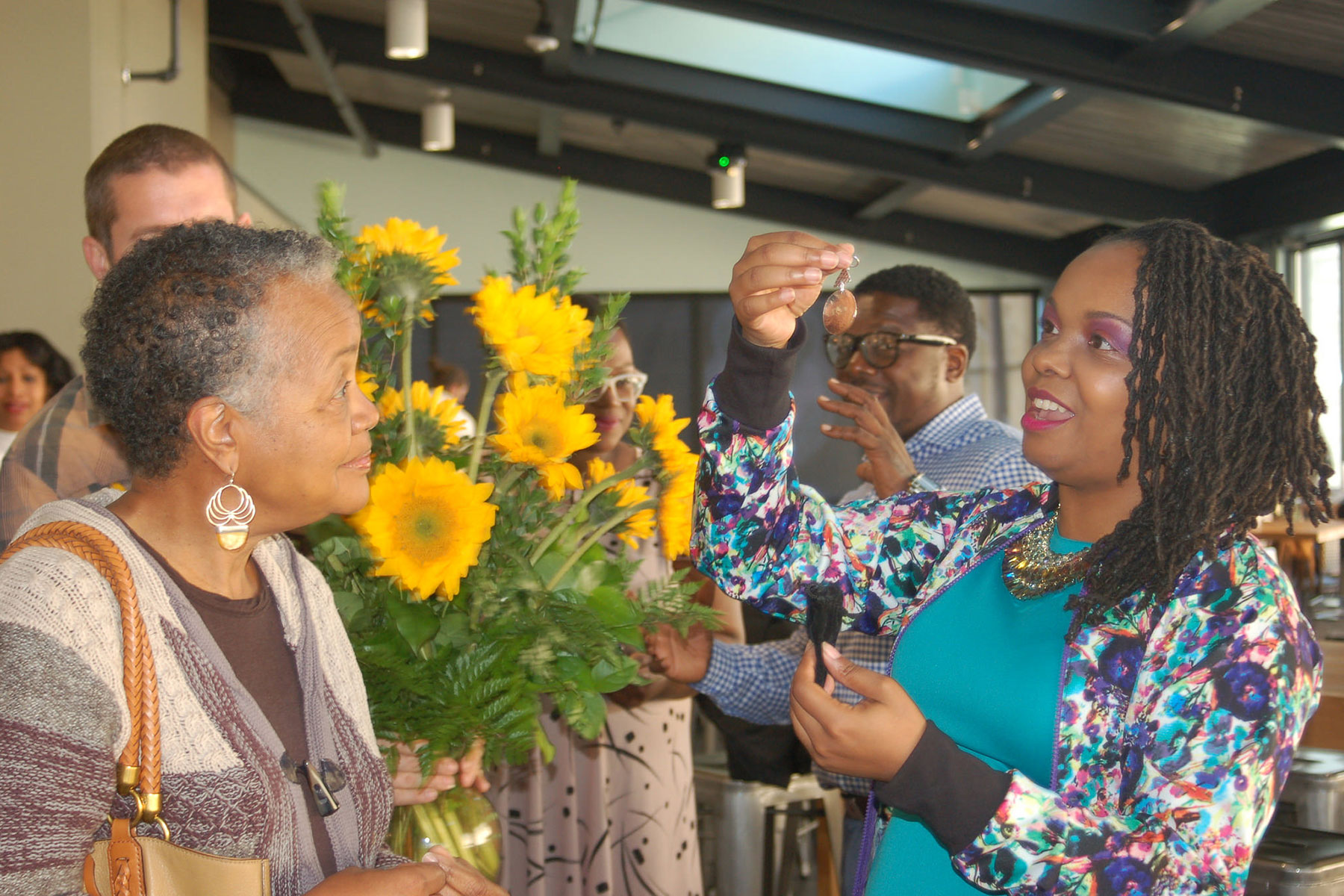 Sharon Adams sent LaShawndra Vernon sunflowers during a difficult week in Vernon's first 100 days as the executive director of Walnut Way Conservation Corp. The note attached to the flowers said, "You are my sunshine."
At Vernon's 100 Days of Service Celebration Brunch at The View at Evolution Milwaukee, a bright yellow bouquet of sunflowers sat on a table at the front of the room. It was a gift for Larry and Sharon Adams, Walnut Way's founders.
One hundred days into Vernon's role as executive director, Walnut Way celebrated the successful transition of leadership, honored both new and veteran staff and looked toward the future.
"They've been amazing and they've been challenging," Vernon said of her first 100 days with Walnut Way. "They've been painful some days, but I'm in the exact place I'm supposed to be."
An important component of Vernon's first 100 days has been working on Phase II of The Innovations & Wellness Commons, known as The Commons, at 1615 W. North Ave.
Phase I focused on healthy food in Lindsay Heights. The Commons was completed in October 2015 and houses the Milwaukee Center for Independence, Outpost Natural Foods, the Fondy Food Center and The Juice Kitchen.
Phase II of The Commons, which has a price tag of $4.2 million, is a new building that will focus on physical, educational and economic wellness. Tenants in the new building are expected to include CORE/El Centro, Engineering for Kids and Milwaukee JobsWork. The building also will include Walnut Way administrative space, a rooftop terrace and meeting room.
Kwabena Antoine Nixon, a poet and leader of the I Will NOT Die Young Campaign, said he looks forward to what Walnut Way will do to continue creating health and wellness opportunities in Lindsay Heights.
"Having something like The Innovations and Wellness Commons, that's something that can be a model of what can be duplicated throughout the city and throughout the country. It can be contagious," he said.
One of Vernon's top priorities is to complete the capital campaign for Phase II of The Commons, which she hopes to accomplish by next spring. She plans to raise funds for Phase II through a combination of in-kind donations, foundation grants and a limited exploration of credit options. Vernon said the goals are to stay debt free and encourage donations from the community. Walnut Way will plan to break ground on the new building after the funds are raised.
Since she began in June, Vernon also has been building her staff, which includes new hires and people who were working at Walnut Way before the transition. Vernon redesigned three roles at the nonprofit, creating the positions of operations manager, director of finance and administration, and the individual and planned giving manager.
Operations manager Lelah Huntley, who began working at Walnut Way in September, has been involved with the organization for about five years. She is responsible for running Walnut Way's commercial and residential properties.
Vernon and Huntley have known each other since high school. "It's a great thing because we have the same vision," Huntley said. "We want to improve our community, so that's what I'm here for, to help and assist and make sure that change is happening and to make sure Lindsay Heights is growing to another level."
Throughout the transition into her role as executive director, Vernon said she has received outstanding support from Sharon and Larry Adams. Sharon Adams said she is delighted by what Vernon has done for Walnut Way so far.
"I think her work has been stellar," Adams said. "She's embraced the values of Walnut Way, of resident-led, community-based solutions, and added to that her phenomenal vision of being a sustainable Walnut Way."
Board member Antonio Butz praised the work of the founders and Vernon's role in the organization so far.
"Larry and Sharon carried the torch a very long way," Butz said. "We should find comfort that they've passed it to new leadership that can fulfill the purpose of the existing organization. Their legacy will be carried forward."