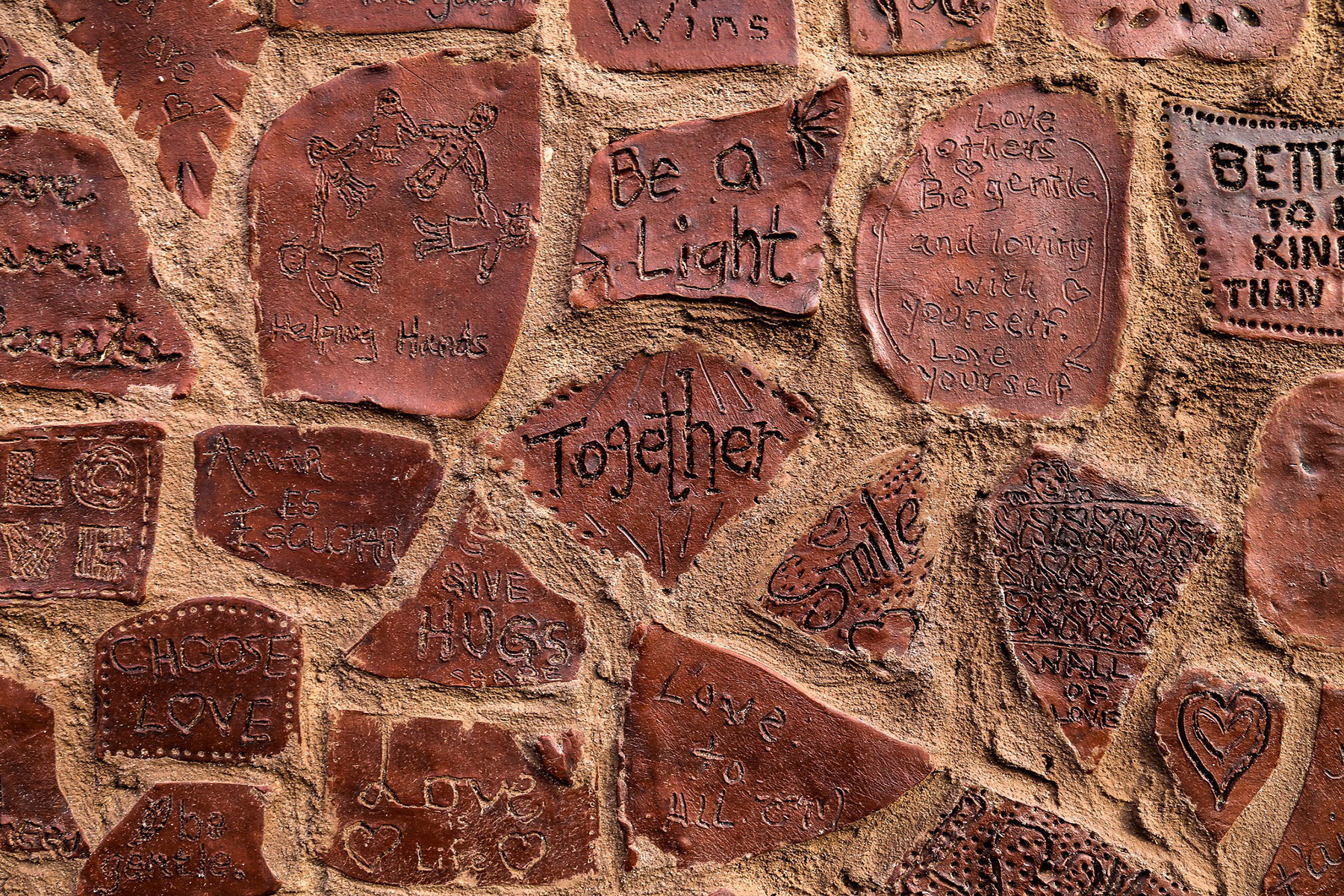 The first Walls of Strength installation was mounted recently at Ascension Lutheran Church in Clarke Square.
The idea formed late one night, when Lori Gramling was ruminating over presidential candidate Donald Trump's talk of building a wall.
"I was so bothered by the negativity. I heard a voice nagging me, 'Ya know what, let's build a wall. A different kind of wall,'" recalled Gramling, psychologist and owner of Tree of Life Earthworks.
Gramling brought her wall-building idea to the Sisters Central City Circle of Change, a group of professional women committed to creating change in Milwaukee. The Sisters Circle mulled over the idea and helped Gramling bring the project, called Walls of Strength, to fruition.
Walls of Strength aims to combat fear, contempt, cynicism and despair by allowing Milwaukee residents to inscribe positive messages into clay stones. The stones are then assembled and mortared together to create a wall with three segments: hope, love and courage.
The word courage comes from the Latin word "cor," which means heart. Gramling explained that this word is the centerpiece of the project.
"Courage, love and hope are natural, innate and powerful energies around us, and it's important that those energies are accessible to people in community," said Shalina Ali, a member of the Sisters Circle.
People living in the inner city are so busy: working, supporting themselves and their families, driving kids to school and activities, trying to make healthy choices, Ali said. "We get caught up in survival. This project is about taking back the narrative… and remembering to pause. It's about remembering resilience and human nature," she added.
"There isn't a lot of exchange between communities in Milwaukee. This project is a way of telling stories to make people just people again," said Gramling.
The Tree of Life Earthworks studio opened its doors to the public and kicked off the Walls of Strength project in September during Doors Open Milwaukee. More than 400 visitors walked through the studio in two days and 263 of them wrote on clay stones for the wall.
Gramling recalled one visitor who made a strong impression on her: a young girl who spent close to an hour working on her clay stone. When she finally finished, she cradled it between her hands as if it were the most precious thing she had ever held. She walked up to Gramling and handed over the stone.
The stone read HOPE, which she used as an acronym for: Hold On, Pain Ends.
"She looked at me with these deep soulful eyes and I could tell she already had a rough life," said Gramling.
According to Ramona Johnson, a member of the Sisters Circle for more than eight years, the project could not exist without community participation. "I think it's neat that people actually have their hands in this project, like they are literally putting their hands in and on the community," she added.
"As much as it seems like individual pieces, they all come together to create a bigger meaning," said Marcelo Alamo, a MIAD graduate and artist who painted an arch for the finished wall.
"It's amazing to see people from all walks of life come together and support each other and the community," he added.
The first installation was mounted in front of Ascension Lutheran Church at 1236 S. Layton Blvd. in Clarke Square. The wall is visible from the street, allowing those who drive or walk by to immerse themselves in positive messages.
"Every time I pass by it, I recognize it will be there today, tomorrow, next week, next month. It stands strong because of the ideals behind it," Alamo added.
Monica Perez, a member of the Sisters Circle, said spreading messages of courage, love and hope is essential. "It is important that people feel valued, seen and heard," said Perez. "When people don't feel connected you start to see all the negative slip through."
Noted Sue Engstrom, a member of the Sisters Circle, "There is nothing like someone feeling they have been heard; it takes anger and dissipates it."
However, Gramling explained that not everyone is receptive to the project. Some see it as a critique of President-elect Donald Trump; others are put off by the negative connotation around the word "wall" and cannot connect with the project's true meaning.
One woman commented that she did not like the idea of walls at all. She didn't understand why they project metaphor couldn't be something less controversial, such as a bridge or a door.
"Yes, walls can be used to exclude, but their purpose is to protect what is good," said Gramling.
Hundreds of people from Epic Center Community Organization, True Skool and Incarnation Lutheran Church have already inscribed their messages in clay for the second installation, which will be mounted at Incarnation Lutheran Church, 1510 W. Keefe Ave.
"It is starting to spread, which means we tapped into something that was needed," added another member of the Sisters Circle, Brenda Kilpatrick.
The goal right now is to finish three stationary walls that are "constant and concrete," said Alamo. But, as the project grows it keeps evolving. There is talk between the Sisters Circle and the University of Wisconsin-Milwaukee to create a moveable wall that can be transported to various clubrooms at the school, used by Muslim, Jewish and Christian groups.
Johnson said she hopes the Walls of Strength will decorate the entire city and beyond, becoming as common as Little Free Library boxes.
"There are no limits for this project. I hope it is like a fire that keeps growing and catching people's hearts," added Kilpatrick.