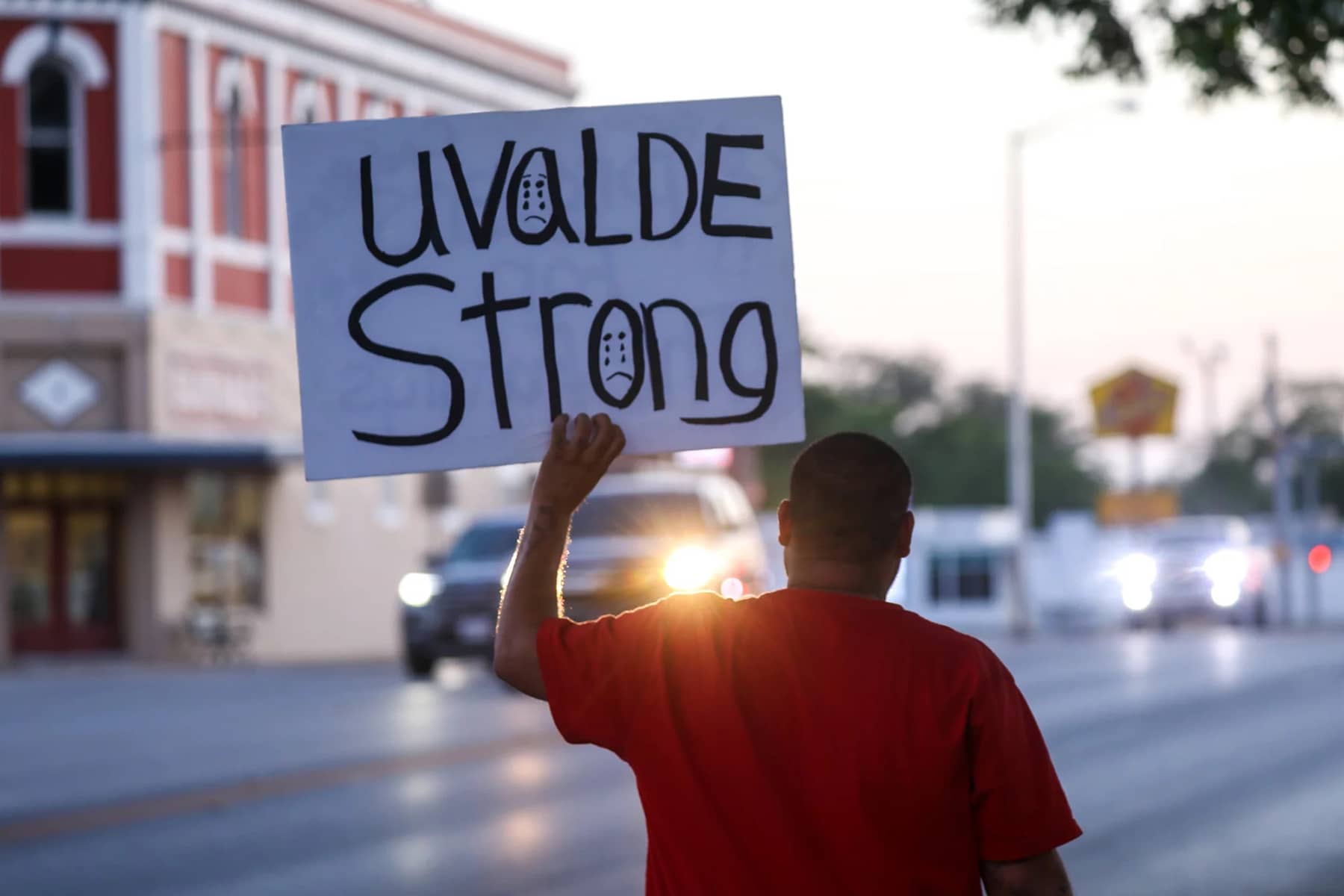 In the autumn of 2019, after an Assembly floor session that had already lasted more than seven hours, State Rep. Tyler August (R-Lake Geneva) gaveled open a special session called by Governor Tony Evers to take up two bills addressing gun violence — then immediately gaveled it out.
For Deb Andraca, that was the moment that made up her mind to run for office. Andraca, a substitute teacher from Whitefish Bay and a volunteer with Moms Demand Action, a national group campaigning for stronger gun laws, had been orchestrating meetings between lawmakers and other Moms Demand volunteers. "At that point was when I knew that we'd had it," she recalls. "Unless we were changing the legislators, we would not change the law."
A Democrat, Andraca went on to defeat seven-term incumbent Republican Rep. Jim Ott by a 57%-43% margin in the November 2020 election.
Changing the law has stalled, however, thwarted by the Republican majority in the Legislature. On the day after May 24's mass killing that left 19 children and two teachers dead at an elementary school in Uvalde, Texas, Andraca said, "I don't know what it's going to take."
Since taking office representing Milwaukee's North Shore suburbs, she and her fellow Democrats in the Legislature have tried to pass bills that would place some limits on the proliferation of firearms.
In September 2021, along with Attorney General Josh Kaul, they introduced essentially the same bills that were stranded in the 2019 special session. One would close loopholes so that all gun sales include a background check, including private transactions and those at gun shows. The other would enable courts to order the confiscation of a person's guns under an extreme-risk protection order — a so-called "red flag law."
The bills languished in committee, where the agendas are controlled by the Legislature's Republican leaders. Republicans, meanwhile, have passed other bills loosening Wisconsin's existing gun regulations; when the Democrats offered amendments such as background checks, those failed on party-line votes.
On May 25, Kaul told reporters that the Legislature should go back into session immediately and take up those two bills, and other measures as well.
The attorney general had scheduled a news conference to unveil a new online system for sexual assault survivors to keep track of how their assault tests are processed. Kaul focused instead on the Texas school shooting and the Wisconsin Legislature's failure to address gun violence.
On May 20, the state Supreme Court made a ruling that a man convicted of disorderly conduct after breaking into his estranged wife's home and threatening her with a two-by-four could not be disqualified for a permit to carry a concealed weapon. That decision "is going to make it easier for people who have committed domestic violence to get firearms," Kaul said. "And I have not seen the Legislature lift a finger in the few days since then."
Kaul pointed to programs in the Wisconsin Department of Justice, including an office of school safety, guidance to schools on safety practices and a threat assessment protocol, along with critical incident response teams and a "Speak Up, Speak Out" system that can be used by people with information about potential dangers to students.
He also credited lawmakers "who have fought for common sense gun safety legislation." Since he and Evers took office, they have tried to help such legislation advance, he said, "and we have seen absolutely no action on these issues from Republicans in the Legislature."
Measures that lawmakers can take would make a difference, Kaul said. "Things like keeping guns out of the hands of domestic abusers, universal background checks, prohibiting ghost guns — these are steps that have broad public support. What we lack is legislative will."
Evers released a video and statement on May 25 calling on the Legislature to take action. "In this state, we cannot accept policies and rhetoric that will make this problem worse while commonsense measures supported by an overwhelming majority of Wisconsinites go nowhere," the governor said. "I will work with any Republican who wants to find common ground, who wants to make progress on gun safety, who wants to pass legislation a majority of Wisconsinites will support."
Stalled proposals
Andraca, in an interview on May 25, expressed the same frustration: "We have not passed a single gun bill this past session."
Some proposals had raised hope, such as a bipartisan measure a year ago to prohibit people convicted of a misdemeanor domestic violence crime from owning guns. That would have been timely in light of the May 20 ruling, Andraca said. But the bill never got a public hearing, and the Assembly Republicans who had originally co-sponsored it later withdrew.
Another bill was designed to curb suicide by gun owners. It provided for grants through the state Department of Health Services to train employees of gun shops and gun ranges to recognize customers who might be considering suicide and offer them free storage for their weapons to get them out of the house. Both Assembly and Senate versions had bipartisan support, public hearings and bipartisan committee votes. Neither got any farther.
There were other bills to promote gun safety that Andraca and her colleagues introduced to no avail. One would have held gun owners responsible for locking their cars if a gun was inside, "because an awful lot of firearms are being stolen out of cars," she said.
Meanwhile, the Republican majority introduced bills loosening Wisconsin gun laws. "They wanted to do away with concealed-carry permits altogether," Andraca said. "It's the exact opposite direction that voters want."
That bill never passed. Nor did a proposal to reduce the concealed-carry license age to 18 from 21. But other bills did, such as one that would block local authorities from enforcing some federal gun laws, and another allowing concealed-carry permit holders to bring guns in their cars onto school grounds. Evers vetoed those bills, as well as others that would further relax the state's gun regulations.
Assembly Speaker Robin Vos, in an interview with WisconsinEye recorded before the Texas school shooting, described the GOP gun bills as "making it easier to own a firearm to protect yourself dealing with crime." They were, he said, among "a lot of really good ideas" that his party had passed only to be vetoed by Evers.
Surveys show that what the public wants is stronger background checks, Andraca said. "And they want to see an extreme risk protection order [provision], which will allow law enforcement to take guns from those who might be a danger to themselves or others."
When she heard the news of the May 24 Texas shootings, Andraca was on her way to a meeting in Milwaukee to address gun violence in the aftermath of a Milwaukee Bucks game earlier this month.
Just a week after the murder of 10 Black people at a grocery store in Buffalo, N.Y., "it was a lot to take when all of this is happening so close together," Andraca said. "The Texas one was particularly hard for me, being an elementary school teacher. Because I've been in the classroom. I've done those lockdown drills. I have two daughters." Those experiences are what led her into her activism with Moms Demand Action.
"And we said never again after Sandy Hook," Andraca said. "And here we are."
Donate: Wisconsin Examiner
Help spread Wisconsin news, relentless reporting, unheard voices, and untold stories. Make a difference with a tax-deductible contribution to the Wisconsin Examiner