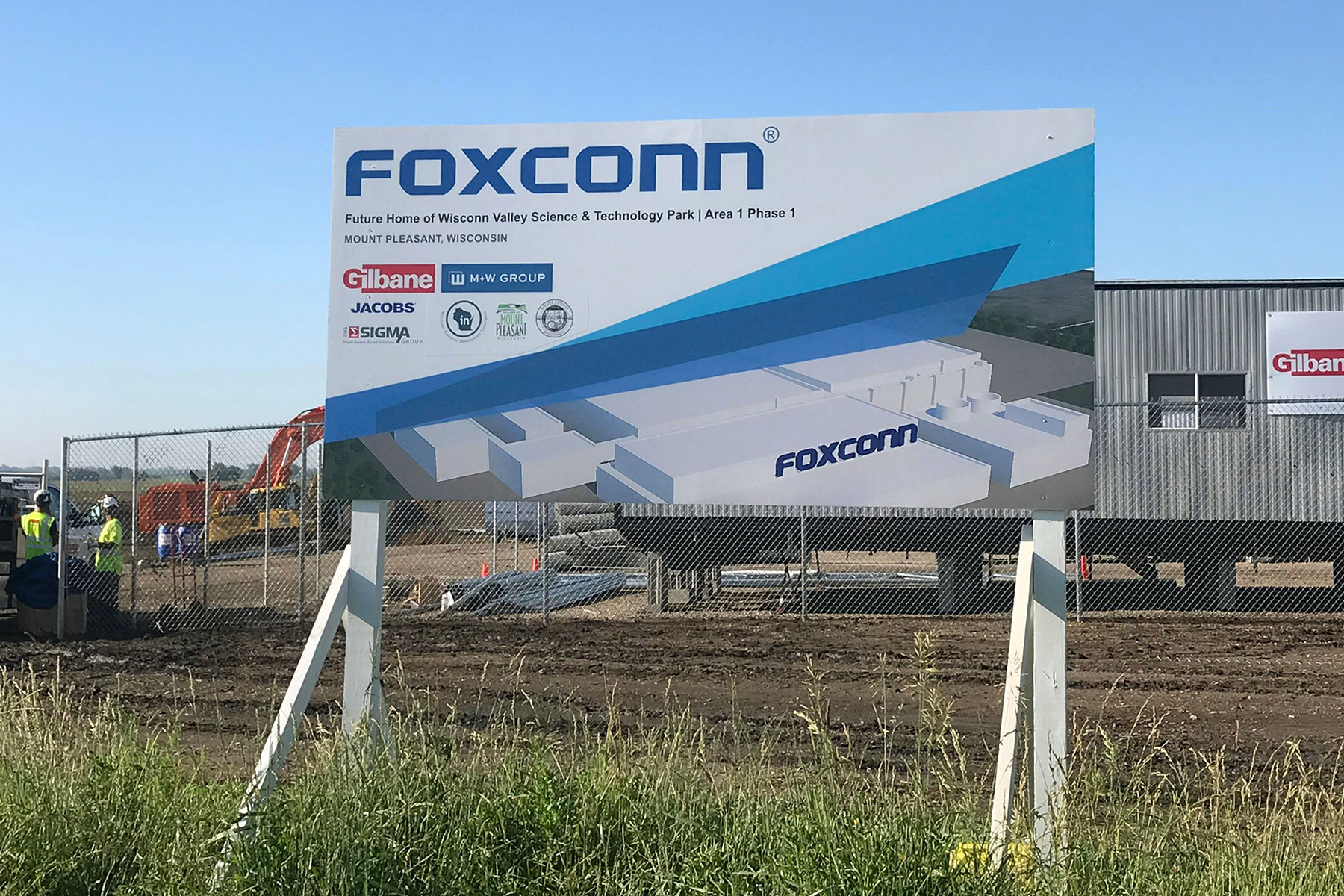 President Donald Trump was highlighting his economic policies on June 28 by taking part in the ceremonial groundbreaking for a $10 billion Foxconn factory complex that may bring thousands of jobs to a state he barely carried in the 2016 presidential election.
But Trump's celebration comes amid less-rosy economic news, with Harley-Davidson's announcement it's moving some motorcycle production overseas to avoid European Union tariffs that are a product of Trump's escalating trade dispute with long-standing U.S. allies.
The president was irked by the Milwaukee-based company's announcement this week and tweeted about it for three straight days, writing that any shift in production "will be the beginning of the end" for the iconic American manufacturer and even threatening retaliatory taxes.
Trump's presence in Wisconsin was the subject of protests both in Milwaukee, where he spent a rare weeknight away from the White House, and in Mount Pleasant, where final preparations were under way for the groundbreaking.
Chants of "Hey, hey, Ho, ho. Donald Trump has got to go" were heard near the Pfister Hotel, where Trump overnighted and attended a pair of closed-door campaign events before heading to the groundbreaking and tour of an existing Foxconn facility. Governor Scott Walker and House Speaker Paul Ryan, R-Wisconsin, were among those joining the president at the fundraisers.
About 50 people walked from a downtown park to as close as they could get to the roped-off hotel, hoping Trump hears their calls to reunite migrant families separated at the U.S.-Mexico border after the president decide to prosecute everyone trying to enter the U.S. illegally.
As the president hobnobbed with supporters, his wife, Melania, was making her second trip in a week to the southern border to visit detention centers housing migrant children. She toured a Texas center last Thursday.
Christine Neumann-Ortiz, executive director of Voces de la Frontera, an immigrant rights organization, said the family separation issue is not unique to border communities. She said it is also happening in the U.S. interior where deportations have increased.
"The scale of human rights violations that are being inflicted on children and families by the current administration should shake us to our core," she said.
Protesters were also gathering near the Foxconn Technology Group campus in Mount Pleasant, about 30 miles south of Milwaukee. Nearly 40 groups representing students, environmentalists, civil rights advocates, teachers, union workers and others have organized an event featuring dozens of speakers.
Foxconn is the world's largest electronics contract manufacturer and assembles Apple iPhones and other products for tech companies. Based in Taiwan, it chose Wisconsin after being prodded by Trump and others, including Ryan, whose district will include the plant. The project could employ up to 13,000 people, though opponents say it is costing Wisconsin taxpayers too much.
The ceremonial groundbreaking was supposed to be evidence that the manufacturing revival fueled by Trump's "America First" policy is well underway. But Harley-Davidson's announcement, spurred by the trans-Atlantic tariff fight, appears to have turned that on its head.
Walker is counting on a strong economy as part of his case for re-election in November. Wisconsin's unemployment is at record-low levels and Walker argues that the Foxconn project, the largest economic development deal in state history, shows the state is on the right track.
When the deal, reached with assistance from the White House, was signed last year, Walker said critics could "suck lemons" and "all of us in the state should be smiling, Republican and Democrat, doesn't matter."
A year later, opinion polls show Wisconsin voters are split on the project and the state of the economy.
Trump carried Wisconsin by less than 1 point — just under 23,000 votes. He's underwater in popularity, with only 44 percent of respondents in last week's Marquette University Law School poll approving of the job he's doing, while 50 percent disapproved.
Republicans were mostly unified in support of Foxconn, saying it is a once-a-generation opportunity to transform the state's economy. But most Democrats — including all eight of those running against Walker — are against it, arguing the potential $4.5 billion in taxpayer subsidies was too rich. If paid out — they're tied to jobs and investment benchmarks — the incentives would be the most paid to a foreign company in U.S. history.
Should Foxconn employ 13,000 workers as envisioned, it would be the largest private-sector employer in Wisconsin.
"Foxconn's state-of-the-art products will be made in the U.S.A. — proudly in the state of Wisconsin!" Walker tweeted, as he tried to shift the focus away from Harley-Davidson.
Dаrlеnе Supеrvіllе, Grеtchеn Еhlkе, and Scоtt Bаuеr