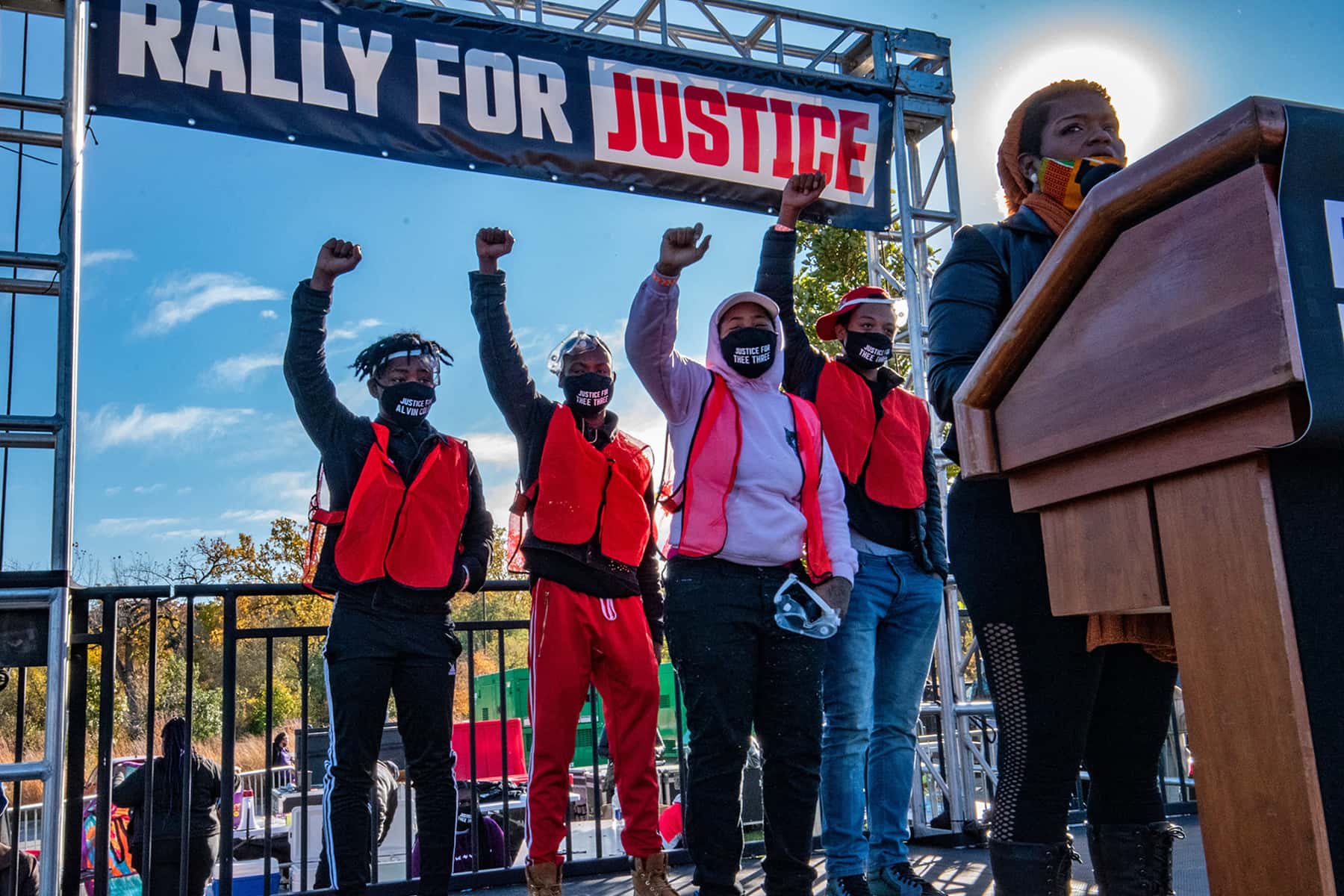 Wauwatosa protesters and residents gathered in Hart Park on Thursday, October 15 for a rally for justice for police shooting victim Alvin Cole, organized by Team Roc, the social justice arm of rapper Jay-Z's Roc Nation. The rally took place just a few blocks from the Wauwatosa village, a local business hub.
Hundreds gathered around the stage to listen to music and the voices of families from around the state who have experienced police violence. Following the rally the group took to Wauwatosa's streets, marching and chanting, as protesters in the suburb have been doing for months.
The Wauwatosa Police Department (WPD), which has maintained a heavy presence at other recent protests, was nowhere in sight. As the marchers traversed the streets, blocking traffic and chanting, a single drone shadowed them. March organizers did not know who was piloting it.
On October 14, the City of Wauwatosa posted bullet-pointed guidance on what it considers a peaceful protest. It stated that peaceful protests may include distributing fliers, picketing or protesting, chanting and singing — all if done on a public sidewalk, park, or plaza — as well as marching in the streets using one lane of traffic and proceeding in the right direction.
The post designated blocking access to buildings, marching in the streets using both directions of traffic, blocking intersections, driving motorcycles on sidewalks, fireworks, and shining strobe lights into homes as non-peaceful protest tactics. Other non-peaceful tactics listed included "noises that are unreasonable and disturb the quiet of residential neighborhoods, particularly in late night hours, such as honking horns, using bullhorns, or other loud noises."
After marching from Hart Park on October 15, protesters did use car caravans to escort the street marchers, blocking traffic and claiming the intersection of 76th and North Avenue for around an hour before heading home. No police stopped the event, threw out spike strips, deployed tear gas, or conducted arrests. And aside from the drone which shadowed the event from daytime until after the sun went down, there was no visible law enforcement presence anywhere.
In contrast, three days before the Roc Nation event, on the evening of October 12, marchers in Wauwatosa were met by WPD officers wearing gas masks. Despite Chief Weber's declaration at a press conference earlier that day that, with the curfew over, life in Wauwatosa was back to "business as usual," police declared the protest unlawful and swiftly arrested one marcher on a bicycle. The protester, according to a WPD press release, was charged with resisting an officer, which police said caused the officer a soft tissue injury — a felony.
The encounter was filmed by Sean Kafer, a local documentary filmmaker. As Kafer filmed, a WPD Lieutenant slapped the camera out of Kafer's hand, and threatened to pepper spray him. Local media picked up the story and views of the videos surged on YouTube. Despite the end of the curfew, marchers were met with a similar response to the one they had experienced in earlier protests — minus the National Guard, who had ended their Wauwatosa support mission.
Through support from the Milwaukee Freedom Fund, the protester was able to make bail. In Kafer's video, an officer is seen sprinting up to the protester before slipping or tripping into the bicycle as multiple officers rushed in. WPD says two WPD officers sustained minor injuries.
Reliving trauma on stage
For many, the trauma of clashes with police in recent days were still fresh on October 15. Activists and musicians from around the country traveled to the Roc Nation event. They expressed their sympathy to the still-grieving families who lost loved ones in the officer-involved shootings that started the protests, and offered words of encouragement to Milwaukee's marchers. Over a dozen groups, both local and out-of-state, coalesced to make the event possible. Among them were 50 Miles More, the ACLU of Wisconsin, CommForce MKE, The People's Revolution, Blak from Kenosha, Change Is Coming, The Gathering for Justice, Until Freedom, and many others.
Speakers included seasoned activists, poets, rappers, community leaders, and family members of police victims. Family members of 26-year-old Jonathan Tubby, a Native American man who was killed in a police shooting by Green Bay officers in 2018, talked about their traditional spirituality, which they said draws from nature and continues to give them strength. Michael Bell, Sr., who pushed for laws in Wisconsin preventing police departments from investigating their own shootings, also spoke. "I understand your pain," the former military officer told family members who lost loved ones in Wauwatosa.
Also in attendance were the families of Antonio Gonzalez, Jay Anderson, and Alvin Cole, all killed by Wauwatosa officer Joseph Mensah over a five-year period. They described their lost loved ones, and expressed the pain they continue to feel. Standing among them was Tracy Cole, the mother of 17-year-old Alvin Cole. Still recovering from injuries sustained during her arrest by Wauwatosa officers on October 8, she described the day of Alvin's funeral. "I had dressed my son for the last time," recounted Cole. "I placed my son in the casket for the last time. I did that as a grieving mother. And the day that I was out here fighting for justice for my son, Alvin, I get ambushed."
Cole re-told the story of her arrest. "Spikes were thrown in front of our cars," she said. "They grabbing my daughters and other protesters out of the cars on our way—look [at] it—we was on our way home!" Cole's arrest was livestreamed on her phone, and recorded by a Daily Caller journalist who was also arrested by officers as Mrs. Cole began screaming in the background.
Describing what she called an ambush, Cole said, "the next thing you know, they turn around to me and they say, 'get the F out this car,' and they pulled my hair. And once they pulled my hair, they started punching me in my face. I must've been jumped on by five of them. I blanked out. If people want to see what happened to me, my eyes are blackened. I had a big old bump on my head."
Following her arrest, Cole said that her doctor diagnosed a blood clot in her arm. Cole's arm was injured during her arrest, and is still in a sling. Prior to the incident, she had medical issues and walked with a cane.
Sean Lowe, chairman of Wauwatosa's Equity and Inclusion Commission also spoke. "Peaceful protesters were driven out of our city at 7 p.m.," said Lowe. "No more curfews! No more sundown laws in Wauwatosa! That's not equitable. That's not inclusive to the needs of my community when we are grieving out here."
"We have a right to peacefully protest in this city," Lowe added. "The protesters are not the problem. Police brutality is the problem. Joseph Mensah is the problem. Dragging Black mothers out of their cars is the problem." Lowe called the actions of police during Cole's arrest "despicable and disgusting."
Lowe, and John Larry, the chairman of Wauwatosa's Ad Hoc Committee on racial inequity and police issues, both of whom spoke at the Roc Nation event, have been criticized by Chief Weber and the Wauwatosa Peace Officers Association.
Larry is a local school teacher, and had Alvin Cole as a student in his class in elementary school. Larry recalled the teen fondly and said that he's been unable to sleep lately. Looking out at the crowd during the Roc Nation rally, he said, "enough is enough," before concluding with a smile, "tonight, I plan on sleeping."
Donate: Wisconsin Examiner
Help spread Wisconsin news, relentless reporting, unheard voices, and untold stories. Make a difference with a tax-deductible contribution to the Wisconsin Examiner
These headline links feature the daily news reports published by Milwaukee Independent about the George Floyd protests, the revival of the Black Lives Matter movement that followed, and their impact on the local community in for 8 months from May to December of 2020.