Summit on racism in Milwaukee confronts election results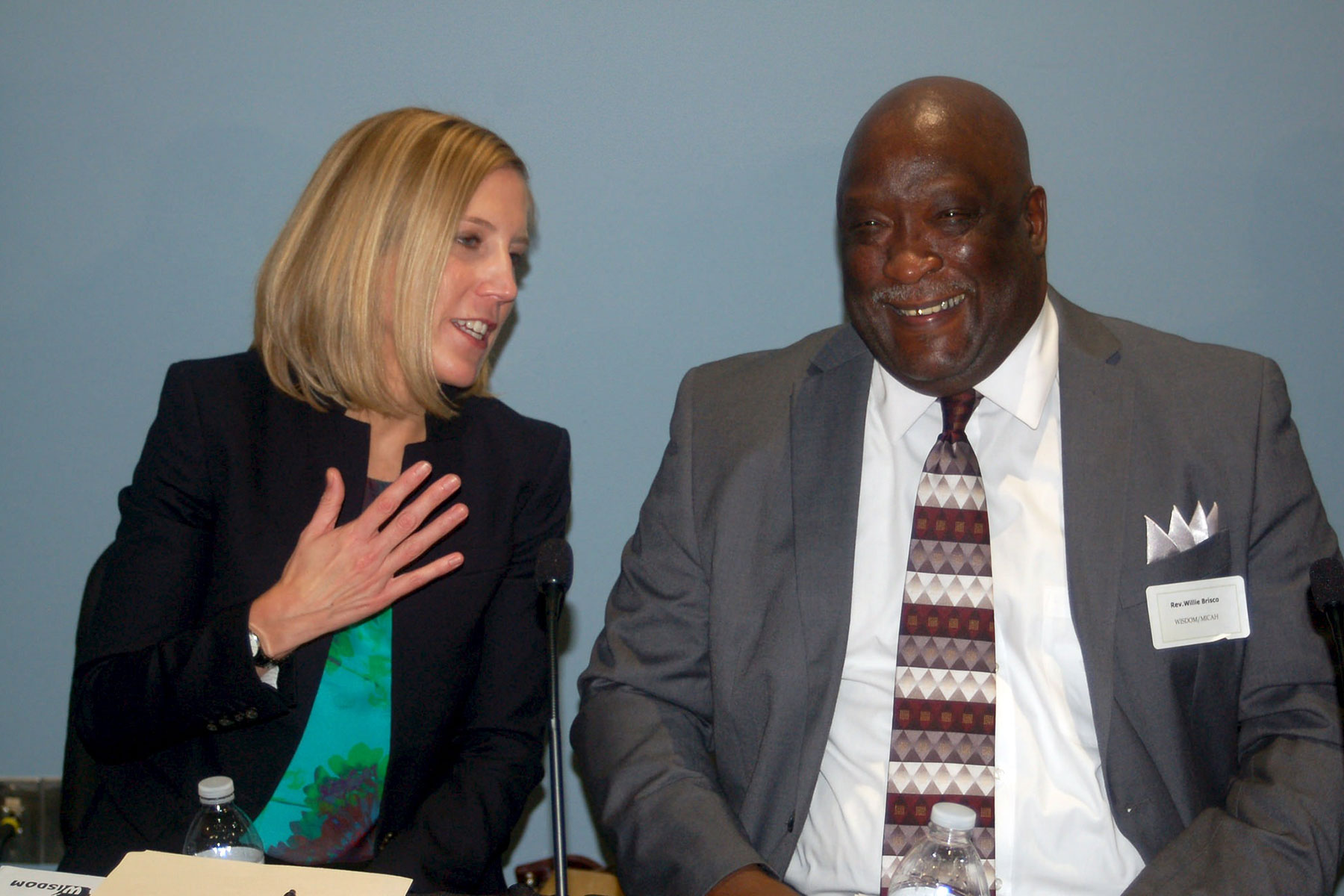 It was a beautiful Sunday afternoon in Sherman Park when Keisha Krumm, lead organizer for Common Ground, came face to face with the impact of institutional racism on Milwaukee's young residents.
One of several organizers talking to neighbors about possible improvements to Washington High School of Information Technology, Krumm came upon a group of children at a playground. The kids chattered excitedly as she showed off beautiful renderings of a genuine turf sports field and real track for running. All of a sudden, the group became quiet.
"We don't deserve that. We're not going to get that," a little voice piped up.
Repeated encounters with racism instill the message "that you don't deserve anything good, that good things don't happen in the hood," said Krumm, a panelist at the 10th Annual Henry W. Maier State of Milwaukee Summit, titled "A Frank Conversation about Race in Milwaukee."
"Racism manifests in stories children tell, the way they think. It's up to us to change that reality," Krumm added.
Krumm, Dr. Anne Bonds, associate professor in geography and urban studies at UW-Milwaukee, the Rev. Willie Brisco, Alderman Ashanti Hamilton, and Zilber Family Foundation Executive Director Susan Lloyd served as panelists, addressing a packed room at UW-Milwaukee's Zelazo Center for the Performing Arts, 2419 E. Kenwood Blvd. Dr. Robert Smith, associate professor of history and urban studies at UW-Milwaukee, moderated the discussion.
The results of the presidential election, only a few days before the summit, dominated the discussion. Panelists acknowledged the fear and concern expressed by students and family members.
"Our students are scared, our children are scared," said Bonds, who added that she is concerned about attacks on Muslim students.
"This is not the president of one race of people; Trump is the president of the whole U.S.," said Brisco. "We are going to make sure he's going to do what a president is supposed to do. Be not dismayed. Get off the ledges."
Bonds situated the political shift in a historical context, citing the election of Donald Trump within a clear and well-documented history of white supremacy after civil rights gains. President Richard Nixon's "southern strategy," for example, ushered in an era of "law and order" policing, effectively creating a prison industry built on the mass incarceration of people of color.
Unlike some panelists and audience members, Hamilton was not surprised by the election results.
"I wish I could tell you that I was shell shocked, that I have much greater faith in the electorate of this country, but I grew up in the city of Milwaukee," Hamilton said. He maintained that conditions for African-Americans have not significantly improved in his lifetime.
Panelists went on to discuss a range of topics, including the history of race-based housing policies, the effects of trauma, a dearth of jobs for African-American men, the Bucks arena and police-community relations in urban neighborhoods.
"Every public hearing has generated same recommendations, neighbors need more relationships with police," said Lloyd. "People are saying we don't want more police, we want better policing."
Michelle Mooney, a member of Common Ground for the past eight years, was particularly interested in Lloyd's comments. She said it was apparent that Lloyd has spent time listening to what neighborhood residents want. "If you didn't go and listen, you wouldn't know about these things," said Mooney.
When asked in an interview why the summit organizers selected the topic of race, Jamie Harris, senior lecturer and urban studies program associate director at UW-Milwaukee, said that the original impetus was the unrest in Sherman Park in August. They then decided to broaden the scope of discussion to race in Milwaukee as a whole.
"We wanted to try and move beyond just a rehashing of problems and concerns…to something more concrete in terms of real action plans or something that would be potentially successful in moving the needle and changing some of these things," said Harris.
Harris added, "I think people were really still in shock and numb, not fully processing the enormity of [the election results]. It was more subdued, both the panelists and the audience, than I expected."
Mooney said she wishes the conversation had dug deeper, adding, "I didn't hear anything that would seem to propel people into finding out more about race."
Informed by 25 years working in the criminal justice system, Brisco said that the application of law is slanted against African-Americans in Milwaukee.
"I saw people who come in from suburbs get probation for the same thing that gets people from the city in prison," said Brisco. "Now that heroin has come on the surface and is affecting Troy and Becky, it is considered to be an illness and an addiction."
Despite differences on specific issues, all the panelists agreed that racism is a pressing problem in Milwaukee. The summit's organizers are considering ways to follow up, but have announced no concrete plans.