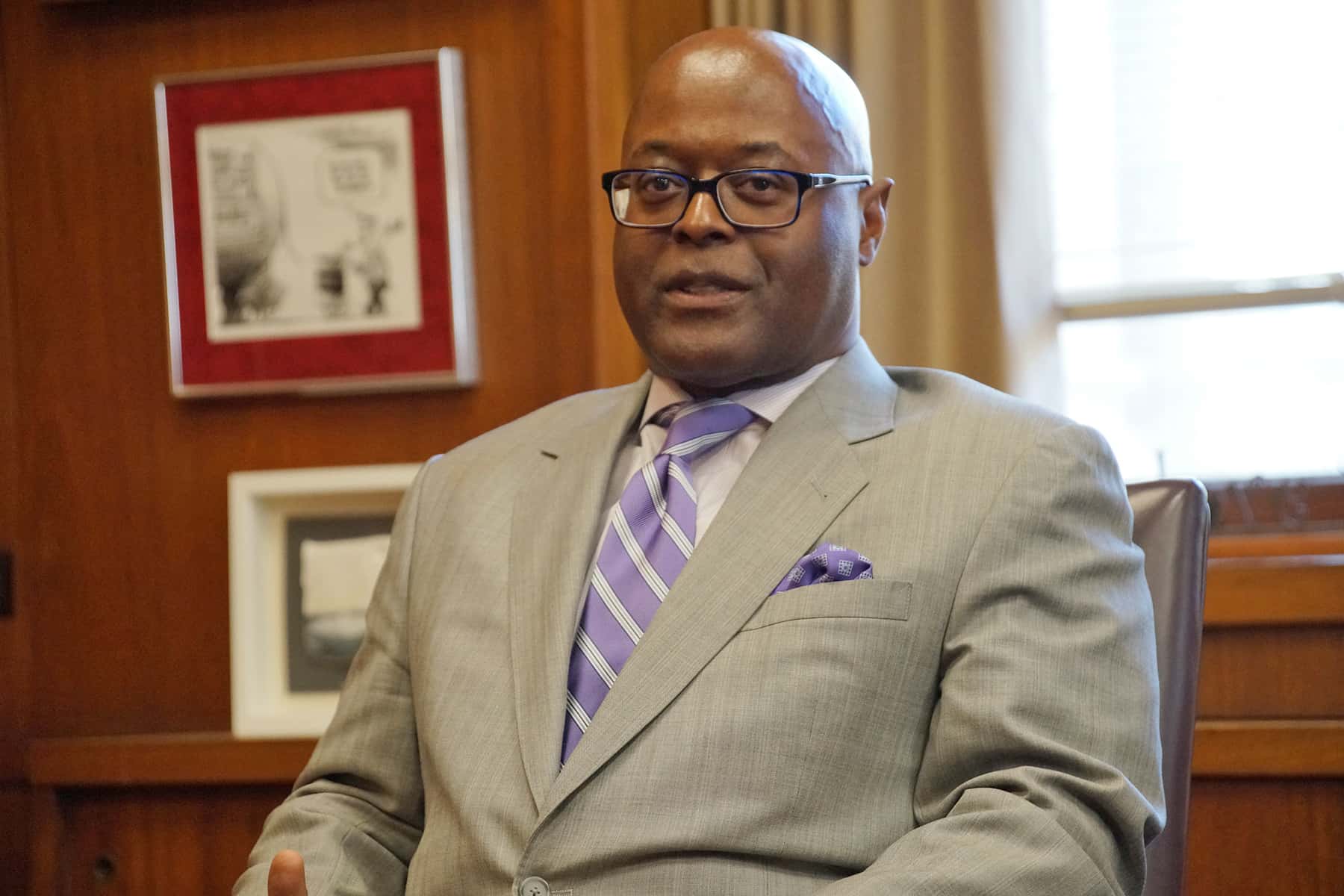 When Earnell Lucas first entered the race for Milwaukee County Sheriff in March 2017 he had his doubts about running. Now, Lucas is excited to take on the role of sheriff on Janurary 7 and walk back decisions about immigration and relations with the Milwaukee Police Department (MPD) made by his predecessor, David Clarke.
"I'm going to be the sheriff of all people in this community," he said.
Lucas recently invited Milwaukee County residents to the Wisconsin Black Historical Society, 2620 W. Center St., for a community discussion about his plans for the sheriff's office. Lucas covered topics ranging from the nation's opioid crisis to prison reform, but his main focus was immigration.
"I can't forget or turn my back on immigrants or LGBTQ or anyone more than I can my own family," he said. "I'm pledging right now, in front of all these witnesses, that I am going to be supportive of the immigrant concerns in this community."
In response to a question, Lucas criticized U.S. Immigration and Customs Enforcement (ICE) raids on immigrants taken into custody in Milwaukee County prisons. According to the questioner, Clarke released the names to ICE if they were Spanish-sounding.
Clarke faced backlash from the Coalition for a People's Sheriff, Voces de la Frontera and Working Families Party (WFP) in 2017 for what they called "mistreatment and dehumanization" of Milwaukee County prisoners. Lucas said he will not enforce the federal 287(g) program, which grants local police the ability to act on immigration laws.
"I said over the course of my campaign that I was not supportive of cooperating with ICE because it divides a wedge in our community," said Lucas. "I think that immigration enforcement and cooperation with ICE as it relates to a detainer … would be a violation of their constitutional rights.
A detainer is a letter or request that ICE makes to a local law enforcement agency to hold inmates beyond the time that is required based on the charges against them.
"We've got to work to restore the trust that's been so lost and so broken here in our community," Lucas said. "If we begin to make small steps then we can start working on the larger, more intractable problems."
Another problem he discussed is the relationship between the sheriff's office and MPD. In the past, MPD was vocal about its dislike for Clarke. Lucas said that he has been meeting with Police Chief Alfonso Morales to build a positive relationship and tackle community issues head on.
"I'm confident that we are going to work together on solving a lot of the issues that plague our community," he said. "We have a host of problems here, but it's not just Chief Morales and myself working together that will help us solve those problems. It's all of us in this room and everyone in this community."
Lucas vowed to work with MPD on Milwaukee's opioid addiction crisis, gun violence and human trafficking issues. However, he added that if MPD officers continued to use excessive force, the punishment would be "swift and public."
Dozens of residents turned out to the event, put together by Coalition for A People's Sheriff, BLOC (Black Leaders Organizing for Communities), Wisconsin Voices, Voces de la Frontera, and the Wisconsin Working Families Party. Some residents expressed concern that this kind of event doesn't reach the right people.
"It's good any time the community follows up after an election, but it would've been nice to see three times the turnout and see more diversity," said Harrison Kern, who previously worked with Lucas as a Milwaukee police officer.
Kern said he thinks Lucas is a "great guy" with great ideas, but the Sheriff's Office needs to get more involved in the community. Most of the event's attendees were from community organizations across Milwaukee. No one from the surrounding neighborhoods, Amani and Metcalfe Park, was there to offer input, he noted.
Danielle McClendon-Williams, a former Democratic candidate for the state legislature in Wisconsin's 16th Assembly District and safety chair of resident-run Amani United, agreed with Kern.
"We're basically preaching to the choir," she said. "It's always the same people (at these events) and never anyone from the community."
Lucas acknowledged that he needs to get more involved more in the community, specifically with youth, to make an impact as sheriff.
"We've got to come together and determine that we have to do what's in the best interest of this community," he said. "That's how we're going to solve the problems that we face in our community."