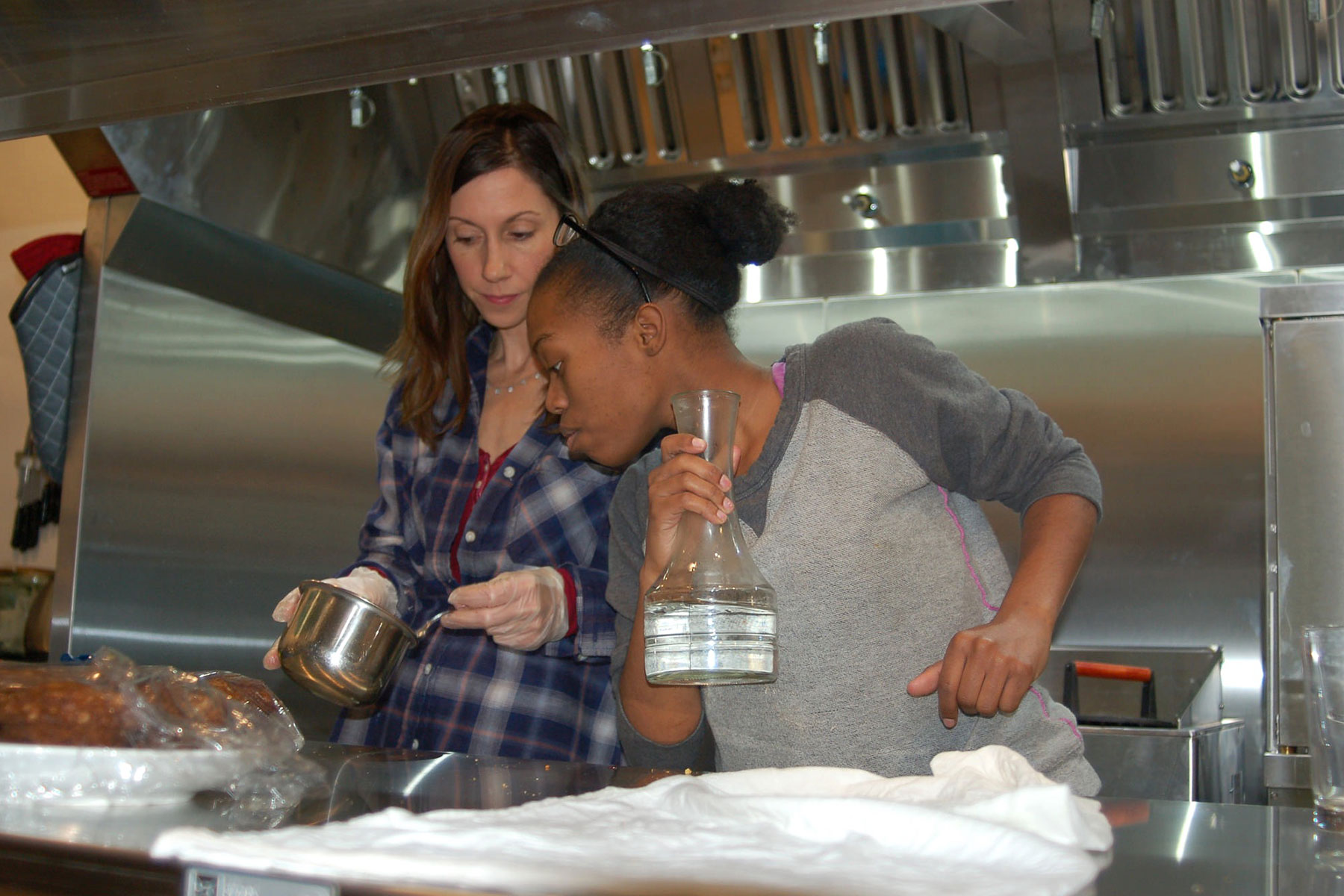 The café is a member of One World Everybody Eats (OWEE), a network of donation-based cafés around the United States, operating under a "pay it forward" model.
Raymond Garner, 11, was walking a few blocks away from his home near Sherman Park when he caught sight of a man he recognized engaging in an interesting project. David Melby-Gibbons was building chairs for the new Tricklebee Café, run by his spouse and executive director the Rev. Christie Melby-Gibbons, a Morovian pastor.
Garner joined in the building process and returned to enjoy the fruits of his labor at the café with his uncle, James Garner, in the cozy eatery located at 4424 W. North Ave. They were pleased with their meal of soup and salad. "The food is good. We'll be back," Garner said.
A pay-what-you-can nonprofit community café, Tricklebee emphasizes vegetarian and vegan fare but serves meat dishes as well. The grand opening celebration for the café will take place from Dec. 14-17 with live music, raffles and activities for children.
Suggested donations are between $5.69 and $6.46, and take food transport, staff wages, rent and utilities into account. The lower end of the range pays for the food itself while larger donations contribute to the overall sustainability of the café.
"Eighty to 90 percent of customers so far are paying the full cost of their meal and more. It ends up balancing out for the very few people who pay nothing at all," said Melby-Gibbons. "The model does really seem to work itself out."
Tricklebee Café hires local residents and pays each employee a living wage. "All of us make about $14.35 an hour, from [the executive director] to toilet scrubbers," Melby-Gibbons added.
Retona "Toni" Wilson, 22, is one of two part-time cooks working at the café. The Washington Park resident runs her own business, Moshun Bath & Body, in addition to her work with Tricklebee. Inspired by her mother, who cooked dishes such as homemade macaroni and cheese as she grew up, Wilson relishes her time in the kitchen.
"I've worked in a lot of commercial kitchens. Tricklebee was the perfect opportunity for me," Wilson said. She particularly enjoys making black bean quiche, complemented by salsa made by local business That Salsa Lady.
"Tricklebee is a family-oriented environment. It's really friendly, really serene," Wilson added.
A pint-size play kitchen, complete with faux food and utensils, provides a fun, safe playtime environment for young guests while their parents enjoy soups, salads and paninis from the café's ever-changing menu.
In addition to providing a living wage for employees, sourcing food locally is a core value for the café. Melby-Gibbons said that most of the food doesn't travel more than 20 or 30 miles thanks to local institutions including Alice's Garden, Wellspring Farms and St. Clare Garden. Cold Wisconsin winters complicate matters, but the café plans to make use of Midwestern organic food distributors during the winter months.
The idea to offer gourmet, healthful meals to all first germinated while Melby-Gibbons was living in California when she created what was then called Open Table. Community members came together weekly to provide food for local residents who otherwise struggled to find sustenance.
"A few of the guys who ate there had some mental health problems but were un-medicated. It was a safe space for them," Melby-Gibbons recalled. One participant was quite wealthy, but came because he was lonely. "This is the only meal this week that he ate with other humans," she said. After moving to Sherman Park in April 2015, she decided to bring the values of Open Table and OWEE to her new neighborhood.
The café's ultimate goal is to build relationships among community members in the surrounding neighborhoods.
"We welcome all people. No one is barred from being here and participating fully," said Melby-Gibbons. "People are hungry for a safe space where there's warmth and kindness, a place for diverse populations to come together. We want that to be what we're known for.