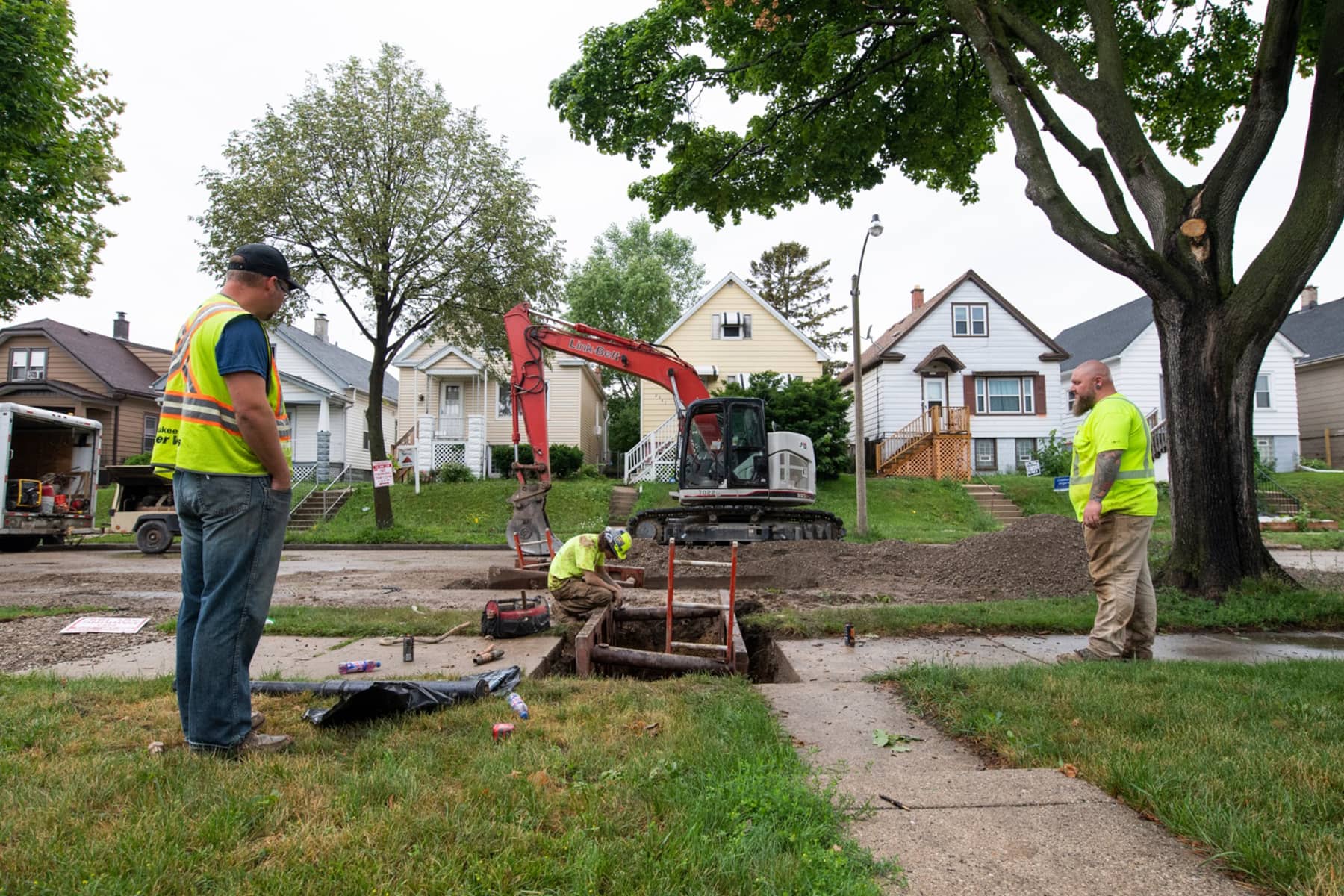 Beginning in 2017, the city of Milwaukee started the tall task of replacing its 73,000 lead water service lines. Six years later, there is around 67,000 of the water lines still in use in the state's largest city.
Federal funding could help ramp up the removal process, but some community leaders are still worried the city is moving far too slowly. At its current rate, it would take Milwaukee over 60 years to replace the remaining lines.
Joe Fitzgerald is water city program manager with Milwaukee Water Commons, a non-profit organization focused on water quality. Fitzgerald said he would like to see all the city's remaining lead pipes replaced within the next 10 years. That's a goal the federal government is also pushing for.
"We don't, as an organization, feel like the replacements are happening fast enough," Fitzgerald said. "We don't feel it's meeting the urgency of need here in the city, and just the reality of what this problem is that we're facing as a city."
Lead exposure can cause brain damage and other physical problems, according to the Wisconsin Department of Health Services. Children under 6 who are exposed to lead have a higher chance of developing lifelong issues, including developmental delays, slowed growth, difficulty in school and lowered IQ.
In 2022, it was announced that Wisconsin would receive around $250 million over the next five years from the Infrastructure Investment and Jobs Act to replace lead water service lines across the state. There are around 170,000 lead service lines in communities statewide, and the majority are in Milwaukee. The money could help speed up the removal process in Milwaukee, where progress has been hampered by limited funding and labor shortages.
Milwaukee Water Works Superintendent Patrick Pauly said the department plans to replace 1,200 lead water service lines this year. The department also has a goal of increasing the replacements by 500 a year, pending approval from the city.
"We are well aware of the challenges and well aware of the frustrations with pace, and we are thinking and discussing and making attempts to move this along faster," he said.
Pauly is optimistic that the city will steadily increase lead pipe replacements, adding that he believes the city will reach its goal in less than 50 years. But he still believes it could be decades until the process is finally complete.
"I think we would all like to see that timeline go faster," Pauly said.
Funding has remained an issue
A lack of funding for the project has remained a consistent complaint from community leaders for years, as the city has never hit its annual goal of 1,100 replacements a year. The Public Service Commission has estimated it will cost $750 to complete the project in the city.
Pauly said supply chain issues stemming from the COVID-19 pandemic haven't helped. He thinks federal funding for lead abatement nationwide will likely push up demand for supplies and worsen shortages.
"I think that challenge has become greater now with the fact that so many other communities are going to be starting lead replacement programs or starting lead replacements programs," he said.
Other municipalities have removed their pipes at faster rates, including in Denver, which is successfully replacing 4,500 lead service lines each year. The city received federal funding from the Environmental Protection Agency for its plan. The City of Newark's Lead Service Line Replacement Program also completed nearly 24,000 replacements in under 3 years at no cost to city residents.
In Wisconsin, other communities have also already successfully replaced their lead pipelines. Madison replaced all 8,000 known lines with copper pipes. In 2020, Green Bay completed a five-year project to remove more than 2,000 pipelines.
Derek Beyer is a steering committee member of Get The Lead Out, a coalition of Milwaukee groups fighting for speedier replacements. He'd like to see more action from Milwaukee officials regarding funding.
"It seems like they're kind of relying on federal grant money," Beyer said.
Last September, Milwaukee Mayor Cavalier Johnson did announce the city is developing an equity-driven program aimed at using the federal funds in historically disadvantaged communities in Milwaukee. Milwaukee Water Works is in the final stages of developing that plan, which will rank census blocks for pipe replacement by the density of lead service lines, incidences of elevated blood lead levels among children and an "aggregate score of socioeconomic indicators of disadvantage, as defined by the Area Deprivation Index," according to a letter from Pauly.
Wisconsin Watch previously reported that 9,600 Wisconsin children younger than 16 were poisoned by lead between 2018 and 2020. Of lead-poisoned children in the state, nearly two-thirds live in Milwaukee County.
The new plan is encouraging to Beyer, who has called the issue a "public health crisis."
"Attack the issue from those areas first," he said.
New funding could create complications
Rebecca Scott, the environmental loans section manager for the Wisconsin Department of Natural Resources, said the federal funds will be added to the Lead Service Line Replacement Program. The program is funded through the Water Infrastructure Fund Transfer Act, with Wisconsin receiving more than $63 million.
Those funds were given to municipalities at 100 percent principal forgiveness. But now, because of limitations with the federal funding, only 49 percent of the funds are required to be awarded as principal forgiveness, and only for "disadvantaged municipalities or for projects targeted to disadvantaged census tracts."
Scott said that's been "complicating things" for the program.
"We were able to give out just complete principal forgiveness. We also did not have to restrict it to just disadvantaged municipalities. So those changes came with BIL (Bipartisan Infrastructure Law) funding," Scott said.
The deadline for applications for the funds will be closed at the end of June. Scott said she believes Milwaukee will likely get the largest amount of funds.
"I would assume they'll get a larger loan than any other municipality," she said. "It's partially going to be based on what they think they can do."
But even with the added federal funding, Scott said she still doesn't believe it'll be enough to replace all the state's lead pipes.
"We'd love to be able to get all of the lead service lines out in the state, but obviously even with five years of funding coming at us from the BIL, it's not going to be enough to get them all removed," Scott said.
Donate: Wisconsin Public Radio