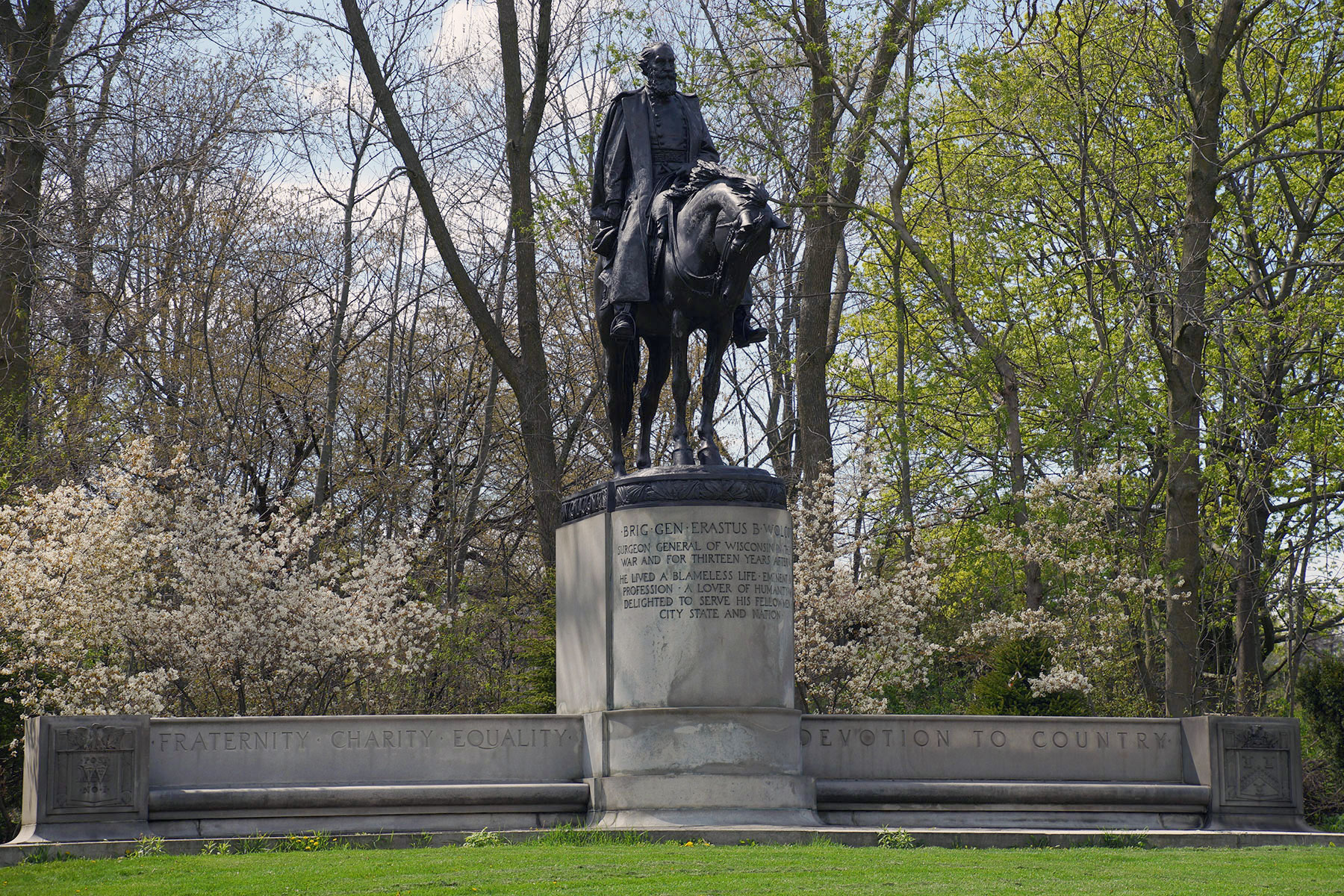 Erastus B. Wolcott, M.D. was a brilliant surgeon, benefactor of the poor, expert horseman, and all-around good guy.
The emergency surgery described above did take place on the patient's (very well-scrubbed) kitchen table in 1861. The man survived the operation, but died 15 days later of exhaustion due to the difficult recovery. Still, Dr. Wolcott made medical history for performing the first-ever successful removal of a diseased kidney.
He was 35 when he arrived in Milwaukee on July 4, 1839. A graduate of the New York College of Physicians and Surgeons, Wolcott had served several years as an army surgeon stationed at Mackinaw Island. Early settler James S. Buck remembered the doctor as tall and slender, with light hair, kindly blue eyes, and a quick, emphatic way of speaking. Other accounts describe the doctor's graceful manners, unusual in the pioneer community of 700 inhabitants but suitable for a man whose family tree included six governors of the state of Connecticut plus a signer to the Declaration of Independence.
With his wife, Elizabeth Dousman Wolcott, and two children, the doctor lived in a house located where today's Pfister Hotel stands. He soon built a reputation as the Northwest Territory's finest surgeon, but Dr. Wolcott is chiefly remembered for his countless acts of charity. A 1957 Milwaukee Journal article noted:
Dr. Wolcott was known as an "old fashioned" gentleman. He never formally billed his patients, and his devotion to them was boundless. He thought nothing of spending the night beside a sickbed. When he left at dawn, after a patient had fallen into a refreshing sleep – and if the family was a needy one – he was more than apt to place a dollar on the table holding the medicine so there would be milk and eggs for the patient and his family the next day.
In 1842, Dr. Wolcott became surgeon general of the territorial militia and, in 1846, major general of the Wisconsin militia. He served as manager of the state asylums for the insane and as a regent of the University of Wisconsin. He also had numerous business interests, including two early flour mills and was a key backer of the state's first railroad.
July 1849 is one of the darkest times in Milwaukee history. That month, six newly arrived immigrants died of cholera. Quickly the disease reached epidemic proportions. Day and night, wagons taking away the dead rolled through the city. Men, women, and children collapsed in the streets, Many of those stricken were abandoned to their fate by terrified family and friends. "And through it all," wrote Dr. Louis Frank in his history of early Milwaukee physicians, "moved Dr. Wolcott, tireless and unafraid, with potions for the suffering, at his side the noble Sisters of Mercy and Charity."
In 1857, Dr. Laura J. Ross arrived in the city. Just 23 years old, she was the third woman in the U.S. to become a fully accredited M.D. She applied to join the local medical association, but her application was opposed by most of Milwaukee's medical community – with the exception of Dr. Wolcott who advocated for her acceptance.
Strongly opposed to slavery, it was Dr. Wolcott who chaired the meeting called to protest the capture of runaway slave Joshua Glover. Incensed Milwaukeeans broke into the City Jail, freed Glover, and sent him on his way to safety in Canada.
Dr. Wolcott's wife, Elizabeth, died in 1860. When the Civil War broke out in 1861, he served with Wisconsin troops as surgeon general with the rank of brigadier. His statue in Lake Park depicts the doctor in his wartime uniform, astride his favorite horse, "Gunpowder."
Following the war, Dr. Laura Ross married Dr. Wolcott, 30 years her senior. She was active in women's rights and was instrumental in organizing a major convention here and in Madison in 1869 that was attended by Elizabeth Cady Stanton, Susan B. Anthony, and Mary A. Livermore.
In 1867, Dr. Wolcott became the first governor of the National Soldiers' Home (now the Milwaukee VA Medical Center) and led the initial development of the institution. One of the avenues running through the institution's grounds is named after him.
In January 1880, Dr. Wolcott contracted acute pneumonia and died. He was 76.
"Few men in the profession have performed as many and difficult surgical operations as has he. He was a born surgeon," wrote fellow pioneer James Buck. "Fearless himself, he soon infused the same spirit into others; his courage was undoubted and his coolness wonderful."
His wife continued to practice in Milwaukee until 1887, then moved to Philadelphia, and, finally, to a suburb of Chicago. She died in 1915. In her will she designated money for the statue of her husband in Lake Park.
The figure of the man on the horse was designed by prominent sculptor Francis H. Packer, and is widely thought to be one of his finest works. The base was designed by Albert Ross, who would later oversee construction of the Milwaukee County Courthouse. The dedication ceremony took place on June 12, 1920.
A 1924 Milwaukee Journal article describing the statue noted the following reason it is especially meaningful, "…the statue is the gift of true affection. A wife, thinking of her own passing, did not plan to project her own personality beyond the grave but that of the man she loved."
The inscription on the base reads:
Brigadier General Erastus B. Wolcott
Surgeon General of Wisconsin in the Civil War and for
13 years afterward.
He lived a blameless life.
Eminent in his profession,
A lover of humanity,
Delighted to serve his fellow men, city, state and nation.