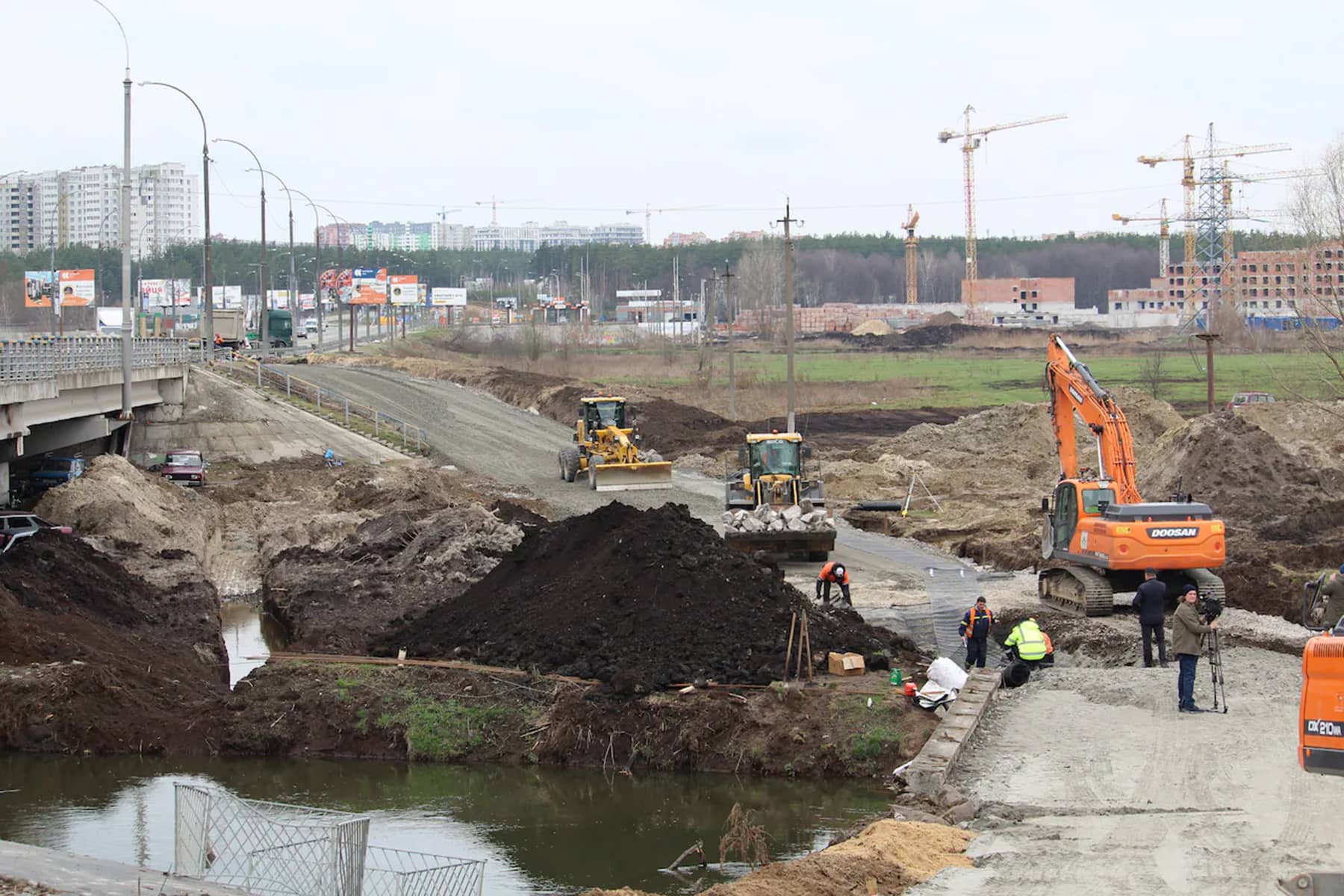 It is a gloomy April morning. My hands are freezing but they share due to emotion and not temperature. I am preparing to see with my own eyes what I have only watched on TV and internet video. I am visiting the Hero City of Irpin.
I arrived in Irpin by a new route from Kyiv, one that looked the same before the war. There was a small checkpoint, like one that had existed since February 2014. But now there was a stain in the road from a burned truck that been recently removed. Residents from Irpin had desperately closed access to the city in the early days of the Russian invasion. There still remained relics of the costly victory.
Over the previous eight years, the resort town in the pine forest northwest of Kyiv had drastically changed. From a sleepy village came 5-story buildings, then towers of 11 to 17 stories.
People went to Irpin for new apartments and houses from everywhere in the region, including from the occupied territories: Crimea, Donetsk, and Luhansk. Displaced families Odessa, Ivano-Frankivsk, Kryvyi Rih, Dnipro, and Kharkiv rented and bought places in Irpin.
They ran social media pages about the experiences of getting their dream homes, shared photos when trying to decide about which laminate flooring or window shutters to select. They walked in new parks, discussed deforestation, numbered every tree, pointed to "No Buildings" posters, and searched for schools and kindergartens for their children. They recommended which cafes had the best croissants, rode bicycles, and signed up a few weeks in advance for appointments with hairdressers who were local celebrities.
Now, many pine trees are broken and burnt by explosions along the entire route to Irpin. It is hard to believe, and overcome the shock after the first checkpoint. Bullet holes riddle billboards. Trenches stretch for several kilometers. It was unclear if they were originally dug by Russian invaders, or expanded for the pipes needed to construct a new water supply for the town.
The mayor of Irpin, Alexandr Markushin, used to head the local water utility. Perhaps that is why after the liberation of the city and clearing it of boobytraps, Irpin urgently found funds and began laying pipes. In peacetime it would have taken years to prepare the project with discussions, bidding, approvals, and inspections. In a very short time the city has already been able to restore its water supply.
Also, within in a few days of Irpin's liberation a temporary bridge to Romanivka was built, where up to 40,000 residents of the city were evacuated in March.
It is impossible to imagine how those people who did not leave Irpin survived, under heavy shelling, buildings on fire, without water, no communications, internet, light, or heating. The courageous people we spoke to said that if they had to relive those terrible days, they would not have stayed in the city. They would have left any cost before the Russian occupiers arrived.
In the third week after the liberation of Irpin, the neighboring towns of Bucha and Hostomel saw an end to their curfew. Investigations lasted two weeks, the scenes were inspected, all war crimes were recorded and described, and witnesses were questioned. Mines, remnants of missiles, and shells were collected.
According to Iryna Venediktova, the Prosecutor General of Ukraine: "Prosecutors and investigators have recorded the use of anti-personnel mines, 82 and 120 caliber mortar mines, Iskander-M aero-ballistic missiles, and shrapnel shells used by the enemy on the civilian population."
Now the passage to Irpin is open for everyone. Those who managed to evacuate have plans to return home. But when they go to their homes, many are in ruins or their property looted. They will need to estimate the losses and the probability of rebuilding.
Locals who stayed in their own apartments and houses have become accustomed to the conditions of survival. At night, the door to their entrance was closed from the inside so that no key could be used to open it from the outside.
The places where bicycles and scooters used to stand are now occupied by a table with toothbrushes, utensils, and a generator connected to many extension cords leading to the apartments.
At the entrance there are homemade stoves, firewood stores, and bedding for stray dogs – which are fed as much as the residents can provide.
Playgrounds and lawns have already been cleaned, but small pieces of glass, foam, and broken bricks are still everywhere.
Most of the windows in Irpin's homes are broken. According to statistics, 70% of residential buildings are damaged.
The conditions of apartments with broken windows have deteriorated due to weather. Many were looted by the brutal Russian invaders. Being exposed to the elements, dust and smoke can enter the dwellings. Curtains were slashed from fragments of shattered glass. Walls damaged and furniture splintered from explosions. Shattered lamps, plumbing and heating appliances cracked from the winter frost.
But not all apartments in Irpin were looted by Russia. The invaders only made it into part of the city, and many of the local men stayed to guard their homes. They survived the occupation, and daily threat that any contact with the Russian Army could cost their lives.
There were still severe night frosts in March, so broken windows were covered with pillows and blankets. Those residents survived in conditions where there were no more candles, and those who could not evacuate physically survived – mostly pensioners and people with disabilities.
Only in early May did Irpin began to open grocery stores and pharmacies. Throughout April, products could be obtained either from volunteers or by shopping in Kyiv. But by early May, even bank branches and several ATMs opened in Irpin.
The city authorities first undertook efforts to restore power supply by replacing burned transformers, demolished poles, and broken wires, then communications networks for the Internet and television, and finally water and gas.
Areas where houses suffered less damage, experiences municipal services in mid-April. Only a couple weeks after its liberation, the city of Irpin was removing garbage and cleaning wreckage from roads. The work was done primarily by municipal workers and volunteers who lined up to help the city.
They also repaired pothole in roads, because transpiration was vital to deliver necessities. International delegations come to Irpin every day to inspect housing conditions, often walking through damaged apartment buildings with blackened walls. Bus service to Kyiv also resumed.
However, for all the progress the city did not immediately come back to life. Windows have not been replaced yet, and commissions are only just forming plans to repair the widespread damage. Mayor Markushin has urged residents to send photos of the destruction to different departments. The work is divided by condominiums and private homes, and separately for those that are damaged or completely destroyed.
"About 120 architects from all over Ukraine have arrived in Irpin to draft a strategy for the town's restoration and development," said Oleksiy Kuleba, head of the humanitarian staff of the Kyiv Regional State Administration, in a May 5 post on Telegram.
The Ukrainian Law Enforcement officers had inspected 17,535 objects in Irpin. They documented that 885 buildings were completely destroyed, with 2,738 only partially destroyed, and 8,651 – with superficial damages.
The splendid parks of Irpin, which attracted so many people from around the region, have only begun to welcome the return of children and their joys of laughter. Despite the color of tulips and the smells of spring, the parks were also wounded during the war.
There are three burials in the new Mama Park. According to Venediktova: "We confirmed a shooting in a car of a woman with her 12-year-old son, and probably a man trying to evacuate from the city. The remains of their bodies were buried by local residents in the park."
Many residents still find it psychologically difficult to return to a city that has lost its security. For some lucky residents, their homes and everything they owned remained whole. But there is little to celebrate when neighbors around them lost everything.
What remains tells a story of heartbreak. Of broken lives and crushed dreams. To imagine so much violence, physical and psychological trauma, to find ways to overcome them quickly is a difficult task. The invasion brought a raw brutality to Irpin that residents had never experienced in modern times.
Many of Irpin's priorities to repair infrastructure have already been completed. But while it is possible to restore utilities, the issue of utility bills remains problematic.
Most people who left their homes in February had debts for utilities. The losses increased those figured to unthinkable amounts. Efforts are being made to defer payments and pay off the debts from international foundations and philanthropists.
The mass return of the civilian population, especially young mothers and families with children, still remains a long way off. But everyone in Irpin is working to bring that day as close as possible.
During this reconstruction phase, it has become important to review issues that were a problem for Irpin before the invasion: such as the development of modern jobs, youth centers, expanding the IT industry, investment in the modernization of existing enterprises, overcrowding in schools and kindergartens, excessive building density, a lack of public transport, and a dependence on daily commuters to Kyiv for work. To find resolution will require local participation in community development, and the involvement of specialists in urban planning who propose competing ideas for the best solutions.
Such problems can easily snowball, and require extensive resources where only a limited amount are available. It will require residents to have faith and work together, and a desire to take even more risks than in the previous eight years to build a new foundation for Irpin's future.
Оlеg Grеchukh and Stеphаnіе Jеnzеr