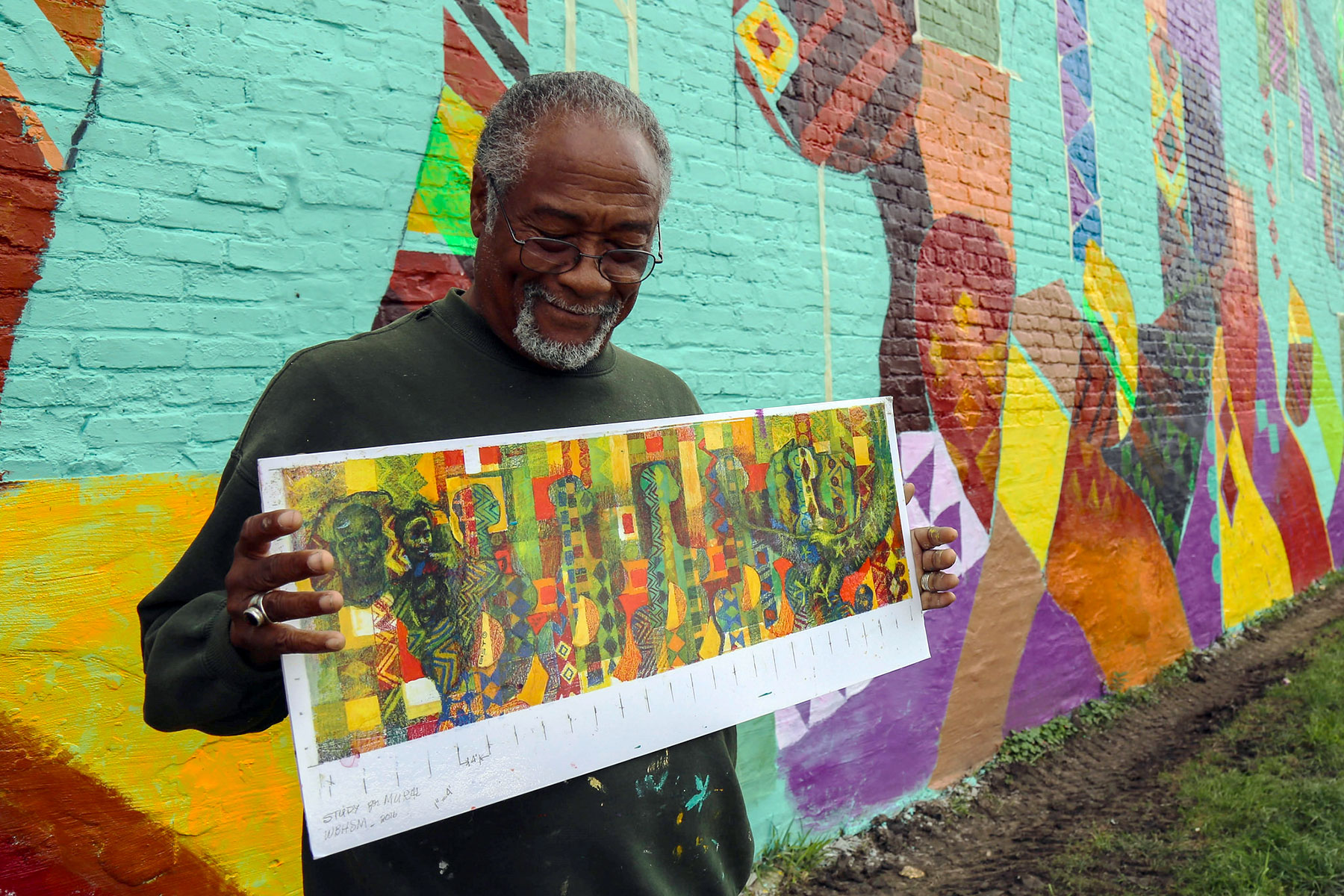 The Wisconsin Black Historical Society has nearly finished installing a mural on the side of its building, that spans 125 by 50 feet.
Artist George Gist stood on top of a red and grey Skyjack lift. His hands and clothes were speckled with dried paint, as if he himself were an art piece. Gallons of paint and an assortment of brushes surrounded him. He pressed a lever and the lift rumbled, groaned and heaved him high into the air to reach the top of the building.
"I don't like to get up off the ground," said Gist, laughing. "This machine has made it a lot easier though."
When Gist first started painting murals Skyjacks did not exist yet so he had to use scaffolds. He explained that if he had to go to the bathroom or grab some more paint he would have to climb down and climb back up again.
Gist slopped paint onto his brush and stroked it across the Wisconsin Black Historical Society's brick building at 2620 W. Center St. Cars whizzed through the nearby intersection at Center and 26th streets, sending soundbites of music out of their open windows.
Wisconsin Black Historical Society museum founder and director Clayborn Benson asked Gist to replace the building's mural, which was originally done in the 1990s by artist Ammar Nsoroma.
"The old mural was sort of dark. In color and in meaning," said Gist. "It was all about slavery and Clayborn wanted me to paint something that showed black contribution to Wisconsin in a more positive way."
"The wall is a celebration," explained UW-Milwaukee student and volunteer Christina Theobald. "Although it is more focused on the African-American community I think everyone can find a part of themselves in it."
The continent of Africa is positioned at the far left of the mural, and the state of Wisconsin at the far right. Figures of women fill the middle space, connecting the history of the two places.
Women are "the cushion, the creators and the comforters," explained Gist, so it is fitting that they bond the cultures and values of Africa and Wisconsin together.
A young black boy is illustrated setting an eagle free near the outline of the state of Wisconsin. Gist explains that although it is his favorite part of the project, creating the eagle has been a process.
"At first it looked like a dove and now it looks sort of like a parrot," said Gist, shaking his head.
Gist has created approximately 300 murals during his lifetime, including a mural with more than 18 panels inside the Wisconsin Black Historical Society. Gist's artwork is displayed in all but four or five states throughout the country.
When Gist was 6 years old his mother passed away and he turned to art as his outlet, explaining that if art were a drug he would have overdosed a long time ago. Gist now resides in Pittsburgh, but lived in Sherman Park about 20 years ago. He still has family in the area, which makes him all the more eager to create an inspiring mural, he said.
"I'll be out here painting and a car will drive by…kids yelling out the window 'Hey, Grandad!'" Gist recalls, smiling so wide his eyes turn into slits behind his glasses.
Over the course of six to eight weeks, Gist has spent many long days painting the mural. He started working on it about five hours a day and now after 12-hour days he still finds he needs more time.
"Art is kind of like eating ice cream," said Gist. "The more you have, the more you want it. That's how it has been with this wall."
The wall spans 125 by 50 feet and took more than 40 gallons of paint just to prime, making it the largest mural Gist has ever worked on. He has received help from his assistant Stephanie Sow, who said the mural adds spice to the corner and people's spirits. Sherman Park community members also contributed by painting the mural during a "volunteer day" on Sept. 24. Children painted hearts in the left-hand corner.
"Over 60 people showed. We didn't have enough paint brushes," said Benson.
"I was so proud to see handsome black fathers show up with their families to contribute," added Gist. "I think that meant the most to me out of any mural I have ever made. To see those black men show up."
The Wisconsin Black Historical Society will host a celebration on Oct. 14 to thank both artistic and financial contributors to the mural. Gist and Sow are working to finish the mural, which they hope will serve as a conversation piece, adding spice to the corner of 26th and Center streets while heightening people's spirits.
"It's a light for people in the community," said Benson, "and that's my job as the museum director to give people that joy and that light."
"All the bright colors, the design, the culture… It symbolizes hope, a lot of hope for Milwaukee," added volunteer and community member Tsai Robinson.