Habitat for Humanity Rocks the Block in Washington Park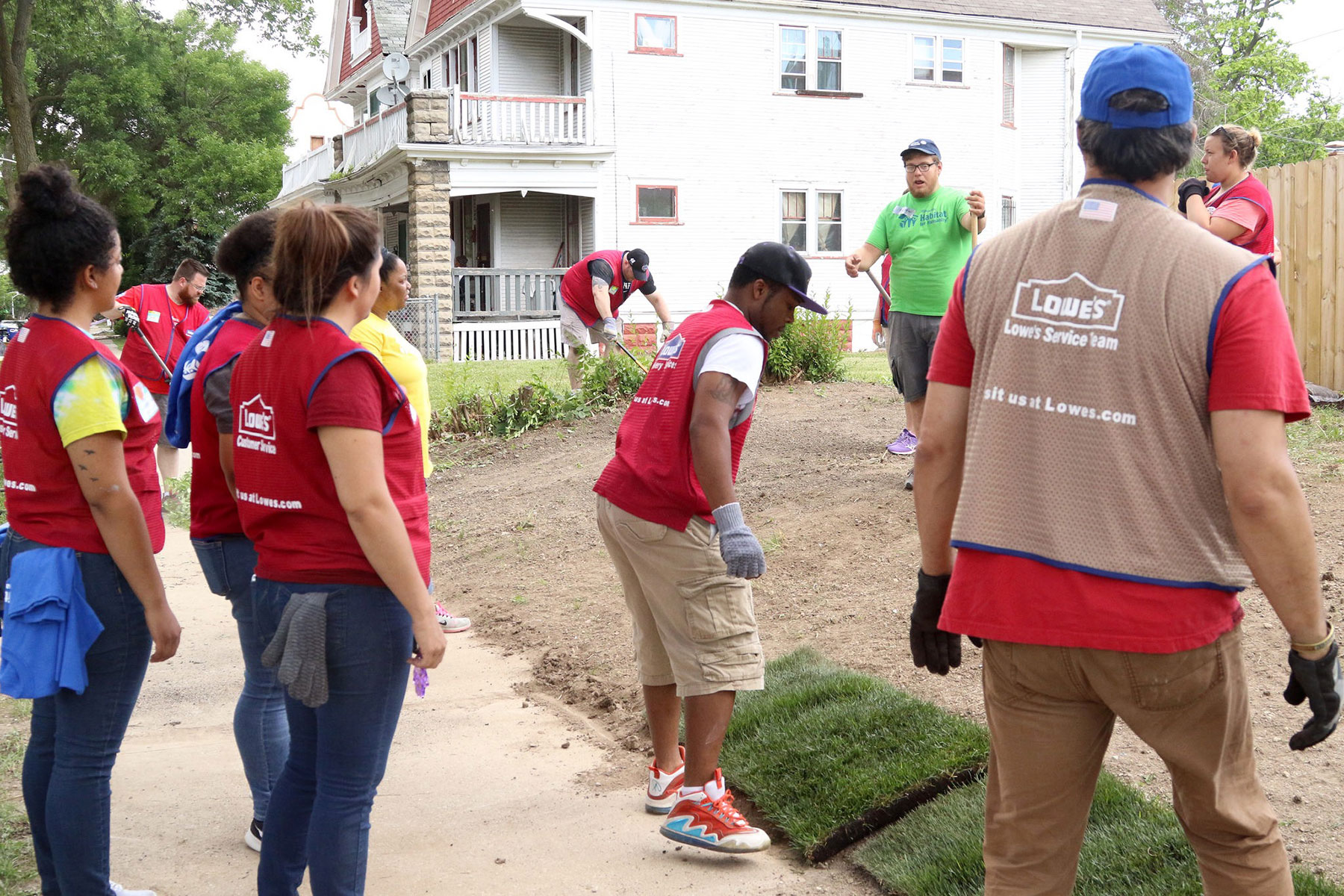 More than 80 volunteers descended on the block to repair homes and beautify the Washington Park neighborhood on June 29.
The collaboration project was one of three "Rock the Block" events that Milwaukee Habitat and Lowe's will conduct this summer in an effort to repair 60 homes. The other two events are on Aug. 13 and Sept. 13.
Washington Park resident Shanita Brown tears up as she explained the impact a Milwaukee Habitat for Humanity initiative has had on her neighborhood.
Brown's two-story house is one of 20 on the 2100 block of N. 39th Street upgraded through the "Rock the Block" project. Thanks to the effort she now has a newly painted house and porch, and a garden.
"I feel really blessed," Brown said.
Lowe's has awarded Habitat a $250,000 grant for a yearlong revitalization project in Washington Park. In addition to funding "Rock the Block," the grant funds projects such as renovating six homes for families in need of decent affordable housing, repairing at least 10 homes and installing lighting in alleyways.
Washington Park resident Angela Martin helped volunteers repair her house. "I'm so appreciative for all of their help," she said. "I can't wait to live here when the neighborhood is finished."
Washington Park was designed by Frederick Law Olmsted, the landscape architect of New York's Central Park, in 1892 and was the original site of the Milwaukee County Zoo. Former Milwaukee Habitat president Bob Patton, who was volunteering at the event, said that was part of the reason Habitat chose to repair the Washington Park neighborhood. "We want to preserve the area," he said.
Habitat has developed a three-year plan to revitalize 10 additional neighborhoods in Milwaukee. The organization has raised $1.9 million of the $4 million needed to complete the project.
After the three-year plan is complete, Habitat will have served more than 1,600 families in Milwaukee and engaged more than 10,000 community members, said John Weyenberg, executive director of Fox Cities Habitat for Humanity, in an interview about the project.
Mayor Tom Barrett said Habitat's efforts fit in with his Strong Neighborhoods Plan. "The neighborhoods are the fabric of the city," he said at the event. "We have an obligation to make decent housing available for everyone."
Volunteer Kerry Wilm said the work she and her colleagues were doing, "means a ton to the community," but "it's not just for the community, it's for the city as well."
Wilm painted porches, landscaped and helped put lighting in one of the alleys.
Volunteer Amber Garcia-Thate stained decks, planted flowers and mulched gardens. "Our goal is to make the neighbors feel good about the community and love where they live," she said.