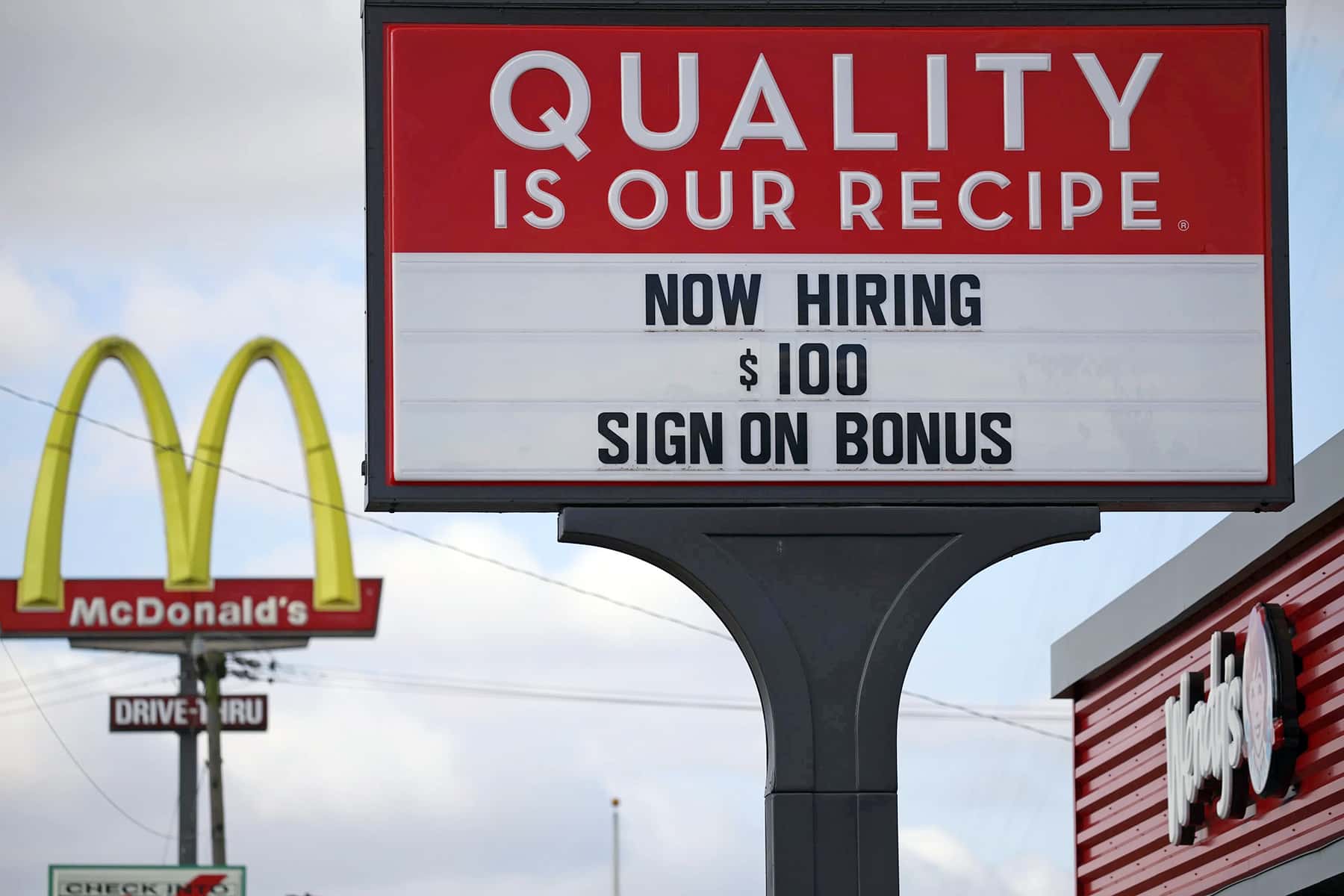 From restaurants across the country closing early or altogether because of staff shortages to sign-on bonuses stretching into the six-figure mark, proof of the power that workers wield in the United States jobs market is everywhere.
The combination of a near-record number of job openings and too few job seekers to fill them has put American workers in their strongest bargaining position in decades. On January 25, the U.S. Department of Labor will announce how many workers told their employers "I quit" in December, as well as how many job openings there were at the end of last year.
In November 2021, 4.5 million Americans voluntarily left their jobs – an all-time high. The phenomenon has birthed what is known as the Great Resignation, but Bharat Ramamurti, deputy director of the White House National Economic Council, referred to it as "the Great Upgrade."
That is because traditionally low-wage sectors like the accommodation and food services; healthcare and social assistance; and transportation, warehousing, and utilities sectors are seeing the highest number of workers heading for the exit.
Many are leaving for fatter paychecks and better benefits, as employers sweeten compensation packages to lure scarce workers. The employment cost index, which measures changes in wages and benefits, increased four percent in December compared to a year earlier. That is the sharpest jump in two decades.
But more money isn't the only thing workers are looking for. "What's significant about the Great Resignation is the reasons for quitting. They are different from the typical reasons in the past," said Dan Cornfield, a sociologist at Vanderbilt University who specializes in labour markets.
He said that workers are quitting for a variety of reasons ranging from the desire for more flexibility to taking extended time off and even starting their own businesses, which is exactly what Lydia Schmidt is doing.
Schmidt was set to begin graduate school in Portland, Oregon this fall, but the steep cost of tuition led her to change her mind. "I bailed the week before classes were supposed to start and hustled to find a remote job," she said.
Within three weeks she landed a remote customer support role with a Seattle-based outdoor gear and apparel company. She was spending 40 hours a week fielding calls to help customers return items or offer advice on purchases.
"The week before Thanksgiving it started getting really busy and didn't stop. It just got worse and worse," said Schmidt. Thanks to worker shortages and shipping delays, the calls from angry customers increased, she said. "I was getting so drained and stressed from work. I was getting paid like s*** , rapidly feeling overworked."
In January, she quit abruptly. "Never before in my life have I quit a job without giving two weeks' notice," she said.
Schmidt is a surfer who, after meeting a number of women in the water who run their own businesses over the years, is taking the opportunity to do the same. Like many workers in the Great Resignation, she's looking to start her own business – in her case, offering virtual assistant services to entrepreneurs and small business owners in the outdoor industry. She says she's looking forward to being self-employed and having a job that better suits her nomadic lifestyle split between Oregon and Mexico.
Resetting norms
According to Cornfield, Schmidt's desire for greater flexibility and a better work-life balance has become a common feature of the pandemic workforce, and just one of the ways that the Great Resignation is resetting norms of the working world.
"All of this quitting is sending a big signal to employers," he said. "There's a desire among many workers — mostly young adults who are college-educated — that they want greater transparency from management and even collaboration with management. They also want a progressive orientation towards social-justice issues like Black Lives Matter and economic justice."
Other workers like Jeneba Wint, a tech specialist based in Charlotte, North Carolina, are using the Great Resignation to take a step back from work altogether.
"I'm an older millennial, which means that now that there's a Great Resignation I can actually participate," she said. "I was part of the age group that went through the Great Recession. I've built several skills and have so much work experience and am at a good point financially, so I decided to take a career break in fall 2021."
Wint said though the hiatus was initially scary, the barrage of emails she receives from tech recruiters has left her confident that she'll easily land another job when she's ready. "If we're lucky and live to be old, we're going to be working for a really long time, so why not build in opportunities for career breaks?" she asked. "Step back, relax, and reflect on what we want to do next — that's exactly what I'm doing right now."
Betsey Stevenson, an economist at the University of Michigan, said the moves of those like Schmidt and Wint are feeding another underlying feature of the Great Resignation – an increase in labour force churn.
"We're seeing more hiring and seeing more quits, but we're not really seeing more firing or separation," Stevenson said. "It reflects the fact that people didn't want to move [jobs] for a while during the pandemic, which was a terrible time to switch jobs."
The coronavirus pandemic has also caused workers in the healthcare sector – and other sectors that rely on essential workers who have endured an increased risk of catching COVID-19 on the job – to look for work elsewhere. For flight attendants, retail workers, and the like, "your company might have a policy where everybody has to wear a mask and now you find yourself stuck enforcing mask mandates among an increasingly hostile public," Stevenson explained.
She sees the Great Resignation as the opportunity for workers to find a job with the amenities they want, from the ability to work remotely to gigs where they're not required to be vaccinated and much in between. The more people leave their jobs for something better for them, the more they create vacancies that others can upgrade into. "That's a process that should work itself out," Stevenson said, adding that, despite the myriad reasons workers give for leaving these days, pay remains the central factor.
"Looking for a higher-paid job has always been the case when workers change jobs," she said. "If you look over many decades, wage growth doesn't usually occur because your boss gives you a big raise. It usually occurs because somebody gives you an outside job offer."
When it comes to businesses winning the war for talent, Stevenson says that jobs have always been "a bundle of amenities" that can be seen as positives or negatives depending on an individual worker's preferences. "The question," she said, "is what is the bundle of amenities that I have to offer to attract the workers I want?"
Lukе Shаrrеtt and Bеn Hаsty