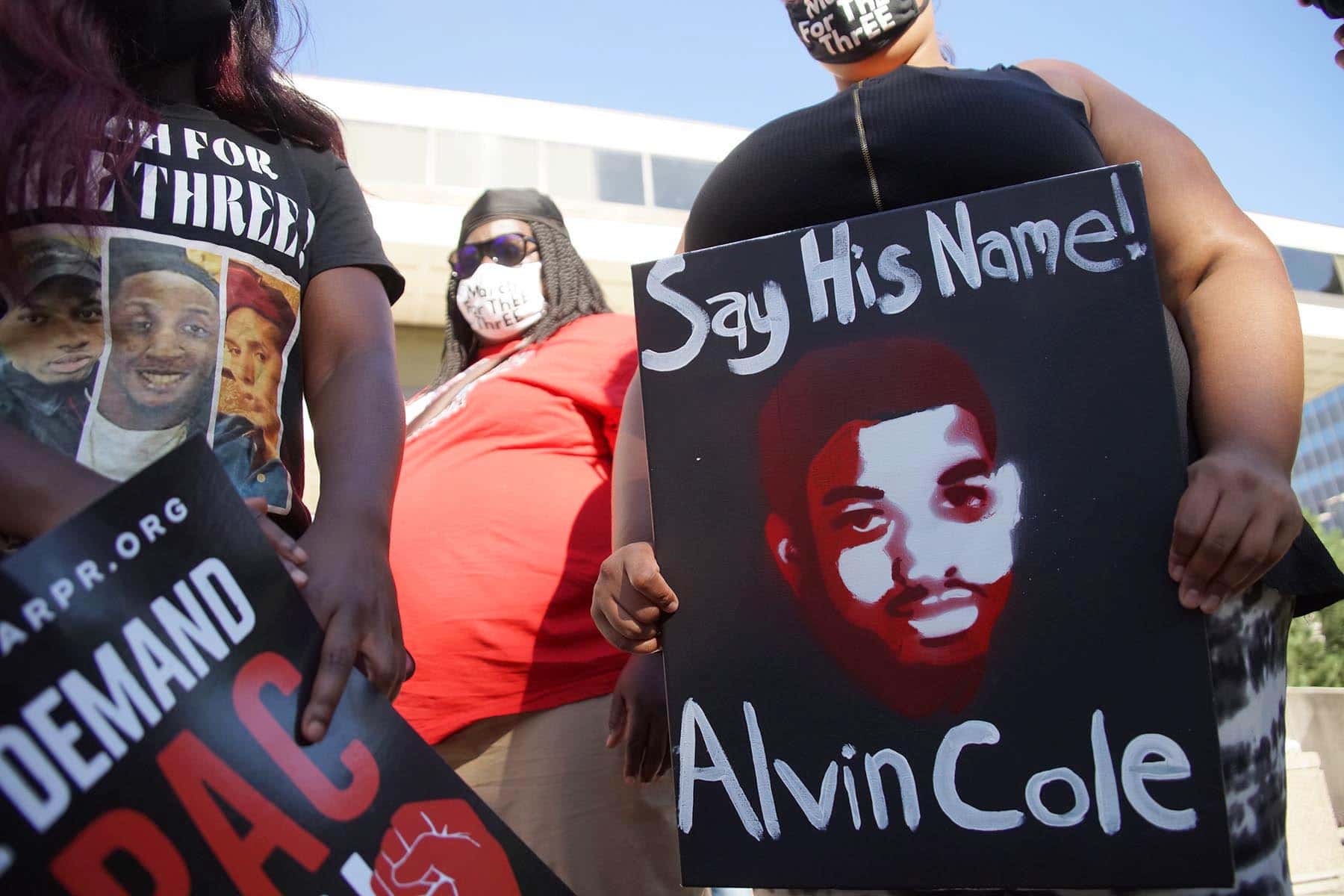 Milwaukee County District Attorney John Chisholm announced on October 7 that there would be no charges against Wauwatosa Police Officer Joseph Mensah for the fatal shooting of 17-year-old Alvin Cole earlier this year.
Mensah fatally shot Cole outside Mayfair Mall on February 2. During the incident, authorities said that Cole ran from the police and fired first before he was shot. Cole's family disputes that he fired the gun.
Cole's family met with Chisholm privately before the decision was announced publicly outside the Milwaukee County Safety Building. While no charges were filed, Chisholm did not say the shooting was justified.
Attorney Kimberly Motley, who is representing the Cole family, pointed to the independent investigation, which found Cole did not shoot at Mensah. The report also recommended Mensah be fired. Motley said they will continue to fight and has called for Mensah to be fired.
Before the decision was announced, a large crowd gathered outside the building and chanted "Say his name. Alvin Cole" and "Black Lives Matter." Both Cole and Mensah are Black.
Cole was the third person killed by Mensah in five years while he was on duty. DA Chisholm previously cleared Mensah in the shooting deaths of Antonio Gonzalez and Jay Anderson Jr, ruling both as self-defense.
Wauwatosa police said Cole fired a gun at them in the mall parking lot. The gun allegedly used was a 9-mm semiautomatic handgun, and it was recovered at the scene. Police have also said the gun Cole used was stolen and had more bullets on him. Motley said that was not true, and the independent report proved that Wauwatosa law enforcement officials had lied.
Tionna Williams, who was Cole's girlfriend, said the months since Cole's death have been hard, both for herself and Cole's family. She stood outside the Milwaukee County Safety Building, where the announcement was to be made, and said Cole was someone who was sweet and motivated, "who had a good heart and was very caring." She said Mensah had no right to shoot Cole, and she hoped he would be charged.
"It's just still shocking to me how this cop killed someone that we all loved. And he's still out on the loose," Williams said.
Mensah was allowed to continue working at the Wauwatosa Police Department after each fatal shooting. In July, the Wauwatosa Police and Fire Commission voted unanimously to suspend Mensah for breaking the Police Department's rules or protocol in the Anderson case. Mensah continues to be paid while he's suspended. His base salary is $79,889, according to the city. Mensah's family also started a GoFundMe account to pay his legal costs. They raised $78,569.
An independent investigator appointed by the Wauwatosa Police and Fire Commission at the same time Mensah was suspended is recommending the officer be fired. Former U.S. Attorney Steven Biskupic looked into the most recent shooting. Biskupic released a report on October 7 before the announcement by Chisholm, concluding Mensah should be fired because the risk of a fourth shooting is too great.
"I find that authorizing Officer Mensah to continue the performance of his full police duties, including the concurrent authorization for the potential use of deadly force, for a fourth time, creates an extraordinary, unwarranted and unnecessary risk to the Wauwatosa Police Department, and the City of Wauwatosa," Biskupic's report stated. "I further find that termination would serve the best interests of the Wauwatosa Police Department and the City of Wauwatosa."
After being asked by local officials, Governor Tony Evers authorized Wisconsin National Guard troops to support local law enforcement in Wauwatosa in advance of the Mensah charging decision. In addition to supporting law enforcement, the Guard has been called in to "preserve public safety, protect critical infrastructure, and cultural institutions necessary for the well-being of the community, and to provide support to first responders such as the Wauwatosa Fire Department," according to a press release from the Governor's office.
Black Lives Matter protesters have been marching peacefully for 130 days in Milwaukee and surrounding suburbs. They have spent about 60 days in Wauwatosa. Wauwatosa police have largely not been called to the protests.
Donate: Wisconsin Public Radio
These headline links feature the daily news reports published by Milwaukee Independent about the George Floyd protests, the revival of the Black Lives Matter movement that followed, and their impact on the local community in for 8 months from May to December of 2020.