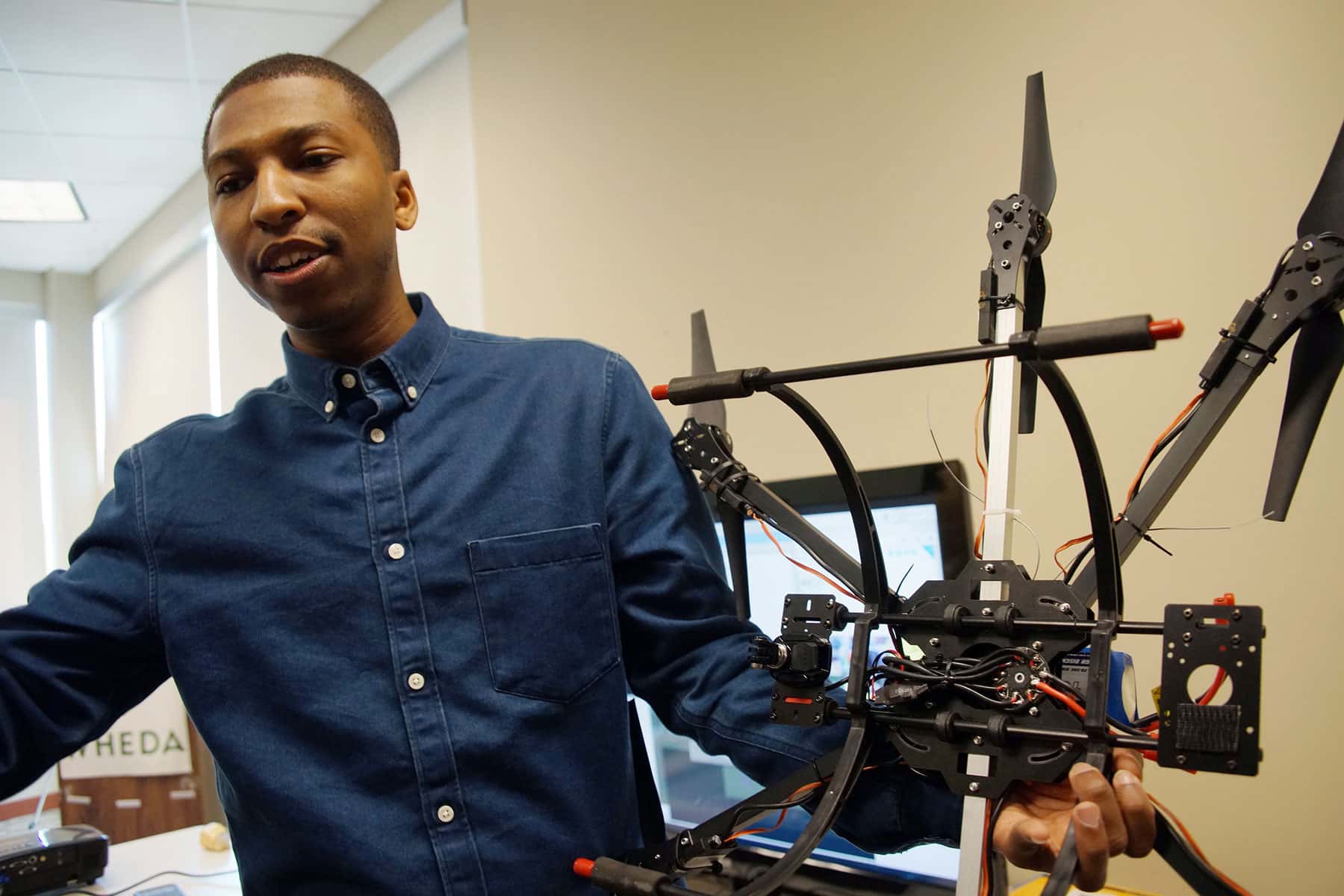 A dozen middle-school kids chat and eat a snack as they wander around the Wisconsin Housing and Economic Development Authority (WHEDA) building, where technical equipment is piled on scattered tables. As they finish eating, they gravitate toward a long table where they find a bag of marshmallows, sticks of uncooked spaghetti, a roll of bright blue duct tape and some string.
"It's time for the marshmallow challenge," announced Que El-Amin, one of two brothers running the YES STEAM Accelerator summer technology camp.
The eight-week program was the latest in a series of opportunities that Que, 31, and Khalif El-Amin, 30, offered city youth free of charge. The brothers, who started their for-profit company, the Young Enterprising Society (YES), in 2011, have recently focused their efforts on bringing their knowledge of technology to middle and high school students, mostly in central city schools.
"We feel that if you have the proper resources, anyone can accomplish anything they want to in the world," Que El-Amin said.
The marshmallow challenge involves teams of three or four kids, and a yard of string, a yard of tape, 20 sticks of spaghetti and two marshmallows per team. The challenge is to build a standing structure with a marshmallow on top in 18 minutes.
After some minutes of puzzling over and manipulating the materials, Amariana Troutman, 12, shouted, "Start from the bottom and build up."
Troutman, a seventh-grader at Greater Holy Temple Christian Academy, 5575 N. 76th St., later explained that she had worked on a similar project at school and remembered that the key had been to build a stable foundation.
Like everything that happens at the camp, the goal of the marshmallow challenge is to get the participants thinking creatively and to build confidence in their ability to figure things out.
Other hands-on activities included building a structure out of materials such as boxes, newspapers and plastic bags that could withstand a 10-foot drop; building aquaponics tanks; and flying drones. In addition, visitors including a surgeon, a data security lawyer and a banker demonstrated how STEAM skills could be used in life and work.
"It's fun," said Troutman. "We get more connected to technology. They help us learn to build stuff. We worked on connecting wires to a hard drive. We had to download something onto the hard drive and then connect the wires to the motherboard and make lights light up."
The camp, like the in-school workshops the brothers taught at 13 schools last semester, was free to participants. With the help of technology entrepreneur Greg Meier, a professor of innovation in the business school at Cardinal Stritch University, YES applied for and received a $90,000 grant from WHEDA last year.
Chantia Lewis, whose sons, Jireh, 10, and Jeremiah, 9, participated in the summer camp, said her sons "wish it was an all day, every day program because they love the robotics and the aquaponics."
Lewis attributes the children's love of the program to the El-Amin brothers' "level of excellence, patience and expertise." They take the time to ask them what they are interested in and the kids know they really care about them, she added.
Que and Khalif El-Amin, who graduated from Dominican High School and Rufus King International High School, respectively, said they acquired their ability to aim high and go around obstacles from their strong family and a sense of friendly competition. Que noted that his family also values education.
"(They) embody the entrepreneurial spirit, said Meier, who has worked with the brothers for four or five years. "(To them) failure is not a reason to stop, it's a reason to learn," he added. Meier, the El-Amin brothers and the other 10 or so core members of YES share a passion for contributing to the community, Meier and Que El-Amin agreed.
"We want (our workshops and summer camp) to give young people their first exposure to technology so they can find what they're interested in and continue to explore," said Que, who graduated from the University of Wisconsin.
Meier noted that many of the schools that YES has worked in lack basic technology. "The students are as isolated as if they were living on a mountain in Tibet."