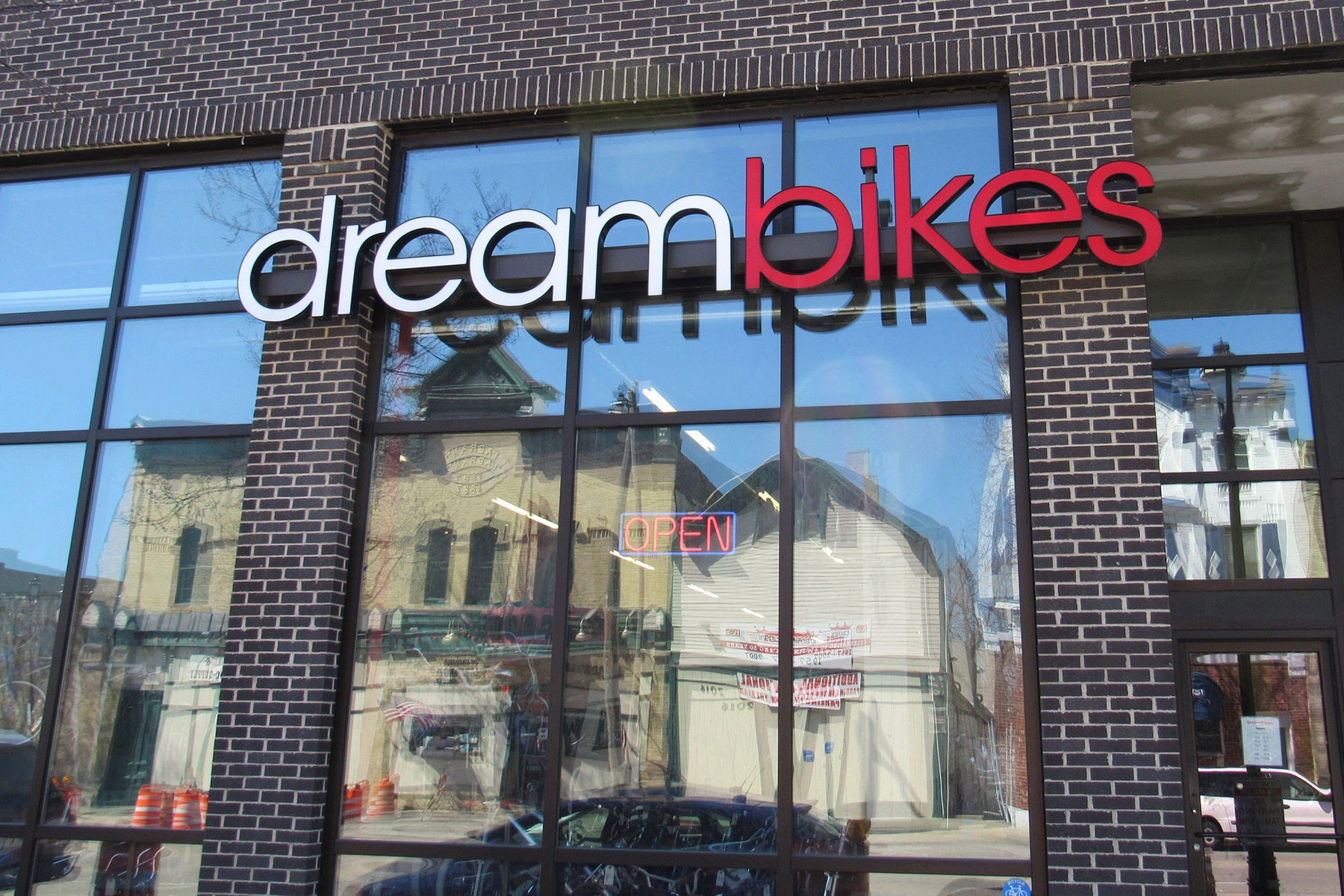 Purple and blue strands of reflective tinsel, pulled backward by the wind, whirl in a chaotic dance from the handlebars of a children's Huffy bicycle, giving the young rider the illusion of intense speed. The gleeful expression on the girl's face exclaims that spring has arrived and with it, the time for outdoor activities such as riding bikes.
Her bike came from DreamBikes, a nonprofit shop founded by Trek Bicycle Corp. The shop sells bikes for riders of all ages, while also employing area teens, explained Ashley Parker, program assistant at DreamBikes – Milwaukee
Founded in 2008 by Trek Bicycle Corp.'s president, John Burke, the first DreamBikes opened its doors in Madison. In 2010, DreamBikes – Milwaukee opened at 2021 N. Martin Luther King Drive. The two locations have refurbished and resold more than 10,000 bikes and employed more than 80 teens.
According to Parker, DreamBikes is unique because of its mission to offer neighborhood youth employment and career counseling.
Parker is responsible for overseeing the progress of student employees and interns hired by DreamBikes, she explained.
"My job is to help them with the 'after DreamBikes' part," said Parker. "Most of them are college bound, a couple military, some of them just want to go straight into the workforce. My job is to help them figure out how to get there."
Parker said she does not urge students into a particular field. "I help them figure it out and give them a second opinion other than what's coming from home or what's coming from a teacher," she noted.
Many of DreamBikes' employees began their journey at the Boys and Girls Clubs of Greater Milwaukee, according to Michael Waite, director of career development. Beginning in 2010, the organization partnered with DreamBikes' Madison location, but quickly expanded the partnership to include the Milwaukee shop. After completing the Boys and Girls Clubs' job readiness program, students were eligible to be placed at DreamBikes.
In 2012 the Boys and Girls Clubs initiated a 16-week program, including an eight-week bicycle mechanics camp and an eight-week internship with DreamBikes. Many of the Boys and Girls Clubs interns have been hired by DreamBikes after their internship.
Waite said employment with DreamBikes is an important first step for teens. "[DreamBikes] opens a lot of doors for teens because it gives most of them their first job, giving them experience to get hired elsewhere in the future."
The built-in mentorship program offered by DreamBikes is equally important, according to Waite.
"It's important for [the students] to build and grow professionally," Waite said. "Having another adult not only to teach them how to be professional, but also to have a person to trust and to talk about life with is incredibly important for young people."
Kierstin Armstead, a college sophomore at Mount Mary University, is among the student employees Parker worked with at DreamBikes. Armstead has been a DreamBikes employee for more than four years and says she has noticed a change in her demeanor as a result.
"I've learned how to not be so shy," Armstead said. "Before, when the customers would come in I would go to the back or wouldn't want to talk to them, but [DreamBikes] helped me boost my confidence in working with people and [in customer service.]"
Armstead said she benefited most from the organization's scholarship program, which is echoed by most DreamBikes student employees, according to Parker. "That's what helped me actually want to go to school," Armstead said of the program. "I knew I would have that backup and that DreamBikes would help me."
The DreamBikes scholarship program began in 2013, when a Trek Bicycle Corp. engineer, Andrew Meyers, passed away. The loss of their son inspired Meyers' parents to start a memorial fund in his honor. The fund allowed DreamBikes to initiate a scholarship program, which has been helping student employees pay for their college tuition for the past three years.
Armstead also noted that DreamBikes opened other opportunities for her. "I've met a lot of people here who have helped me," she said. Armstead said that Parker's guidance helped her figure out what she needed to do to transfer schools and change her major.
DreamBikes offers community members significantly reduced prices on restored bikes. If they are still unable to afford their desired purchase, DreamBikes offers financing options.
Aytan Luck, owner of Truly Spoken Cycles, 604 E. Center St., said he supports DreamBikes' mission, adding that a lot of his customers rely on bicycles as their main mode of transportation.
"We get a lot of commuters in our shop and a lot of people who rely on their bikes for transport. Many are low income and simply can't afford a car," said Luck.
Parker added that DreamBikes is important for neighborhood youth. "A lot of the younger people don't really have a mentor and I think [DreamBikes] is useful to help turn the students into productive citizens and help them figure out who they want to be."