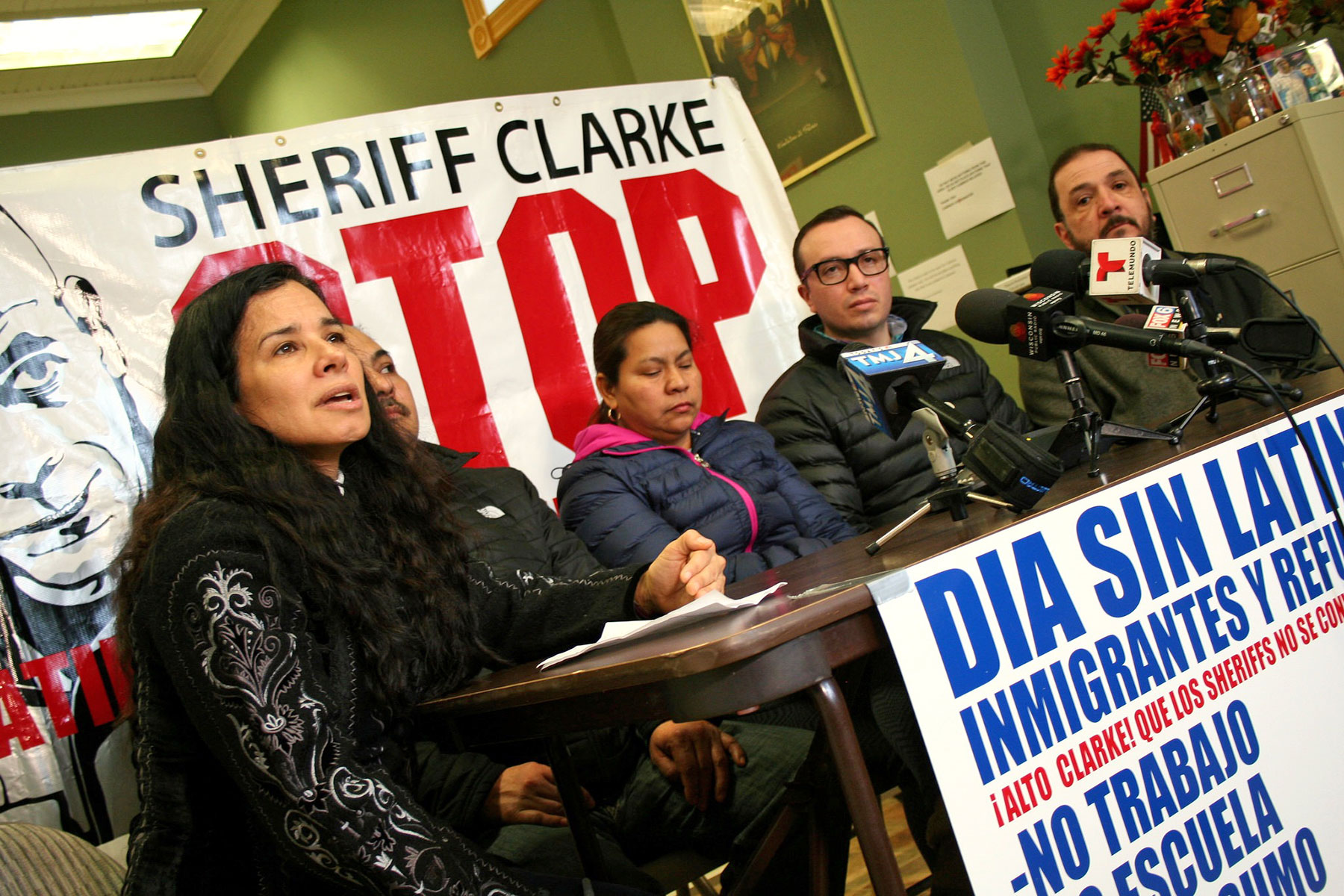 In response to recent anti-immigrant federal actions, local immigrants and advocates are organizing a "Day without Latinos, Immigrants and Refugees" to protest the implementation of policies they say would criminalize non-citizens.
Zahra Omar describes her aunt as a strong woman. But when she resisted armed Somali militants who had entered her home, they tied her up before one of the men shot and kiIIed her.
"My daddy, too, he dіеd like that," said Omar, 25. "I've never seen my dad."
Omar was an infant when her mother fled the country, which has been embroiled in conflict since the 1980s when an unpopular regime inflamed clan rivalries to divert attention from its failed policies. With her remaining siblings — two others died in Somalia — Omar's family found their way across the border to Dadaab, Kenya, where they subsisted in a refugee camp that has housed hundreds of thousands for decades.
Omar recalled difficult conditions where food was scarce and there was little to no medical aid or opportunity for education. After about 10 years there, Omar entered the United States in 2004.
The move made a big difference, according to Omar, who now has her own children and is intent on becoming a citizen. The family had their own home, clothing, sufficient food, educational opportunities and, most importantly, safety.
But two recent executive orders, signed by President Donald Trump less than a week after the new administration took power, have green card holders and immigrant rights advocates in Milwaukee worried that non-citizens may not be safe much longer.
In response to these actions, Voces de la Frontera, an immigrant rights advocacy group, is organizing Dia sin Latinos, Inmigrantes y Refugiados (Day without Latinos, Immigrants and Refugees), a daylong strike, boycott and demonstration on February 13. Individuals participating are being encouraged to keep their kids home from school, not go to work and refrain from making purchases in a proactive demonstration of opposition to these measures.
"It was just shocking for me to hear that a president could actually sign an executive order banning people from entering the country," said Zeynab Ali, 18, a Somali Muslim who also lived in a Kenyan refugee camp until she was 6.
That executive order indefinitely bans Syrian refugees from entering the country, suspends entry of all refugees for 120 days and bans anyone traveling from Iraq, Syria, Sudan, Iran, Somalia, Libya and Yemen from entry for 90 days. Though the order does not single out any particular religious group, the seven nations specifically mentioned are all Muslim-majority countries. Trump expressed support for a ban on all Muslims during his campaign.
Ali, who called the order "horrendous" and "life-threatening" because of the impact it will have on those fleeing violence, said she was surprised by the move because of the fact that all Americans are, essentially, immigrants.
A second executive order, signed by Trump two days before the ban made news, called for "State and local law enforcement agencies across the country to perform the functions of an immigration officer in the interior of the United States to the maximum extent permitted by law" by partnering with Immigration and Customs Enforcement (ICE) under the 287(g) program.
Under the program, which was created in 1996, ICE trains local law enforcement officers to enforce immigration laws, granting the authority to "interrogate any alien or person believed to be an alien as to his right to be or to remain in the United States," and issue search warrants and arrest warrants based on an individual's suspected immigration status.
In a Facebook post on January 27, Milwaukee County Sheriff David Clarke signaled that he would seek to train his staff under the program and "assign as many deputies to this initiative as I can."
Milwaukee Police Department (MPD) Chief Edward Flynn said in an interview with local media shortly after Clarke's statement that it doesn't make sense for local law enforcement to prioritize immigration enforcement over investigating crimes.
MPD Sgt. Timothy Gauerke stressed this does not mean undocumented individuals who are arrested for a major crime would be released without verifying their status.
"We make whatever notifications we're legally obligated to make but we don't have the authority to detain people based on immigration status alone," Gauerke said. "We don't want to scare people into the shadows where they don't use their local police."
Salvador Rojas, a former undocumented immigrant, said when he and his wife, Rafaela Flores, heard about the executive orders and Clarke's statement they thought about their community and their children. The couple, who have lived in the U.S. for 16 years, fled Mexico to escape the often-violent drug cartels and organized crime in Veracruz, with the hope of providing a better future for their two children.
Though they had been in the country since 2001, about five years ago ICE came knocking at their door. The agents were looking for someone else who had committed a crime but took Rojas in anyway. He was involved in deportation proceedings for years. Eventually, the two were able to adjust their status and are now permanent legal residents after being robbed at gunpoint, a crime they reported and helped to prosecute.
"Immigration is not just about pursuing people with a criminal record," said Flores through a translator. "They also profile people and it doesn't matter if you don't have any kind of record."
Lena Camara, 39, a mother and green card holder originally from Senegal, called the recent moves by the Trump administration "terrifying." Camara, who has a master's degree and has lived in five countries, said she has had to fight stereotypes her entire life. She said her 8-year-old daughter recently asked if Camara, who wears a hijab, should pretend to not be Muslim. Camara called the thought of not being herself "degrading."
"You realize that, you know, these people are really talking to you," she said. "All these orders, xenophobia, the fact that they are attacking women, it's like a big ball and you're in there. Because, if you had a checklist, you would be checking all those boxes."
"I am from Africa, I'm black, I'm Muslim. And, right now, I feel like I am a target," Camara added.
Voces de la Frontera Executive Director Christine Neumann-Ortiz said immigrants have been under attack for some time but what's happening now is different because the people in positions of power are being driven by a "clear ideology." She called 287(g), which gained notoriety in Maricopa County, Arizona, under Sheriff Joe Arpaio, a "discredited" and "unconstitutional" program whose implementation would "change, dramatically, the situation here for us in Milwaukee County."
"287(g) is kind of, like, stepping up the game of proactively going after people at a local level and using local law enforcement as a tool for that," said Neumann-Ortiz. "It's part of the mass deportation machinery that Trump is trying to set up."
Neumann-Ortiz urged people "from all different ethnic and racial backgrounds" to stand together and support the Day without Latinos, Immigrants and Refugees, which she said has garnered national attention.
Camara added that it is more important than ever for different groups, particularly marginalized peoples, to support each other and realize that "this is only one fight."
"We've had so many societies that went through this," she said. "And I can't believe that, knowing what already happened, and what can happen, we can allow ourselves to sit back and just let this happen. Because it always starts like this."