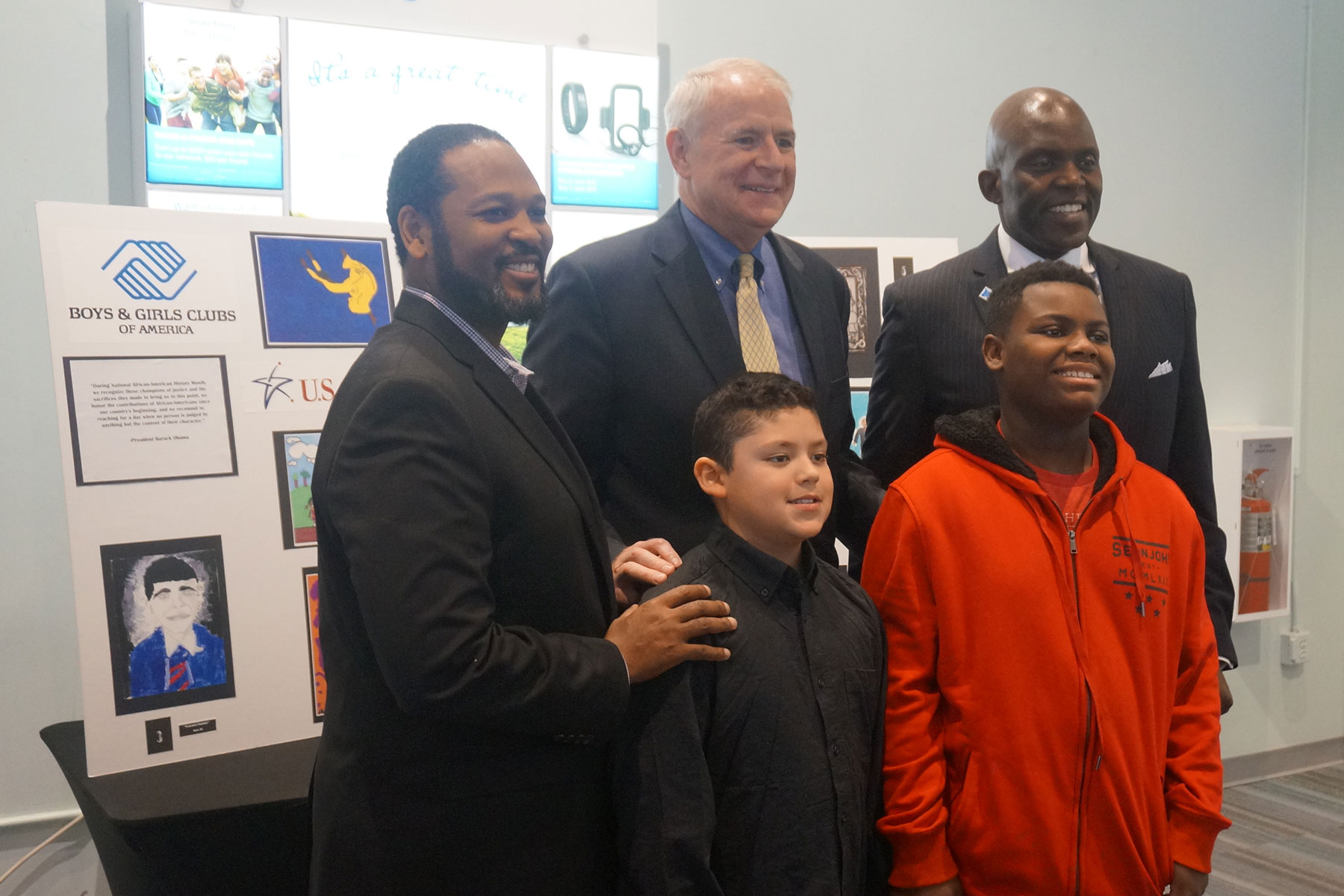 U.S. Cellular and the Boys & Girls Clubs of Greater Milwaukee sponsored an art contest commemorating Black History Month. Artwork is now on display and voting will run through February.
Xzavier Ledesma's drawing of Malcolm X for a Black History Month art contest depicts the African-American leader as half-human, half-lion. Xzavier, 10, said he wanted to show that Malcolm X was smart and strong like a lion.
On a recent Monday, Xzavier and Lamarr Hughlett, 13, had the opportunity to display their artwork to Mayor Tom Barrett and others at the downtown U.S. Cellular store. Xzavier and Lamarr, members of the Boys & Girls Clubs of Greater Milwaukee, were among eight finalists in an art contest celebrating Black History Month. Both boys hope to be professional artists when they grow up. Their artwork will be shown in U.S Cellular stores in Milwaukee, Brown Deer, Wauwatosa and Bayshore Town Center through February 24.
"This contest really gave us a chance to challenge our youth with a contest, while celebrating the richness of African-American culture," said Scott Hanson, U.S Cellular retail area sales manager.
Boys & Girls Clubs members submitted original 8.5 by 11-inch portraits depicting an African-American figure of their choice. Community members over the age of 18 are encouraged to vote for their favorite piece of artwork. The top three finalists will receive a $250, $200 or $150 gift cards from U.S Cellular. During January, participating Boys & Girls Clubs members were encouraged to do research and learn more about African-American figures.
"What we are doing here is showcasing the future," said Vincent Lyles, president and CEO of the Boys & Girls Clubs. "We are giving our kids the chance to show their work, get inspired and inspire others."
Xzavier, who attends Rogers Street Academy, said he chose to draw Malcolm X because he inspired people and showed that anyone can stand up for oneself. Lamarr, a 13-year-old student attending Doerfler School, drew a picture of former President Barack Obama. The most difficult part of his drawing, he said, was learning how to do the shading. Other students drew Dr. Martin Luther King Jr.
Mayor Tom Barrett attended the kick-off and cast the first vote. Barrett joked that voting for the best portrait was much better than a government election because voters aren't plagued by unwanted TV commercials.
"Every election is actually the most important election we have, because every election is about the future. Right here you see the future of Milwaukee," said Barrett. "With Xzavier and Lamarr you see two young men who are trying very, very hard and who are obviously great artists."
Lamarr, who has been drawing since he was 3 years old, said he spends most of his time drawing. He even came up with his own superhero called "Red X." His superhero is an African-American man with a mohawk who uses what Lamarr described as "black magic."
Xzavier and Lamarr both attend art classes at the Don & Sallie Davis Boys & Girls Club. They were chosen to come to the kick-off by muralist Vedale Hill, youth arts mentor at the club.
Hill called himself a "proud papa" when speaking about how Xzavier and Lamarr hope to be professional artists. Hill explained that the Boys & Girls Clubs hire professional artists to help students understand that art doesn't have to be a hobby.
"They play basketball in hopes to go to the league. They do math looking into math careers. Only in the arts are they not really looking to the future," said Hill. "We are trying to change that whole perspective and think about it in a career-building, entrepreneurial way."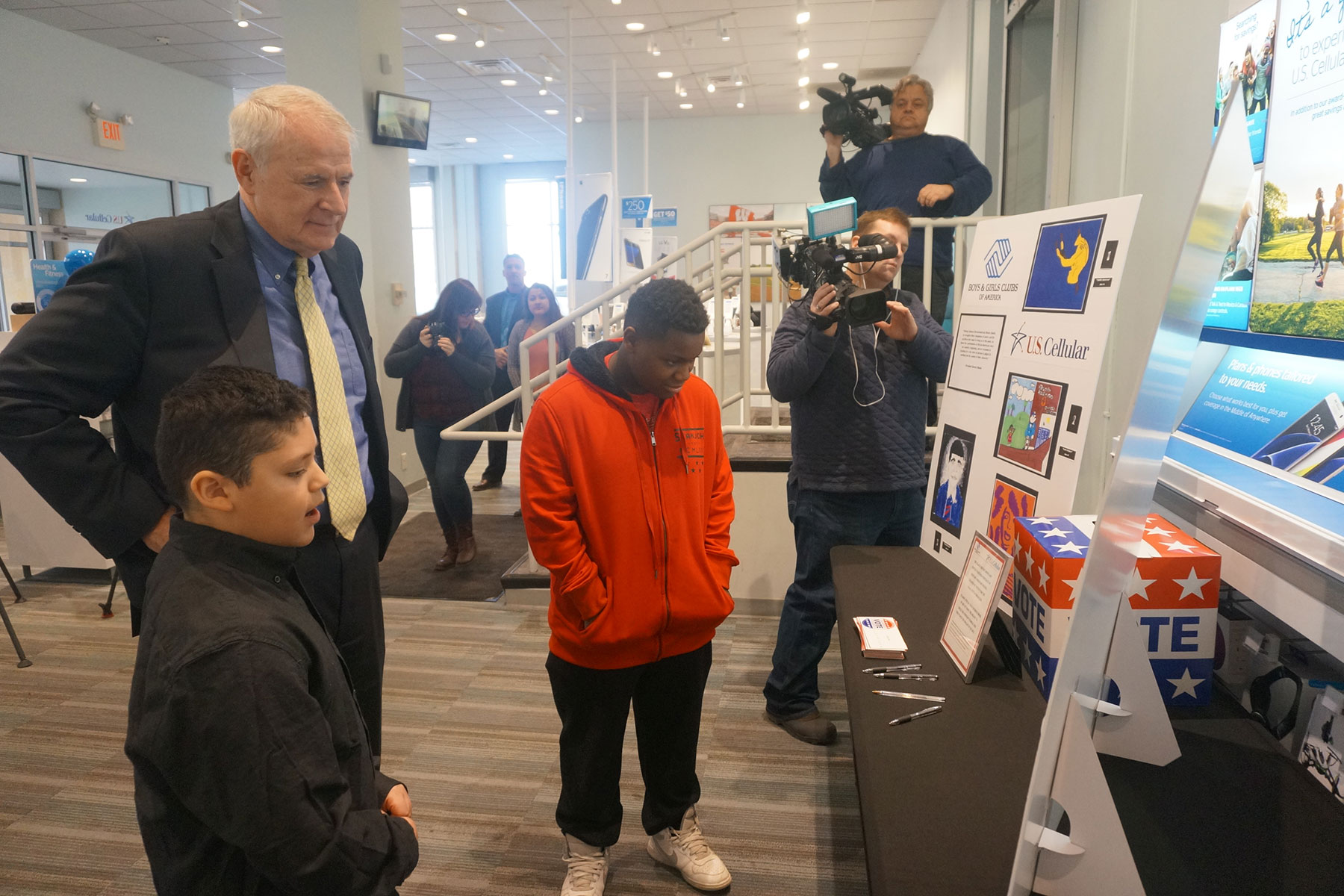 The Office of Mayor Tom Barrett