An Attack on Black voters: Wisconsin Supreme Court Judge says Trump's election lawsuit "smacks of Racism"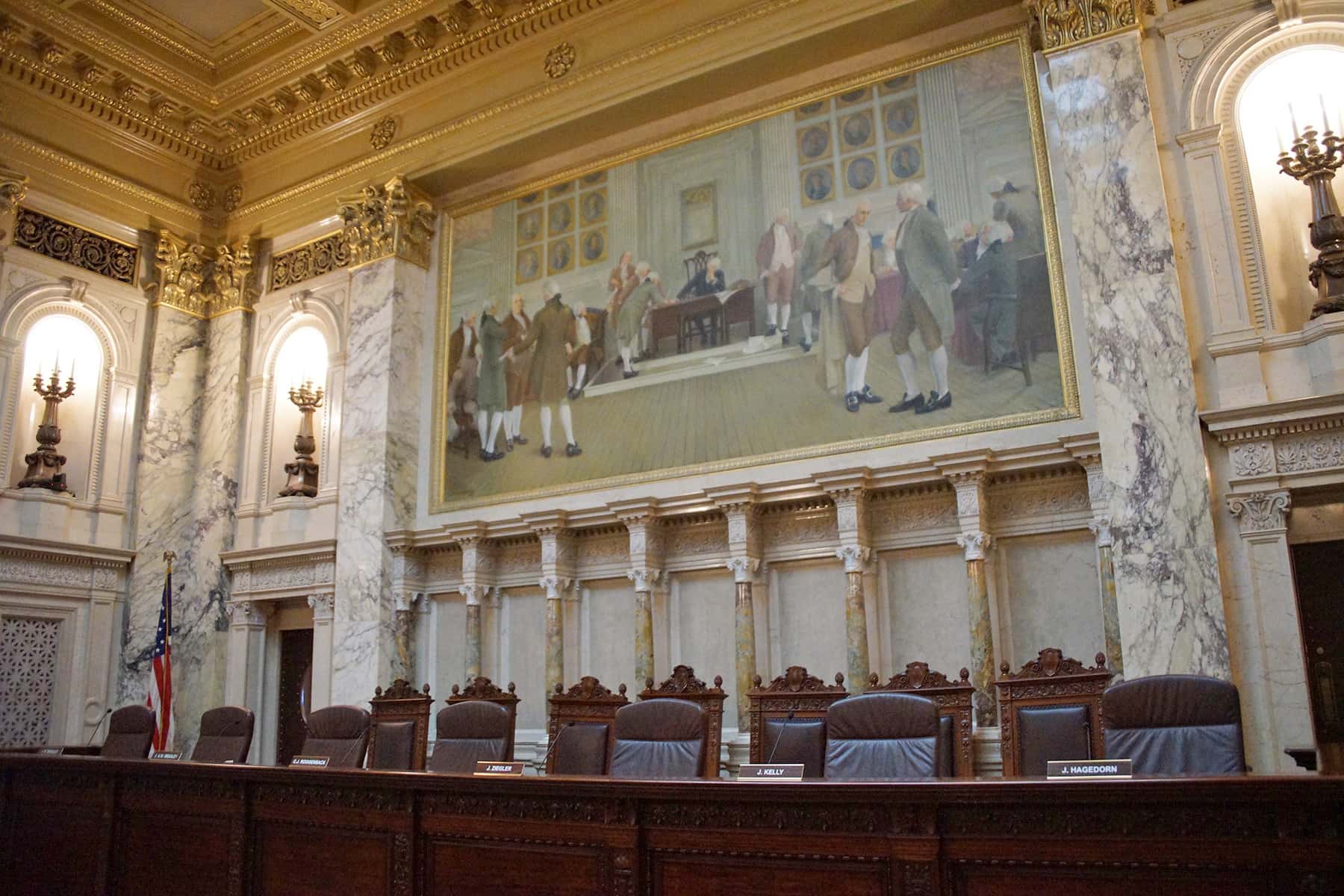 Liberal justices on the Wisconsin Supreme Court grilled an attorney for President Donald Trump's campaign during oral arguments on December 12, with one calling the president's lawsuit seeking to overturn the state's election results racist and "un-American."
If there was any doubt, the case highlighted fierce opposition to Trump's arguments by some members of the court, which has already ruled 4-3 to reject two other lawsuits filed by allies of the president. Trump's lawsuit aims to throw out more than 220,000 ballots cast in Dane and Milwaukee Counties, both Democratic strongholds that helped propel President-elect Joe Biden to his victory in Wisconsin. Biden won the state by 20,682 votes.
Justice Jill Karofsky, one of the court's liberals who was elected with the help of Democrats in April, told Trump campaign attorney Jim Troupis that the lawsuit was discriminatory against voters in Dane and Milwaukee.
"Two counties that are targeted because of their diverse populations. Because they're urban. I presume because they vote Democratic," Karofsky said. "This lawsuit, Mr. Troupis, smacks of racism."
Repeatedly during arguments, Karofsky pressed Troupis to show specific examples of voter fraud, which are not included in the Trump campaign's lawsuit.
"What you want is you want us to overturn this election so that your king can stay in power," Karofsky said. "And that is so un-American. And for you to say that anyone in Wisconsin engaged in fraud, for you to perpetuate that fallacy on the people of Wisconsin and the people of the United States in America, in what has been called the most significant election in our lifetime, is nothing short of shameful."
Karofsky told Troupis America was founded on the idea of self-governance, not "governance from a king." Troupis countered with his own take.
"I believe that this country was founded on the principle of the rule of law," Troupis said. "When we forget the rule of law, when we forget to enforce mandatory statutes as are involved here, we have lost our country."
Trump's lawsuit is an offshoot of the recount his campaign asked for in Dane and Milwaukee Counties. It seeks to overturn four groups of absentee votes. Those include roughly 170,000 ballots for people who voted in person before Election Day. The Trump campaign argues they didn't use the same application as other absentee voters who cast ballots by mail.
The Trump campaign challenged another 28,000 ballots from voters who said they were "indefinitely confined," which lets them submit an absentee ballot application without providing a copy of a photo ID. Trump also wants to strike about 5,500 ballots where clerks completed a witness' address, which is allowed under Wisconsin Election Commission guidance.
In addition, Trump would reject about 17,000 ballots collected at "Democracy in the Park" events sponsored by the city of Madison earlier this year. Republicans raised concerns about those events before they were held but never challenged them in court.
Repeatedly during arguments on December 12, Justice Karofsky, who is from Dane County, and Justice Rebecca Dallet, who is from Milwaukee County, pressed Troupis on why Trump was only challenging ballots in those counties and not others.
"You are alleging to this court that there were improper procedures taking place. Yet the only votes you want to throw out are the votes in the two largest counties — the two most diverse nonwhite, urban counties — and the two counties that have the most significant votes for Joe Biden," said Dallet.
Troupis suggested that Biden's campaign could have asked for a recount in Wisconsin's 70 other counties had it wanted to. While the comments from Karofsky and Dallet grabbed attention at the hearing, the case likely hinges on the votes of the court's conservatives.
Conservative Justice Brian Hagedorn, the court's swing vote on several recent cases, said much less during the arguments, but he did ask attorneys questions about the "laches" principle typically followed by courts in election challenges. Put simply, "laches" prevents parties from retroactively bringing lawsuits for issues that could have been disputed ahead of time.
Chief Justice Patience Roggensack focused her remarks on Madison's "Democracy in the Park" events, where poll workers collected ballots at parks during two weekends before early voting started. Early voting began Oct. 20 while "Democracy in the Park" took place on two weekends in late September and early October.
"My concern is that this is early voting," Roggensack said. "People brought their ballots. Somebody witnessed the ballots for them, and they collected the voted ballots."
Wisconsin Department of Justice attorney Colin Roth stressed that a key difference between the Madison events and early voting is that no absentee ballots were given out. Also potentially telling during December 12's arguments were comments from Justice Rebecca Bradley, the court's most outspoken conservative. Bradley questioned whether the court could overturn ballots from all "indefinitely confined" voters.
"The problem with that that I see is that there are people who were probably legitimately, and in accordance with the law, indefinitely confined," Bradley said. "And so that would require the court to toss those ballots as well."
Bradley asked Troupis whether it would be helpful if the court were to address some of the claims the Trump campaign raised in its lawsuit even if justices decided that he had filed too late to overturn the results of the election. For Trump and his allies, the state Supreme Court case is the last one still pending in a Wisconsin courtroom.
The Wisconsin Supreme Court has already rejected two lawsuits, one filed by Chippewa Falls attorney Karen Mueller, the other filed by The Thomas More Society, a conservative law firm based in Chicago, on behalf of a group called the "Wisconsin Voters Alliance."
While arguments in the Supreme Court were happening on December 12, U.S. District Court Judge Brett Ludwig rejected his federal lawsuit. Another federal lawsuit seeking to overturn Wisconsin's election, filed by attorney Sidney Powell, was rejected late December 9 by U.S. District Court Judge Pamela Pepper. Powell has appealed the ruling.
And on December 11, the U.S. Supreme Court rejected a lawsuit by Texas Attorney General Ken Paxton seeking to overturn elections in Wisconsin and three other states.
Donate: Wisconsin Public Radio