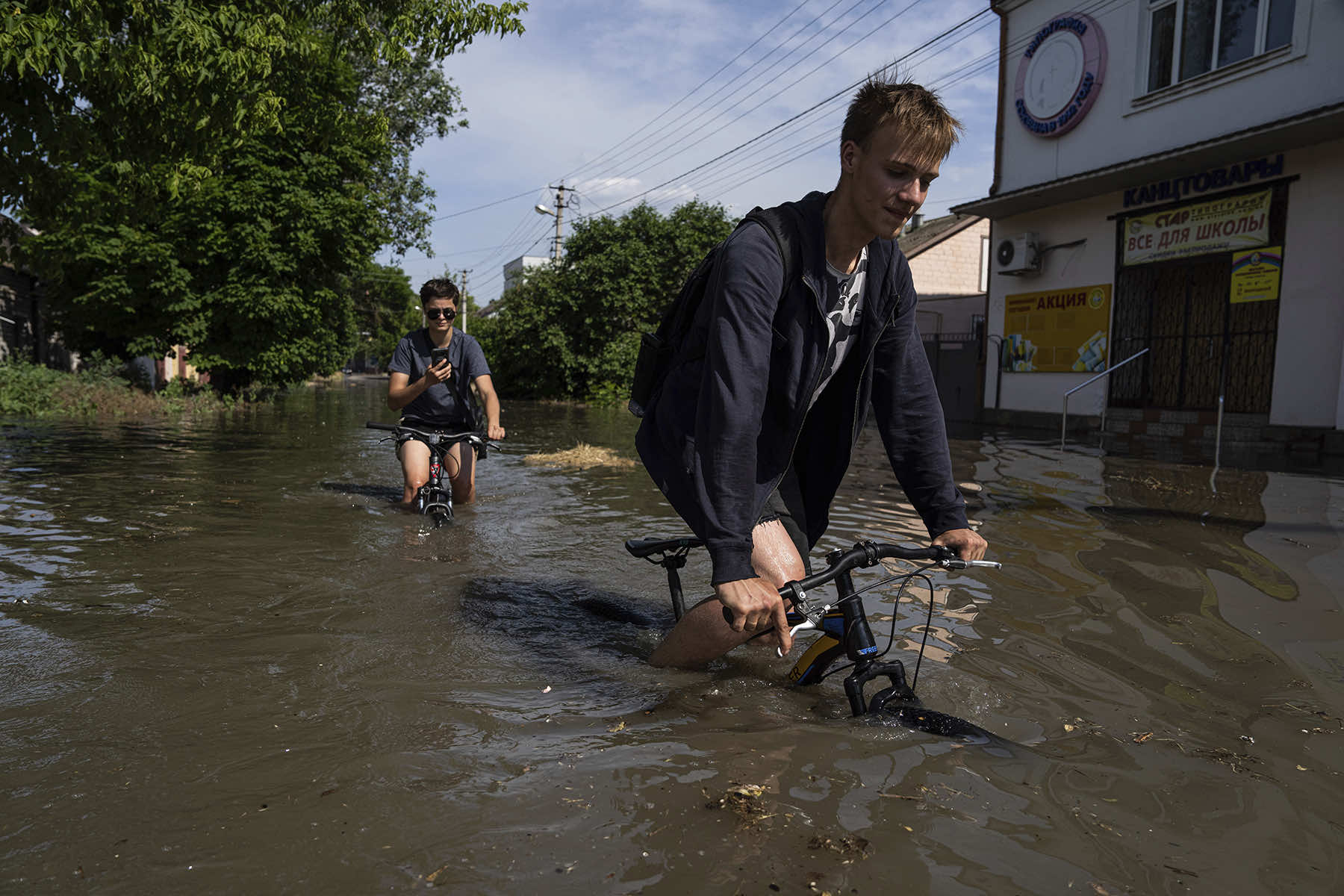 A major dam in southern Ukraine collapsed on June 6, flooding villages, endangering crops, and threatening drinking water supplies as both sides in the war scrambled to evacuate residents and blamed each other for the destruction.
Ukraine accused Russian forces of blowing up the Kakhovka dam and hydroelectric power station, which sits on the Dnieper River in an area Moscow has controlled for more than a year.
Ukrainian officials used terms like "ecological disaster" and "terrorist act" to describe the torrent of water gushing through the broken dam and beginning to empty an upstream reservoir that is one of the world's largest.
Ukrainian President Volodymyr Zelenskyy called it "the largest man-made environmental disaster in Europe in decades." U.N. Secretary-General Antonio Guterres called it "another devastating consequence of the Russian invasion of Ukraine."
As homes, streets, and businesses flooded, authorities expressed concerns about drinking water supplies and emergency crews evacuated thousands of people from Ukrainian and Russian-controlled areas.
In the downstream city of Kherson, angry residents cursed as they tried to preserve their pets and belongings. A woman who gave her name only as Tetyana waded through thigh-deep water to reach her flooded house and rescue her dogs. They were standing on any dry surface they could find but one pregnant dog was missing. "It's a nightmare," she kept repeating, declining to give her full name.
Both Russian and Ukrainian authorities brought in trains and buses to move residents to safety. About 25,000 people in Russian-controlled areas and 17,000 in Ukrainian-held territory should be evacuated, Ukraine's deputy chief prosecutor Viktoriia Lytvynova said on Ukrainian television. Neither side reported any deaths or injuries.
A satellite photo on June 6 by Planet Labs PBC showed more than 1,900 feet missing from the wall of the 1950s-era dam.
The dam break, which both sides long feared, added a stunning new dimension to Russia's war, now in its 16th month. Ukrainian forces were widely seen to be moving forward with a long-anticipated counteroffensive in patches along more than 621 miles of front line in the east and south.
Zelenskyy told reporters his government knew last year that Russia had mined the dam, so "there may come a moment when an explosion occurs." Other Ukrainian officials alleged Russia blew up the dam to hinder Kyiv's counteroffensive, even though observers note that crossing the broad Dnieper would be extremely challenging. Other sectors of the front line are more likely avenues of attack, analysts say.
Nigel Gould-Davies, a senior fellow for Russia and Eurasia at the International Institute for Strategic Studies, called the alleged Russian destruction of the dam "a profoundly defensive measure" showing "the lack of confidence in Russia's longer-term prospects" in the war.
Experts have previously said the dam was in disrepair, which could also have led to the breach. David Helms, a retired American scientist who has monitored the reservoir, said in an email it wasn't clear if the damage was deliberate or simple neglect by occupying Russian forces. But Helms also noted a Russian history of attacking dams.
Underscoring the global repercussions, wheat prices jumped 3% after the collapse. It was unclear whether the surge was due to a real threat of floodwaters destroying crops. Ukraine and Russia are key global suppliers of wheat, barley, sunflower oil and other food to Africa, the Middle East and parts of Asia.
Authorities, experts, and residents have been concerned for months about water flowing through — and over — the Kakhovka dam. After heavy rains and snowmelt last month, water levels rose beyond normal, flooding nearby villages. Satellite images showed water washing over damaged sluice gates.
Zelenskyy alleged Russian forces set off a blast inside the dam structure at 2:50 a.m. on June 6 and said about 80 settlements were in danger.
White House National Security Council spokesman John Kirby told reporters the U.S. "cannot say conclusively what happened" and declined to assess the impact on Ukraine's counteroffensive.
An environmental disaster looms from polluted waters partly caused by oil leaking from the dam's machinery and farmland deprived of irrigation.
Ukraine's Interior Ministry urged residents of 10 villages on the Dnieper's western bank and parts of the city of Kherson to gather essential documents and pets, turn off appliances, and leave.
The Russia-installed mayor of Nova Kakhovka, which had a prewar population of about 45,000, said the city was being evacuated.
The Zaporizhzhia Nuclear Power Plant, Europe's biggest, relies in large part on water from the dam's now-emptying reservoir. The U.N.'s International Atomic Energy Agency reported "no immediate risk to the safety of the plant," whose six reactors have been shut down for months but still need water for cooling.
It said the rate of the drop in the dam's reservoir level increased from 2 inches to 3.5 inches an hour and could be depleted in a couple of days. The plant has alternate water sources that can last for months, according to the IAEA.
Ukrainian authorities have previously warned that the dam's failure could unleash a volume of water estimated as nearly equivalent to that of the Great Salt Lake in the U.S state of Utah.
Mykhailo Podolyak, a senior adviser to Zelenskyy, warned "thousands of animals and ecosystems will be destroyed."
The incident also drew international condemnation, including from German Chancellor Olaf Scholz and NATO Secretary-General Jens Stoltenberg, who said the "outrageous act … demonstrates once again the brutality of Russia's war in Ukraine."
Ukraine controls five of the six dams along the Dnieper, which runs from its northern border with Belarus down to the Black Sea and is crucial for the country's drinking water and power supply and that of Russian-occupied Crimea.
WHY IS THE DAM IMPORTANT?
The 98-foot-high dam and associated hydroelectric power station are located about 44 miles east of the city of Kherson — a flashpoint of the conflict in a region that Russia has claimed to have annexed but does not fully control.
Together with the power station, the dam helps provide electricity, irrigation and drinking water to a wide swath of southern Ukraine, including the Crimean Peninsula, which was illegally annexed by Russia in 2014.
Ukraine's vast agricultural heartland, which is partially fed by the Dnieper river, is crucial to worldwide supplies of grain, sunflower oil and other foodstuffs. Global wheat and corn prices rose on June 6 over concerns that production might be disrupted.
The dam — one of the world's biggest in terms of reservoir capacity — retained a volume of water nearly equivalent to that of the Great Salt Lake in the United States. The river waters supply cooling systems at the Zaporizhzhia nuclear power plant, where fighting has repeatedly raised fears of catastrophic accident.
WHAT HAS HAPPENED TO THE DAM DURING THE WAR?
Russia has controlled the dam since the early days of the war, and Moscow and Kyiv have accused each other of shelling it. Ukraine said the troops occupying it detonated explosives last fall that damaged three sluice gates, which help regulate water levels. Signs of damage to the gates were evident in late May.
Even before the devastation wrought by the June 6 breach, hydropower generation was at a fraction of peak levels. Ukrainian officials and independent experts say Russian forces have failed to maintain the dam — built in the 1950s — either deliberately or through neglect.
Earlier this year, water levels in the reservoir were so low that many across Ukraine and beyond feared a meltdown at the Russian-occupied Zaporizhzhia nuclear power plant. Since mid-February, the water level has steadily increased, according to data from Theia, a French provider of geospatial analysis.
The Ukrainian company that manages the dam and power plant estimates that it will take about four days for the reservoir to reach equilibrium and stop discharging massive amounts of water.
WHO AND WHAT IS AT RISK?
As floodwaters swelled, both Russian and Ukrainian authorities ordered evacuations from among at least 80 towns and villages at risk on both sides of the river, though neither side reported any deaths.
Officials said about 22,000 people live in areas at risk of flooding in Russian-controlled areas, while 16,000 live in the most critical zone in Ukrainian-held territory.
U.N. Secretary-General Antonio Guterres said at least 16,000 people have already lost their homes, and the U.N's humanitarian aid coordinator said efforts are underway to provide water, money, and legal and emotional support to those affected.
Ukraine's Energy Ministry said there is a risk of flooding at energy facilities in the Kherson region. Nearly 12,000 consumers in the city of Kherson have already been left without electricity, and water supplies are also at risk.
Water levels dropped upstream. At the Zaporizhzhia nuclear plant, Europe's largest, the Ukrainian operator and the U.N. atomic energy agency said there was no immediate risk to safety.
Experts warned about the possibility of an environmental disaster for wildlife and ecosystems — in Ukraine and beyond.
The biggest impact of the breach is likely to be upstream, said Mark Mulligan, a professor of physical and environmental geography at King's College London and co-leader of the Global Dam Watch, a project that monitors dams and reservoirs.
"This huge reservoir is going to drain down and the shallows upstream are going to dry out," causing significant ecological damage to aquatic vegetation and wildlife that have relied on the water for seven decades, he said. The rapid flow of freshwater into the Black Sea could also damage fisheries and the wider ecology of the northwest part of the sea, he said.
WHAT DOES IT MEAN FOR THE WAR?
Ukrainian officials said the Russians destroyed the dam to prevent Ukraine from launching a counteroffensive in the area, while Russian officials claimed that Ukraine destroyed the dam to prevent a potential Russian attack on the western bank.
Either way, the destruction of the dam severs a key crossing of the country's most important river. The dam served as a bridge, enabling vehicles to pass over; its destruction also unleashed torrents of water, making it harder to cross the river by other means.
Since last fall, the lower portion of the Dnieper has made up an important part of the front line that stretches more than 620 miles. The crossing repeatedly came under rocket fire as Ukrainian forces led a successful counteroffensive in November that drove Russian forces back across the Dnieper.
Ukraine's military has used groups of scouts to try to gain control of small islands near the Russia-controlled eastern bank and areas in the river's delta. But experts say a broader offensive would involve major risks and logistical challenges.
Crossing the wide river was always seen as a daunting task for the Ukrainian military. Most observers expected it to launch a counteroffensive elsewhere.
Ukrainian military analyst Oleh Zhdanov said that the flooding would make crossing the river even more difficult, noting that it would impact the minefields on the Russia-controlled eastern bank. "Minefields were flooded, mines will be washed off and no one knows where they will surface," he said.