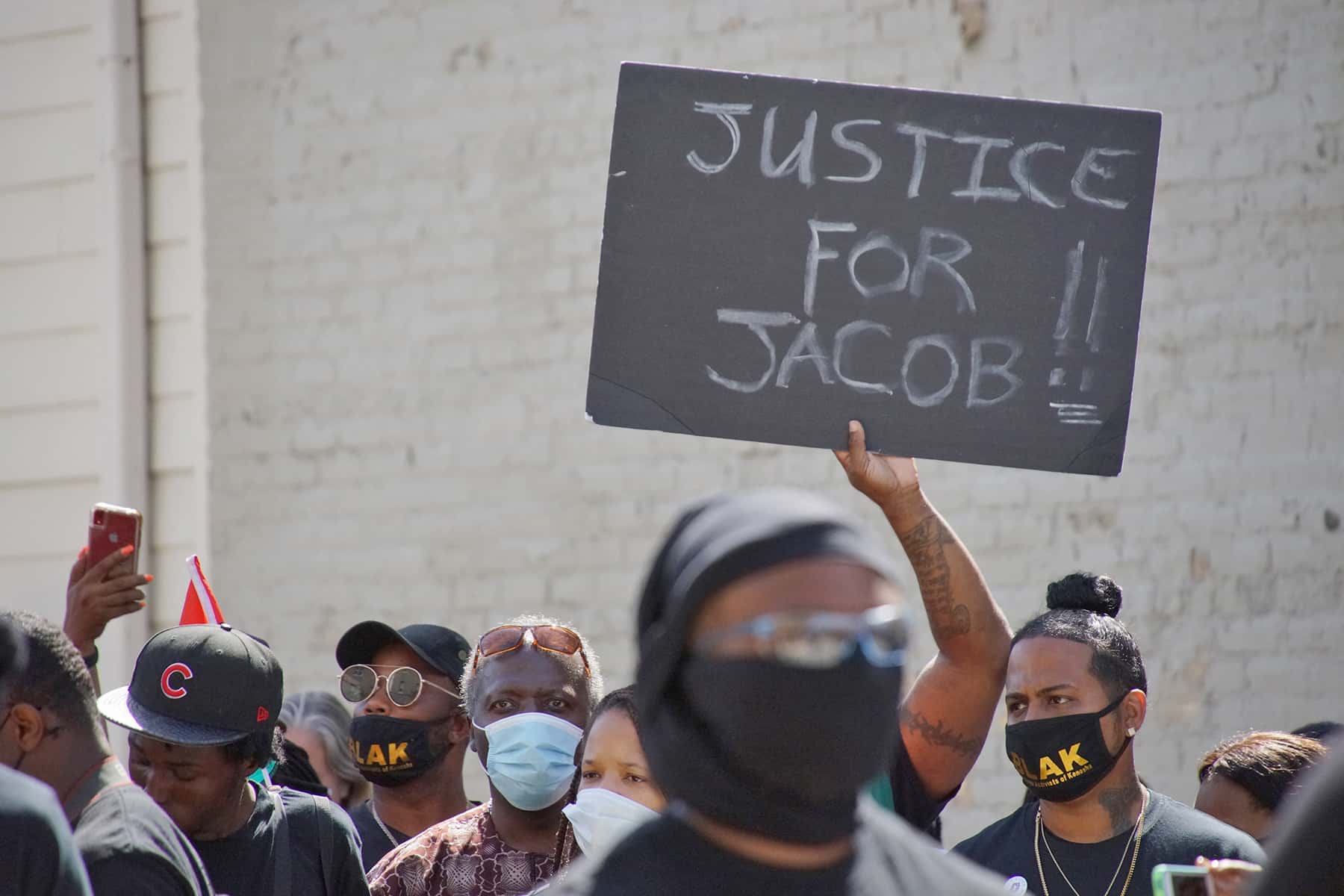 In a Twitter video recorded from his hospital bed on on September 5, Jacob Blake spoke publicly for the first time since being shot in the back seven times by Kenosha police on August 23.
Despite his injuries which will likely leave him paralyzed from the waist down, Blake offered a heartfelt message to his supporters, reminding them that their lives could be taken away at any moment.
"I just want to say to all the young cats out there, and even the older ones, there's a lot more life to live out here, man. Your life, and not only just your life but your legs – something that you need to move forward and move around in life – can be taken from you like this," Blake said, with a snap of his fingers.
The minute-long video statement was posted by his family's attorney, Benjamin Crump, Saturday night and made headlines by morning. Blake talked about being in continuous pain around the clock. Speaking in a green hospital gown, Blake said his stomach and back have been stapled.
"Twenty-four hours, every 24 hours it's pain, nothing but pain. It hurts to breathe, it hurts to sleep, it hurts to move from side-to-side, it hurts to eat," he said. "You do not want to have to deal with this. Please, I'm telling you, change your lives out there. We can stick together, make some money, make everything easier for our people."
Blake, who is Black, was shot in the back by a white police officer on August 23 after walking away from the officer and two others who were trying to arrest him. The officer, Rusten Sheskey, opened fire after Blake opened his own SUV's driver-side door and leaned into the vehicle.
Blake is a 29-year-old father of six, and three of his sons – ages 3, 5, and 8 – were in his vehicle at the time of the shooting. The incident was filmed by a bystander, 22-year-old Raysean White, and it immediately went viral. It came three months after the death of George Floyd, and kicked off a fresh round of protests in Kenosha and other demonstrations around the nation.
Protests in Kenosha began peacefully the night Blake was shot on August 23, but descended into unrest for several nights amid reports of instigation by White Supremacy groups instigating clashes with Black Lives Matter protesters.
The evening demonstrations on August 25 resulted in three White men being shot, with two of them dying at the hands of a 17-year-old white Trump supporter who traveled from Illinois reportedly to "hunt protesters." He was arrested the following day in his hometown and charged with the murders.
The Justice Department and Wisconsin officials have initiated investigations into the shooting in Kenosha. The ACLU and other political leaders have also demanded Civil Rights investigations into the Kenosha police for their violent tactics on peaceful protestors, and claims that they targeted BLM groups while enabling heavily armed White militias to act as vigilantes.
© Photo
Zao MKE Church and Аmy Hаrrіs
These headline links feature the daily news reports published by Milwaukee Independent about the George Floyd protests, the revival of the Black Lives Matter movement that followed, and their impact on the local community in for 8 months from May to December of 2020.