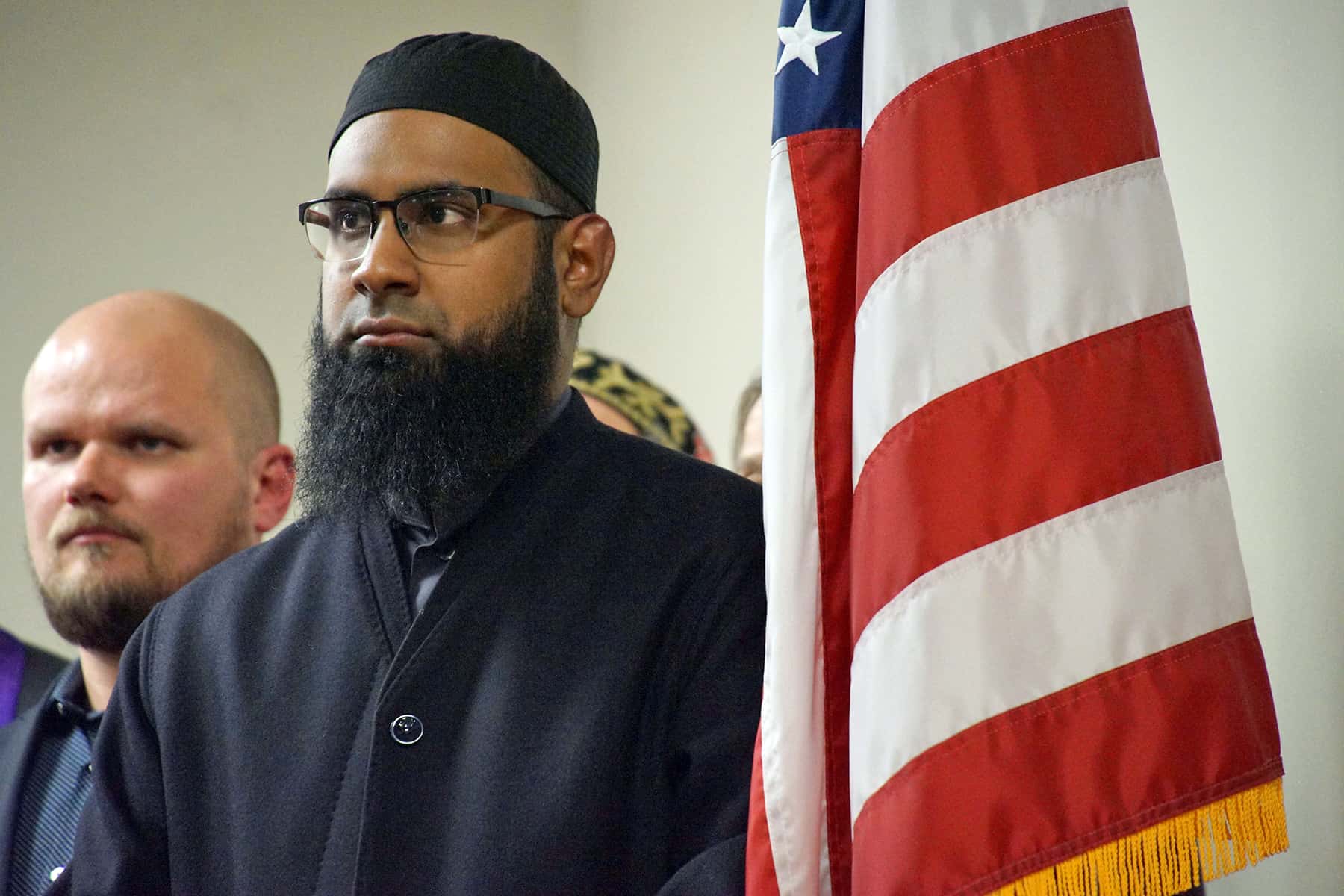 As communities around the world continue to recover from the aftermath of two terrorist attacks at mosques in Christchurch, New Zealand during Friday Prayer, mourners gathered in Milwaukee on March 21 to stand together, united and unwilling to tolerate all forms of hate, bigotry, and violence.
Hundreds attended the memorial vigil at the Islamic Center of Milwaukee, for victims of the New Zealand mosque attacks that claimed 51 innocent lives. The hate inspired mass shooting, America's newest export to the world, was the latest terror attack on people in their place of worship.
"It was not too long ago that many of us were standing together for the victims of Pittsburgh," said Imam Noman Hussein from the Islamic Society of Milwaukee.
His statement referenced the vigil held a few months ago at Beth Israel Ner Tamid, to remember the 11 Jewish worshippers kiIIed at the Tree of Life Synagogue on October 27. Imam Hussein noted that the gunman in New Zealand was emboldened by hate speech and rhetoric, a reflection of the condition in America since the 2016 presidential election.
"I thank the Islamic Society of Milwaukee, including the leadership of the entire Muslim community, interfaith and community groups, for organizing this important and symbolic vigil," said Congresswoman Gwen Moore. "We offer our support and deep sympathy over this senseless act of viоIеncе. All of us must strive to lift each other up and uphold the values of justice, dignity and safety for all in Milwaukee and around the world."
Milwaukee was the site of the worst mass shooting in Wisconsin history when a local white supremacist attacked the Sikh Temple in Oak Creek, mistaking it for a Muslim mosque, that left six dead and four wounded on August 5, 2012.
"My first reaction to the news was actually numbness, because I've heard this before. I've seen this before. I've felt this before," said Milwaukee Mayor Tom Barrett. "My next emotion was sadness, because soon the television started filling with the pictures. We saw that these were fathers and mothers who lost her children, and children who lost their parents."
Lt. Governor Mandela Barnes also attended and joined representatives from the Jewish, Christian, and Sikh religions in addressing the crowd. Along with the consoling words shared by many of the speakers was criticism of President Trump, for failing to condemn acts of terror committed by white nationalists and for fanning the flames of their hate.
A new analysis conducted by two political science professors at the University of North Texas found that counties where President Trump hosted a campaign rally in 2016 saw a 226 percent increase in reported hate crimes, compared to similar counties that did not hold one. Revelations about the tragedy in Christchurch also revealed a manifesto by the shooter behind the terror attack that said he supported Trump "as a symbol of renewed white identity."
This audio was recorded live during the vigil and includes speeches by Janan Najeeb, MMWC; Imam Noman Hussein, ISM; Lead Pastor Randy Knie, Brew City Church; Rabbi Marc Berkson, Congregation Emanu El B'ne Jeshurun; Dr. Swarnjit Aurora, Sikh Community; Dr. John Walton, American Baptist Church; Congresswoman Gwen Moore; Lt. Governor Mandela Barnes; and Mayor Tom Barrett, City of Milwaukee.