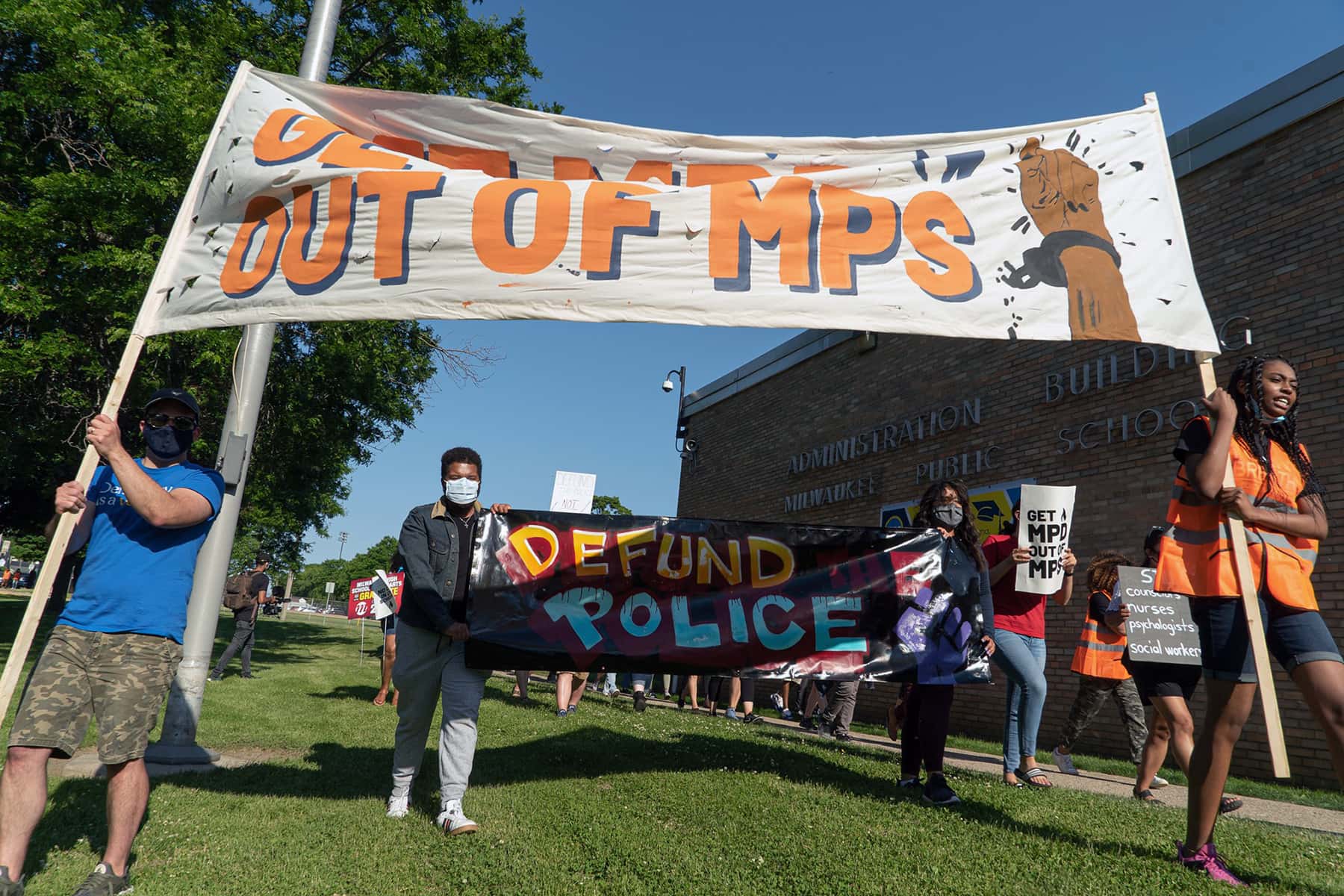 In a unanimous decision at the Board of Directors meeting for the Milwaukee Public Schools (MPS) on June 18, a resolution was passed to end the district's contract with the Milwaukee Police Department (MPD).
The vote was a victory for Black and Brown students, and the culmination of 2.5 years of work by Leaders Igniting Transformation (LIT) students to defund police at MPS. Learning institutions nationwide have been calling for the removal of law enforcement officers from their environment in the wake of the murder of an unarmed Black man, George Floyd, by Minneapolis police.
"The Milwaukee Public School Board unanimously passed Resolution 2021R-003 which ends all contracts between the Milwaukee Police Department and Milwaukee Public Schools," said Dakota Hall, Executive Director of LIT, in a statement. "Additionally, this resolution ceases any contracts to buy or maintain criminalizing equipment including metal detectors, facial recognition software, and social media monitoring software."
At the board meeting, dozens of parents and students gave testimony in support of removing Milwaukee police from schools. Community members felt that MPS facilities would be safer without the MPD on site, and argued that the money saved could be better spent.
My name is Amanda Merkwae. I am a Board Member of Leaders Igniting Transformation and a former Milwaukee educator who is constantly reckoning with the harm that educators can cause to students—particularly Black students—when they call police or suspend them. I'm currently a lawyer who represents young people in suspension and expulsion hearings and young people charged with crimes.

A child psychologist friend once told me, students' external behaviors are just a reflection of what's going on inside. The young people I represent are students with disabilities and mental health diagnoses, young people trapped in the foster care system, those with an incarcerated parent, those living with trauma from witnessing or being victimized by unimaginable violence, those who don't know exactly where their family is going to sleep from night to night, and Black, Indigenous, and other young people of color who are profoundly affected by the systemic racism woven into the policies and procedures of MPS…they're all still required to go to school each day. Their layers of oppression don't exempt them from compulsory education laws. These are the students facing suspension, expulsion, and referrals to police at the highest rates.

When Black students make up only 53% of the total student enrollment in MPS but almost 90% of the students expelled—that's a problem. These are expulsion decisions issued by an "independent" hearing officer that this Board rubber stamps each month. I have represented countless young people facing expulsion and are charged with felonies and costly municipal citations for alleged conduct in Milwaukee Public Schools. I'm talking 11, 12, 13-year-olds charged with felonies. I have watched hundreds of hours of body cam footage depicting the MPD school squad responding to calls for service in MPS schools. Escorting students through school hallways in handcuffs, questioning them in classrooms without reading them their rights, and sometimes escalating a student's behavior after educators have already de-escalated a student in crisis. One client, sitting calmly in an assistant principal's office started sobbing as a slew of officers stormed in and tried to arrest him, taking him to the ground, using completely unnecessary force as he screamed for help with tears rolling down his cheeks, while his mother stood on the other side of that administrator's door helpless, and unable to see what was happening to her son.

MPD does not belong in MPS. Listen to young people.
Nearly $500,000 a year for the police contracts has gone into officer training and security equipment like metal detectors. Those funds could instead be invested in such things as teaching restorative practices, Violence Free Zone programming, mentorship training, and mental health support for social trauma.
"Students, the Milwaukee public, and the Milwaukee School Board Members unanimously are more engaged than ever in reimagining our schools so Black and Brown students can thrive. The hard work starts now to truly transform our Milwaukee Public Schools," said Hall. "Creating safe schools must start with centering the voices and experiences of the young people, providing proper staffing levels for therapists, counselors, and other emotional and mental health support positions, and hiring educators of color who share similar life experiences to the students."
A day before the board meeting on June 17, hundreds of demonstrators assembled outside the district's administrative offices on the north side to show their support for "getting MPD out of MPS." LIT organized the rally to create a platform for the public to speak out against the school-to-prison pipeline, which disproportionately affects students of color. In the 2013-14 school year, Black children were 55 percent of the MPS student body, but accounted for nearly 85 percent of law enforcement referrals.
"This is not the end of our fight. We will continue to work to hold public institutions and systems accountable for their over policing and racist practices and procedures that have harmed BIPOC (Black, Indigenous, and People of Color.) communities for centuries. The work does not stop tonight. It's time we all take our activism for Black and Brown lives to the next level," added Hall.
Prior to the decision on the resolution, a Milwaukee police spokesperson said:
The Milwaukee Police Department fully supports the Milwaukee Public School system if it decides to remove all School Resource Officers from its schools. We agree with the many voices from our community who believe that the funding should be reinvested into our public school system to support social services. Regardless of the vote, MPD will continue to support MPS and MPS students.
© Photo
Joe Brusky and Claudio Martinez
These headline links feature the daily news reports published by Milwaukee Independent about the George Floyd protests, the revival of the Black Lives Matter movement that followed, and their impact on the local community in for 8 months from May to December of 2020.