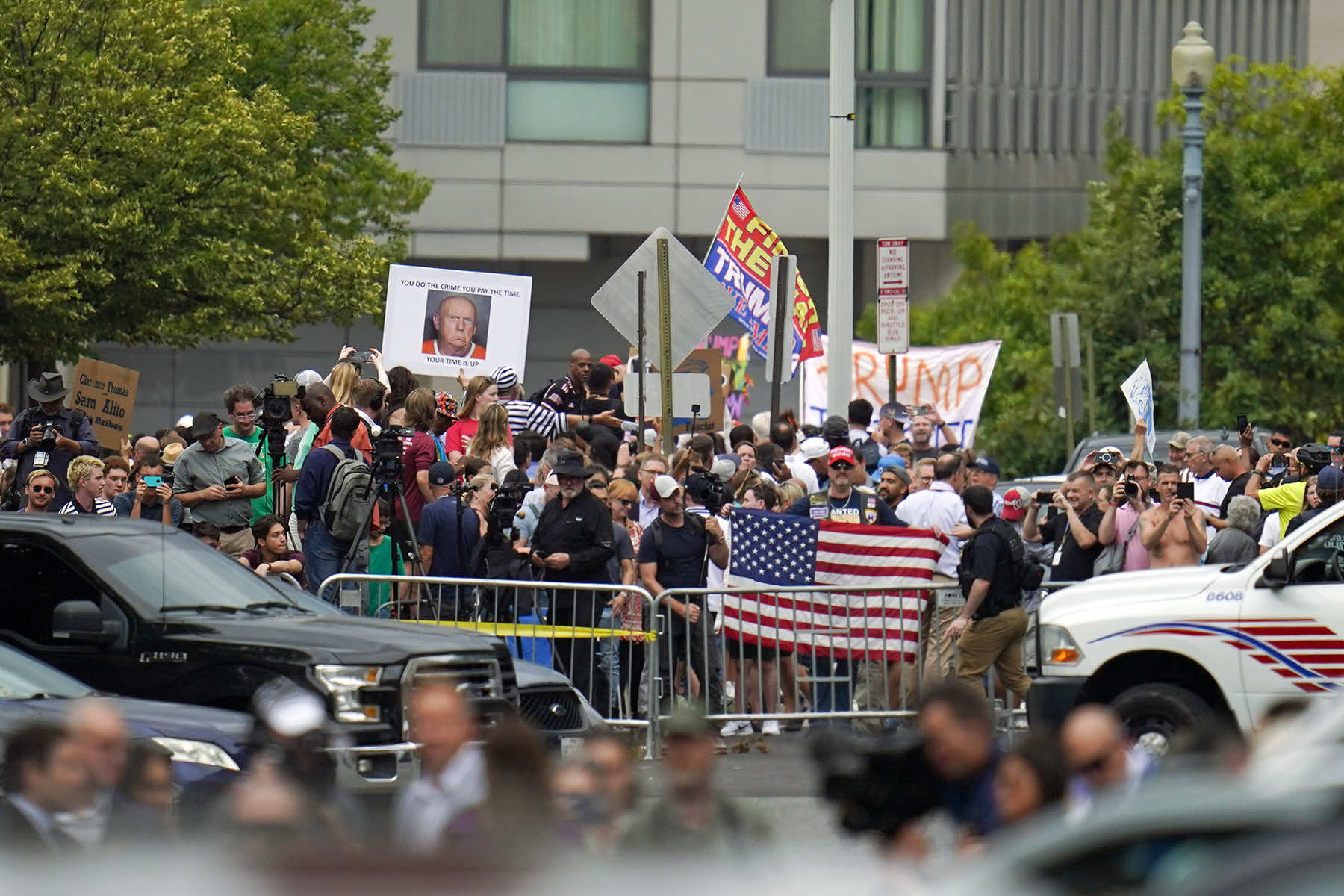 Washington has never been a particularly friendly place for Donald Trump. And after pleading not guilty to federal charges that he had tried to overturn the 2020 presidential election, Trump was quick to show that the feeling was mutual.
"It was also very sad driving through Washington DC, and seeing the filth and the decay and all of the broken buildings and walls and the graffiti," said the disgraced ex-president on the tarmac of Reagan National Airport in Virginia, on his way to be charged with another set of crimes against the United States. "This is not the place that I left. It's a very sad thing to see it."
Trump's comments drew some skepticism due to the fact that he basically was on two blocks of the district's streets. His route to and from the airport took him past one of the district's larger shelters for homeless people, but "filth and decay" drew some eye rolls from longtime Washington defenders.
"He's just talking off the top of his head and angry to be back in DC," said Congresswoman Eleanor Holmes Norton, Washington's non-voting delegate in the House of Representatives. "He saw DC for less than a minute."
Norton also pointed out that when Trump last left Washington as president, the downtown federal area was essentially a militarized zone, with massive fences around the U.S. Capitol after Trump supporters overran the building on January 6, 2021.
In fairness, heavily Democratic Washington — while generally cool to all Republican presidents — was distinctly hostile to the Trump administration. Multiple Trump Cabinet members were publicly berated by activists while eating in district restaurants.
Trump's decision to skip the Kennedy Center Honors every year was usually a relief for organizers, who would have faced annual boycott threats from different artists if he did attend. Trump got just over 4% of the presidential election vote in the district in 2016 and 5.4% in 2020.
He continued his attacks on the city on August 6, calling for a federal takeover of the nation's capital. In a post on Truth Social, he also ranted about Washington being a "filthy and crime ridden embarrassment to our nation," As a way to continue avoiding justice for a list of crimes, Trump contended that he would not be able to get a fair trial in DC.
"It has always been (Trump's) pattern to vilify the district," said Bo Shuff, executive director of DC. Vote, one of the organizations leading the uphill fight for statehood. "It is easy to vilify a people who have no voice in the government."
Republicans in Congress have taken up the anti-Washington mantra, as has Florida Governor Ron DeSantis, one of Trump's challengers for the 2024 GOP presidential nomination. Trump was indicted by a grand jury of Washington residents, and DeSantis has joined in with Trump's lawyers in arguing that he can't receive a fair trial in Washington.
"Washington DC is a 'swamp' and it is unfair to have to stand trial before a jury that is reflective of the swamp mentality," DeSantis said on X, the imploding social media platform formerly known as Twitter, after Trump's indictment.
Schuff said Trump's behavior at his latest arraignment mimicked the pattern of his presidency. "He didn't spend any time in DC when he was in DC. He spent it at one of two buildings, the White House and his hotel," Shuff said.
He noted that "every bit of land" that Trump was on when he was in town for the court appearance was under federal control.
During Trump's turbulent four years in office, he and the local government publicly sparred multiple times — in tones ranging from playful to deeply personal. When Trump floated the idea of a massive July 4 military parade complete with tanks rolling through the streets, the DC Council mocked him.
When mass protests broke out in the summer of 2020 over the death of George Floyd and wider police brutality and racial issues, Trump and Washington Mayor Muriel Bowser faced off multiple times. Trump accused Bowser of losing control of her city; he eventually declared his own multi-agency lockdown that included low-flying helicopters buzzing protesters. Bowser responded by having "Black Lives Matter" painted on the street in giant yellow letters one block from the White House.
After Trump's departure when he lost the 2020 election, a newly Republican-held House of Representatives continued the fight, with the House Oversight and Accountability Committee aggressively using its powers to essentially vet new Washington laws and manage its government. In March, the committee summoned Bowser and two members of the DC Council and grilled them for three hours about the district's rising crime rates.
Shuff said Trump's portrayal of Washington in such dystopian terms has not necessarily spread throughout the Republican Party. But it has established itself among the radical wing of the party that holds Trump in the highest esteem.
"I believe that the folks who utilize this tactic are not numerous, but they're boisterous," he said. "The rhetoric is a little stronger, but the tactic is the same we've seen."
During the March hearing on crime in Washington, several ultra-conservative Republican members spoke of the district in terms that indicated their lack of understanding of the on-the-ground situation. But it was in keeping with their MAGA GOP's ideology to erode democracy by promoting Culture Wars and weaponizing harmful disinformation.
Representative Lauren Boebert of Colorado repeatedly asked DC Council Member Charles Allan why public urination was legal in Washington – it is not.
Representative Gary Palmer of Alabama asked why 25-year-old defendants in Washington are allowed to be charged as minors – they are not.
Undeterred by either truth or reality, Palmer told the assembled Washington political leadership, "You've got crappy schools. Your schools aren't only dropout factories, they're inmate factories."