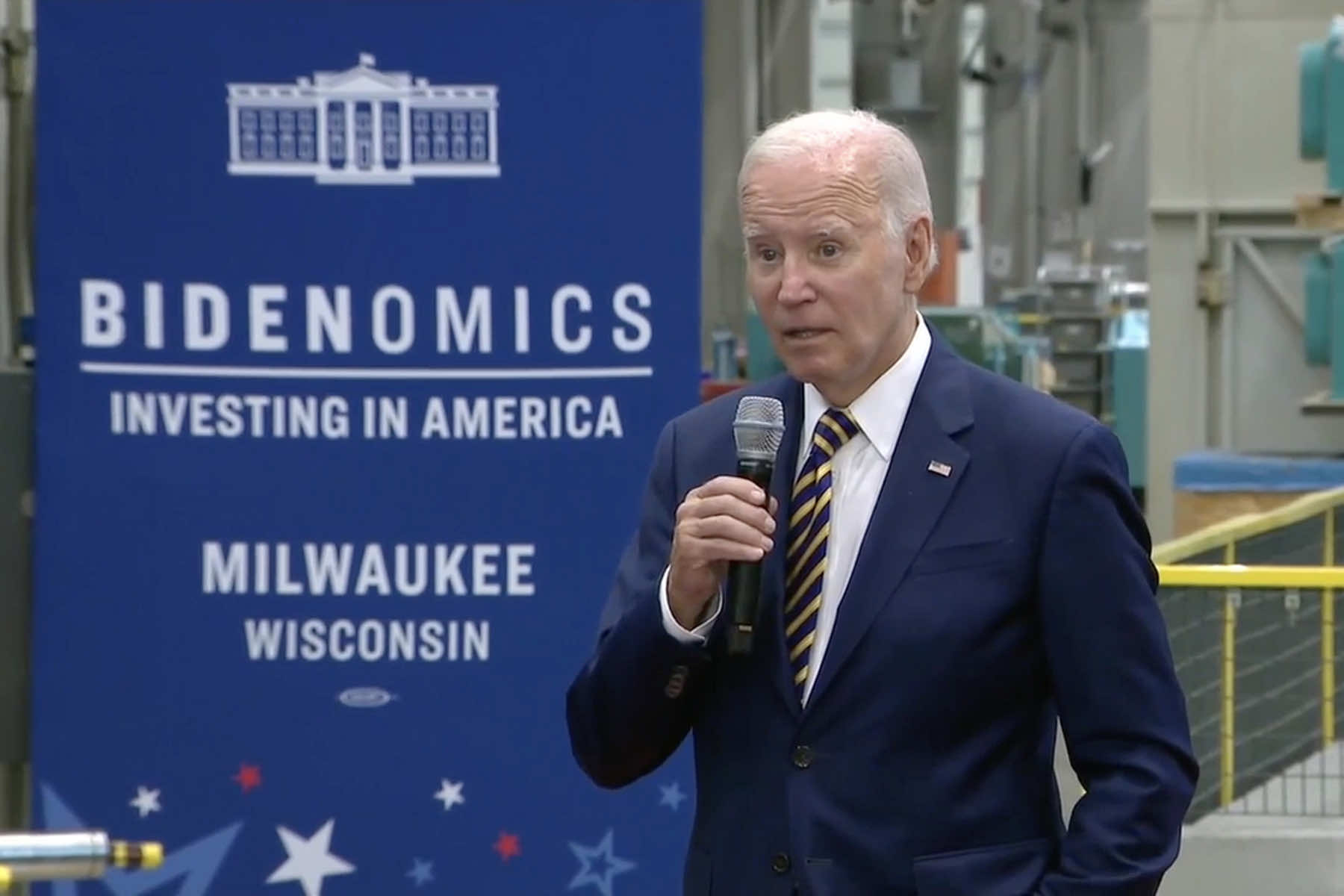 President Joe Biden traveled to Wisconsin on August 15 to highlight his economic policies in a state critical to his reelection fortunes, just a week before Republicans descend on Milwaukee for the party's first presidential debate.
His arrival in Milwaukee came on the eve of the anniversary of the Inflation Reduction Act, major economic legislation that he signed into law with great ceremony – but polls show that most people know little about it or what it does.
Wisconsin is among the handful of critical states where President Biden needs to persuade voters that his policies are having a positive impact on their lives by generating roughly $500 billion in corporate investments in factories and other facilities.
"Every Republican voted against our clean energy investment – known as the Inflation Reduction Act. The vast majority voted against the bipartisan infrastructure law. But that didn't stop them from claiming credit for protecting the health of our constituents that are getting rid of lead pipes, or putting in the work and building new roads and bridges," said President Biden "We must stop the partisanship. The legislation my Republican colleagues opposed or attacked is now the greatest thing to come to their states."
The president made the economic case local by directly challenging the state's Republican Senator Ron Johnson, who was just reelected in 2022 and not up again until 2028.
"Bidenomics is about growing our economy by strengthening the middle class and making things in America again. It's in stark contrast to the conservative Republican view, the so-called MAGA view, which is focused on corporate profits. Their rationale is that we should find the cheapest place in the world and make our product. Let's shut down the corporate operation in America and send it overseas, and then send the refined product back to American selling here. That's the philosophy," President Biden said. "Your significant Senator Ron Johnson believes outsourcing manufacturing jobs is a great thing. He's on record as saying he doesn't agree that the American worker should manufacture products that require a lot of labor. 'Let the billions of people around the world do that.' Johnson said."
President Biden said that between 2000 and 2021, Wisconsin lost more than 136,000 manufacturing jobs. He then challenged Senator Johnson to talk to those 136,000 people and tell them it did not matter whether Wisconsin manufactured things at home or overseas. And not only those who lost their jobs, but their families and the communities that lost their ability to generate economic growth.
"Milwaukee was known as a manufacturing powerhouse – that's not a joke. When I got to the Senate in 1973, Milwaukee was a manufacturing powerhouse," added the President. "But by early 2000, Milwaukee had lost around two out of three factory jobs – 80,000 jobs were lost."
The President toured Ingeteam, a clean energy manufacturer of onshore wind turbine generators in Milwaukee, and will talk up provisions of the law that spends hundreds of millions of dollars to boost domestic manufacturing and clean energy, lower health care costs and crack down on wealthy tax cheats.
Ingeteam plans to hire 100 workers using Bipartisan Infrastructure Law money to start producing EV charging stations domestically, according to the White House.
Also timed to President Biden's trip, multinational tech firm Siemens announced that it would start manufacturing solar inverters in Kenosha County, a move prompted by increased demand brought by the tax incentives from the IRA law.
Treasury Secretary Janet Yellen on August 14 spoke in Las Vegas at an International Brotherhood of Electrical Workers union hall about "the early results of bold federal action through the IRA" and the administration's climate agenda.
"The IRA is driving economic growth, expanding economic opportunity and bolstering our resilience," she said.
Administration officials said President Biden's trip to Milwaukee was aimed at recognizing the effects of the law, which passed Congress on party-line votes. According to the White House, in Wisconsin, private firms have committed more than $3 billion in manufacturing and clean energy investments since President Biden was sworn into office.
Ahead of his speech, President Biden met with Democratic state leaders, military members and shook hands with families awaiting his arrival at the Milwaukee International Airport Air National Guard Base.
Wisconsin Democratic Senator Tammy Baldwin joined the Ingeteam event, and praised IRA investments in Wisconsin. "We should invest in American businesses and American jobs," she said.
According to the White House, in Wisconsin, private firms have committed more than $3 billion in manufacturing and clean energy investments since President Biden was sworn into office.
Vice President Kamala Harris and top Cabinet officials will be fanning out across the country to talk about the Inflation Reduction Act and its provisions. President Biden has scheduled an anniversary event at the White House on August 16.
The president's stop in Wisconsin took place shortly before Republicans hold their first presidential primary debate in Milwaukee on August 23. Former President Donald Trump — criminally charged in two Federal and two state cases – remains the leading Republican candidate in polls. He has yet to say whether he will boycott or hold a competing event.
Democratic gains helped decide a critical state Supreme Court race this spring that moved Wisconsin's highest court under liberal control for the first time in 15 years. Republicans, though, will compete aggressively in the state, selecting Milwaukee as the site of its 2024 national nominating convention.
The 2020 Democratic convention was supposed to be held in Milwaukee too, but it largely unfolded virtually because of the coronavirus pandemic.
President Biden is one of a string of administration officials making stops across the country to promote the legislation's anniversary.
Charles Franklin, director of Marquette Law School Poll, said the trip could help President Biden win support from independents, who make up about 10% of voters in the state.
"What he really needs to do is get independents in the state to like him a bit better," Franklin said. "Coming and talking about his achievements, about factories that are working with American jobs — all of that is a good reason to come to speak to those folks in the state who are not partisans."
"Because Democrats are already behind him," Franklin said, and "Republicans are almost certainly not going to cross over."