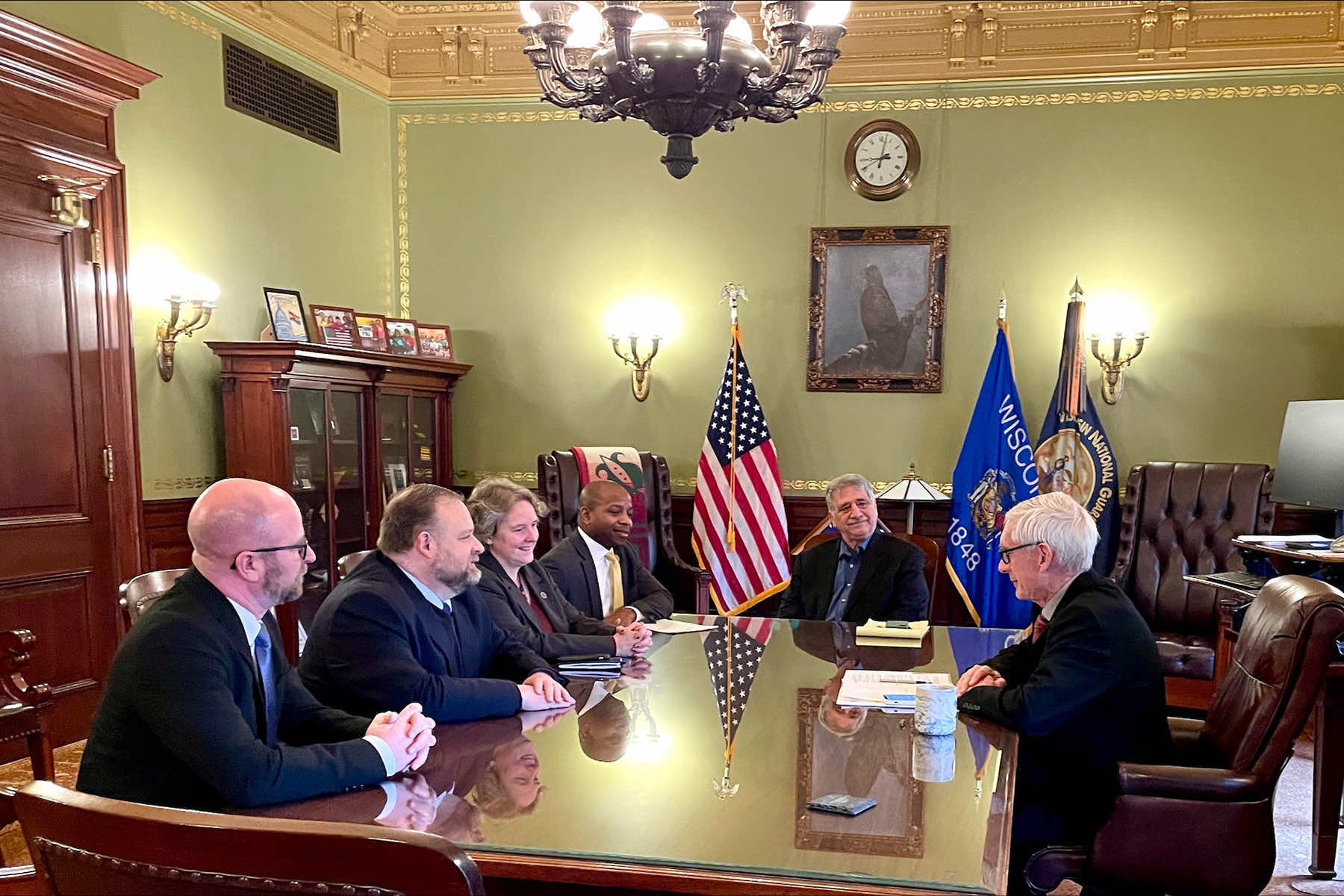 Governor Tony Evers met with the mayors of Wisconsin's five largest cities behind closed doors for about an hour on January 4, one of the first official acts of his second term.
The meeting took place as Governor Evers and the Legislature weigh making substantial changes to how local governments, including cities, are funded. Cities, counties, towns and villages are hoping a record-high budget surplus approaching $7 billion will give policymakers the freedom to increase funding and perhaps change the formula used to determine how much money local governments get from the state.
The mayors of Milwaukee, Madison, Racine, Green Bay and Kenosha all met privately with Governor Evers. The mayors, like the Governor, are all Democrats.
Racine Mayor Cory Mason said he was encouraged that no one in the meeting was locked into a single plan, but instead all were united in the need to increase funding.
"We're all in search of achieving something that's possible in the real world," Mason said in a telephone interview.
Madison Mayor Satya Rhodes-Conway said in a statement that the meeting was productive but didn't go into details. The other three mayors had no immediate comment.
The Governor's spokesperson Britt Cudaback would not say what was discussed in detail, referring only to a tweet put out by the governor's office showing the mayors meeting with Governor Evers in his office. That message said Governor Evers and the mayors discussed "improving how we invest in our local communities and keep them safe—and to ensure they can respond to basic and unique needs alike."
Governor Evers, who was sworn in to office on January 3, will deliver his two-year state budget to the Republican-controlled Legislature next month. He's already called for increasing funding for local governments through the shared revenue program by 4% in each of the next two years, which would be a $91 million increase. His plan includes $10 million in funding to be spent specifically on police, fire and emergency services, with the money distributed based on population.
Republican Assembly Speaker Robin Vos and Senate Majority Leader Devin LeMahieu have discussed another approach that would devote 1% of the state sales tax to replace shared revenue. The idea is that as sales taxes increase so too does funding for local governments.
Governor Evers said last month that he was open to the sales tax idea, but had not committed to it over his own plan.
"All I know is that we have the resources available, no matter what happens with sales tax, to provide more money for our municipalities," he said. "And so that's where I'll be."
Rhodes-Conway said she was thankful that Governor Evers has made increasing funding a priority and she called on "all parties to work together to make sure that local governments large and small have the resources we need to keep our communities thriving."
Mason said it was encouraging that Republicans are talking about increasing funding, but he has not yet met with any GOP leaders to discuss ideas.
Local governments have been turning to voters to approve tax increases more frequently in recent years as they argue state funding has been unable to keep up with the demand for services. The shared revenue program to fund local governments, created in 1911, has remained nearly unchanged for nearly 30 years despite overall growth in tax revenues, according to the nonpartisan Wisconsin Policy Forum.
Shared revenue for counties and municipalities was cut in 2004, 2010 and 2012 and since then has been relatively flat. It was 12.5% of the state's general fund budget nearly 30 years ago, but is less than 5% now, according to the Legislative Fiscal Bureau.
Mason lay the blame on property tax levy restraints imposed on local governments by the state, which he said has made it impossible for Racine to keep up with inflation, "let alone give police and fire the raises they deserve."