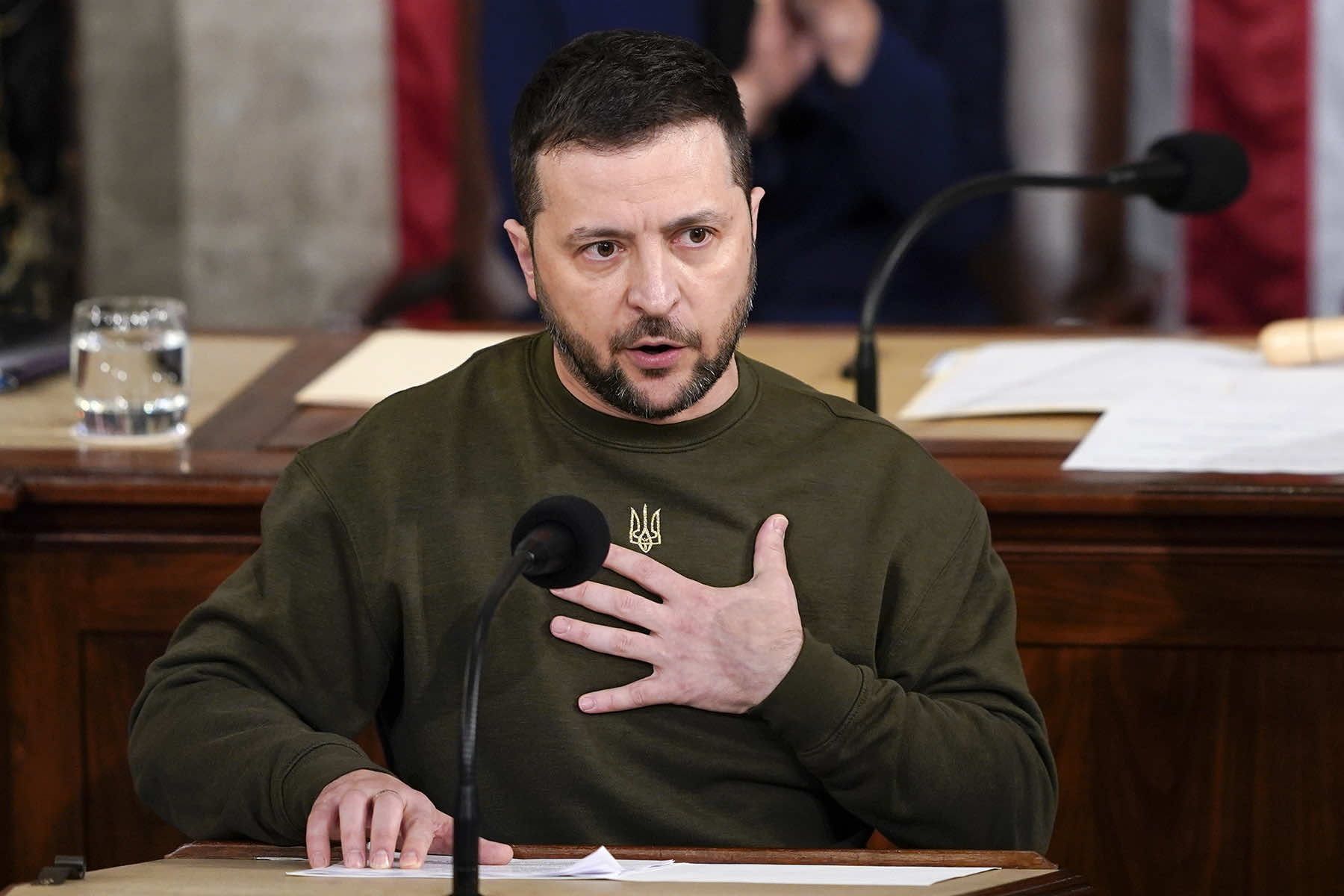 Three hundred days ago, Russian president Vladimir Putin launched a new assault into Ukraine, where his troops had been fighting since 2014. Apparently, he expected that a new strike would bring a quick victory that would enable him to break away the eastern regions of Ukraine and annex them to Russia with a puppet government in place, expanding his territory and power.
Ukraine president Volodymyr Zelensky — whose leadership of the Ukrainians, who have refused to yield and whose resistance has debilitated the Russian military, has made him an international hero — made his first trip outside Ukraine since the invasion began.
Flying on a U.S. government plane, Zelensky came to the White House to thank President Biden, Congress, and the American people for their support.
Biden and Secretary of State Antony Blinken were instrumental in convincing the North Atlantic Treaty Organization (NATO) — which former president Trump had quite deliberately weakened — to stand together against Russian aggression.
Biden and Blinken pulled together allies around the globe to sanction Russia and Russian individuals and entities, making the Russian economy suffer increasingly as the war went on. And they have urged countries around the world to rush money and supplies to help Ukraine resist Russian aggression.
From the beginning, Biden and Blinken recognized that if Russia were permitted to crush the sovereignty of Ukraine and take its territory, the concept of an international rules-based order that has protected much of the world since World War II would have been abandoned. They also recognized that involving NATO directly in the war would have given Putin the stature he craved and would have led at the very least to an extensive ground war. The U.S. offered to evacuate Zelensky as Russian troops moved in.
"The fight is here. I need ammunition, not a ride," Zelensky answered.
For ten months now, the Ukrainians first held their own, and then recovered significant territory from the invaders, even as Putin tried to claim Ukrainian lands as his own. The process of reclaiming their territory has been heart-wrenching as it has become clear that Russian soldiers and their leaders engaged in murder, torture, rape, and other war crimes. Now, the Russians are targeting missile strikes at civilian infrastructure, knocking out heat and electricity in the bitter winter cold, hoping to inflict yet more suffering on Ukraine. And yet, the Ukrainians fight on.
In a time when democracy seemed to be on the ropes and authoritarians like Putin seemed to be gaining the upper hand, the Ukrainians came to stand for the power of democracy. They showed that Putin's mighty army was hollowed out by corruption and apathy, while the Ukrainians, who were supposed to be weak, dropped their civilian lives to defend their country.
They showed that Putin's claim of moral superiority over secular democracies — which, he said, were a cesspool of decadence — was a sham: his mercenaries committed war crimes and boasted of it. As the western Allies had done during World War II, the Ukrainians demonstrated that democracy, for all its messiness, was far superior to authoritarianism.
Sadly, it has been a demonstration some Americans were not eager to see as they continue to believe that the willingness of secular democracies to welcome LGBTQI+ individuals and racial minorities as equals to white, straight Christians is undermining society.
Speaking in English today to make sure Americans got his message directly, Zelensky thanked Congress for the bipartisan support Ukraine has received, and the American people, who have invested significant tax dollars in the Ukrainians' efforts. He conveyed "thanks from our just ordinary people to your ordinary people, Americans. I really appreciate. I think it's very difficult to—to understand what does it mean when we say appreciate, but—but you really have—have to feel it. And thank you so much."
Zelensky also came to ask for more aid, both military and humanitarian, to support Ukraine's war effort. Congress has proposed $44 billion in aid in the new omnibus funding package, bringing the U.S. package so far to more than $100 billion in military and humanitarian aid over four spending packages.
While a few right-wing Republicans are complaining about this spending, it is worth noting that the U.S. annual defense budget Congress passed earlier this month was $858 billion.
Zelensky spoke to a joint meeting of the Congress in the eventing of December 21, where the members greeted him with a standing ovation, with the pointed exception of some right-wing House members. He described Ukraine's defense as a battle between democracy and authoritarianism across the globe, and assured Americans, "Your money is not charity. It's an investment in the global security and democracy that we handle in the most responsible way."
"We defeated Russia in the battle for minds of the world," he said. "We have no fear, nor should anyone in the world have it. Ukrainians gained this victory, and it gives us courage which inspires the entire world.
"Americans gained this victory, and that's why you have succeeded in uniting the global community to protect freedom and international law. Europeans gained this victory, and that's why Europe is now stronger and more independent than ever. The Russian tyranny has lost control over us. And it will never influence our minds again.
"Yet, we have to do whatever it takes to ensure that countries of the Global South also gain such victory. I know one more, I think very important, thing: The Russians will stand a chance to be free only when they defeat the Kremlin in their minds."
At the end of his speech, Zelensky presented a signed Ukrainian flag from the recent battleground of Bakhmut, in Ukraine's eastern Donbas region, to House Speaker Nancy Pelosi and Vice President Kamala Harris, the president of the Senate, who were seated behind him. In a dramatic image, they held it up between them before giving Zelensky a U.S. flag that had flown over the U.S. Capitol today to mark his visit in exchange.
Putin lately seems desperate to make Russia look like a world power. Two days ago he was in Belarus, apparently trying to shore up his armies, and claims he is adding an additional 500,000 soldiers to those he says are already in the ranks. On December 21 he exaggerated outlandishly at a meeting of Russia's defense chiefs, saying that NATO countries are using their full military capabilities against Russia.
In contrast to Putin's boasts and trip to Belarus, Zelensky traveled on a U.S. plane to meet with President Biden at the White House and give a speech to a joint session of Congress. His visit demonstrated that the U.S. will give Ukraine what Biden said is its "unequivocal and unbending support" for "as long as it takes."
Letters from an Аmerican is a daily email newsletter written by Heather Cox Richardson, about the history behind today's politics