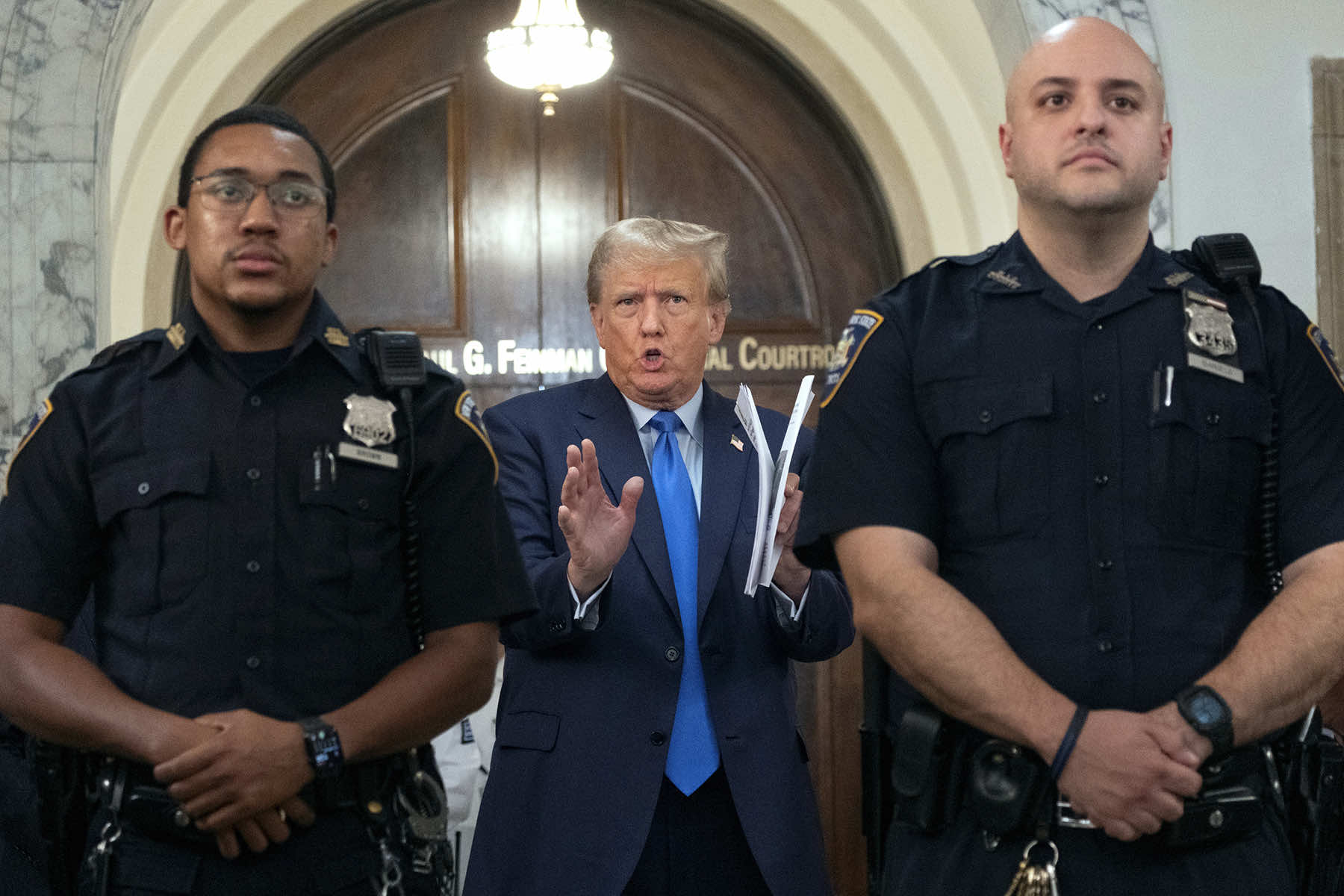 The trial of former president Trump, his oldest sons, two associates, and the Trump Organization began in Manhattan on October 2.
Jose Pagliery, political investigations reporter for The Daily Beast, noted that the presiding judge, New York Supreme Court Justice Arthur Engoron, started with a reference to September 29's rainstorm that flooded New York City, saying: "Weeks ago, I said we would start today 'come hell or high water.' Meteorologically speaking, we've had the high water."
New York Attorney General Letitia James launched the investigation in 2019 after Trump fixer Michael Cohen testified before Congress that Trump had been engaging in fraud by inflating the value of his property.
Justice Engoron previously issued a partial decision establishing that the organization and its executives committed fraud. Engoron canceled the licenses under which the organization's New York businesses operated, provided for those businesses to be dissolved, and provided for an independent monitor to oversee the company.
With that major point already established, the trial that began today will establish how much of the ill-gotten money must be given up, or "disgorged," by the defendants and whether they falsified records or engaged in insurance fraud in the process of committing fraud.
James has asked for a minimum of $250 million in disgorgement, along with a ruling permanently prohibiting Trump and his older sons from doing business in New York, and a five-year ban on commercial real estate transactions for Trump and the organization.
Trump is attending the trial in person, likely because, as Pagliery noted, he cited this trial as the reason he couldn't show up for two days of depositions in his federal case against Michael Cohen. If he did not show up, he would be in contempt of court. So he is there, but his goal in all his legal cases seems to be to play to the public, where his displays of victimization and dominance have always served him.
He has already said it is "unfair" that he isn't getting a jury trial in New York, but his lawyers explicitly said they did not want one, possibly because a bench trial gives Trump a single judge to attack rather than a jury.
His lawyer Alina Habba, who along with her law firm and Trump has been fined close to $1 million by a federal judge for filing a frivolous lawsuit, gave a fiery opening statement aimed at "the American people" rather than the judge. When the court broke for lunch, Trump went straight to reporters to rail at the prosecutors holding him to account.
Historian Lawrence Glickman noted that the press is emphasizing Trump's anger at the proceedings as if a defendant's anger matters, but it is starting to feel as if bullying and bluster to get away with breaking the rules is not as effective as it used to be. Legal analyst Lisa Rubin notes that this case is a form of "corporate death penalty" that strikes at his wealth and image, both of which are central to his identity and to his political power.
And it is not just Trump; another case announced on September 29 suggests the era of real estate crime is ending. The Department of Justice announced that a California real estate executive had pleaded guilty the previous day to a multi-year scheme that looked a lot like the one Trump's organization is charged with: fraudulently inflating the value of real estate holdings of a Michigan company in order to defraud lenders.
"My office will not hesitate to prosecute those who lie in order to engage in financial crimes, regardless of the titles they may have," said U.S. Attorney for the Eastern District of Michigan Dawn N. Ison.
The drive for the impartial application of the rule of law is showing up among the Democrats, as they seek to illustrate the difference between them and the Republicans. New Jersey Democratic senator Bob Menendez is insisting that the federal indictment against him and his wife for bribery, fraud, and extortion in exchange for helping Egypt is a political smear campaign, but more than half of Democratic senators have called on him to resign.
Trump is increasingly being held to account by former staff, as well. In the wake of his attacks on former chairman of the Joint Chiefs of Staff General Mark Milley, Trump's former chief of staff Marine Corps General John Kelly went on the record today with Jake Tapper of CNN, confirming a number of the damning stories that emerged during Trump's presidency about his denigration of wounded, captured, or killed military personnel as "suckers" and "losers," with whom he didn't want to be seen.
Kelly called Trump: "A person that has no idea what America stands for and has no idea what America is all about. A person who cavalierly suggests that a selfless warrior who has served his country for 40 years in peacetime and war should lose his life for treason—in expectation that someone will take action. A person who admires autocrats and murderous dictators. A person that has nothing but contempt for our democratic institutions, our Constitution, and the rule of law…. There is nothing more that can be said," he added. "God help us."
The confirmation of Trump's attacks on wounded or killed military personnel will not help his political support. After reading Kelly's remarks, retired Army Major General Paul Eaton, a key advocate for veteran voting, released a video he recorded more than two years ago when he first heard the stories about Trump's attack on the military.
"Who could vote for this traitor Trump?" he asked on social media. In the video, Eaton urges veterans to "vote Democratic," because "our country's honor depends on it."
That Trump is concerned about his ebbing popularity showed tonight when his campaign released a statement demanding that the Republican National Committee cancel all future debates and focus on Trump's evidence-free allegations that the Democrats are going to steal the 2024 election. If it refuses, the statement says, it will just show that national Republicans are "more concerned about helping Joe Biden than ensuring a safe and secure election."
Popular pressure against the extremism of the Republican Party showed up on October 2 when Supreme Court Justice Clarence Thomas recused himself from participating in a case related to the January 6, 2021, attack on the U.S. Capitol. Thomas's wife, Ginni, was a staunch supporter of Trump's attempt to overturn the results of the 2020 election, and in the past, Thomas had voted on related cases nonetheless. The case involved John Eastman, formerly one of Thomas's law clerks.
There were interesting signs that the tide seems to be turning against the MAGA Republicans elsewhere, too. In an op-ed in the New York Times, former South Carolina representative Bob Inglis told his "Fellow Republicans: It's Time to Grow Up." He expressed regret for his votes in 1995 to shut down the government and in 1998 to impeach President Bill Clinton, and for his opposition to addressing climate change on the grounds that if Al Gore was for it, Republicans should be against it.
But he had come to realize that "the fight wasn't against Al Gore; it was against climate change. Just as the challenge of funding the government isn't a referendum on Speaker McCarthy; it's a challenge of making one out of many — E pluribus unum — and of bringing the country together to do basic things." He called on Republicans to remember that we must face the huge challenges in our future together: language that echoes President Joe Biden, who has been making that pitch since he took office.
Brittainy Newman (AP), Craig Ruttle (AP), and Brendan McDermid (AP)
Letters from an Аmerican is a daily email newsletter written by Heather Cox Richardson, about the history behind today's politics