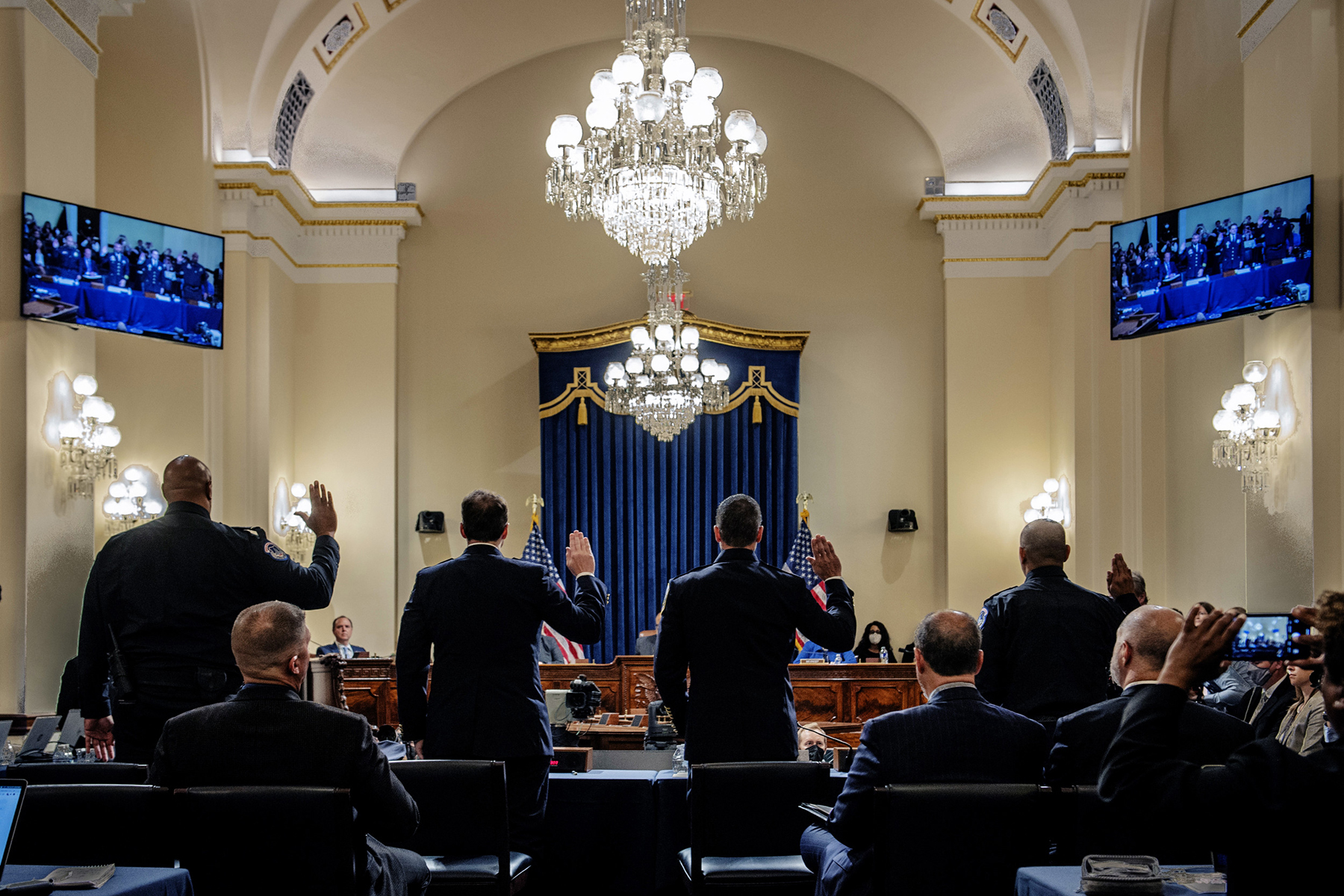 Early in the wake of Trump's presidency, Republican Party lawmakers that face upcoming elections appear to have made the calculation that radicalized Trump voters were vital to their political futures.
They seemed to worry that they needed to protect themselves against primary candidates from the right, since primaries are famous for bringing out the strongest partisans. If they could win their primaries, though, they could rely on tradition, gerrymandering, and voter suppression to keep them in office.
So Republicans tried to bury the January 6 insurrection and former president Trump's role in it. Although both Senate Minority Leader Mitch McConnell (R-KY) and House Minority Leader Kevin McCarthy (R-CA) called attention to Trump's responsibility for the attack immediately after it happened, they voted to acquit him of the charge of "incitement of insurrection" placed by the House of Representatives, and either to echo or not to oppose the accusation that the 2020 election was fraudulent.
Republican governors like Greg Abbott in Texas and Ron DeSantis in Florida, both of whom appear to have presidential ambitions, along with Kristi Noem in South Dakota, took strong stands against immigrants who they insisted were invading the country, masks that they claimed were stifling children, and now, in Texas (but soon to spread), against abortion. At the same time, Republican-dominated states dramatically restricted the right to vote.
This calculation is hardly a secret. In Washington state, two Trump-type candidates have recently challenged the popular Republican incumbent Jaime Herrera Beutler, who voted for the former president's impeachment. Trump has endorsed one of them, and Florida Republican Representative Matt Gaetz, a Trump loyalist, traveled there this weekend to boost that candidate's campaign.
Republicans in Texas have swung hard right to rally their white base in a state that is now majority minority. The governor recently directed state police to arrest immigrants believed to have come to America illegally. The Republican legislature has passed, and the Republican governor has signed, a draconian abortion law empowering neighbors to collect $10,000 if they win a lawsuit against anyone who "abets" an abortion after six weeks, before most people know they're pregnant; a strong voter suppression bill; and a law that permits people to carry guns without a permit.
​​Democratic state Representative Ron Reynolds, vice chair of the Texas Legislative Black Caucus, told Will Weissert and Paul J. Weber: "They have to entertain and they have to appease because these are the people that are excited about voting in Republican primaries."
But the Republicans' move right was always a political gamble. The fact that politics is getting so frantic suggests it is a gamble they are afraid they are losing.
Far from disappearing, the events of January 6 loom larger every day. On September 4, Jacob Chansley, who then called himself "QAnon Shaman" and was seen in the Senate Chamber on January 6, shirtless, painted, wearing a horned helmet, and carrying a flagpole topped with a spear, pleaded guilty to a felony. He could face 41 to 51 months in prison. He is one of 600 charged so far in the insurrection. Like others, he claimed he believed Trump had called him to the Capitol that day.
Some Republican lawmakers might be looking at Chansley's four or so years in prison and getting nervous as they might face their own day of reckoning. Senate Republicans filibustered the creation of a bipartisan commission to investigate the events of January 6, so the House created a select committee instead. McCarthy tried to sabotage the select committee by adding to it two representatives who had already declared their opposition to it; then, when House Speaker Nancy Pelosi rejected them, McCarthy withdrew all the Republicans from the committee and refused to participate in it, clearly hoping to discredit its work as a partisan hit job. But Pelosi invited anti-Trump Republican representatives Liz Cheney (R-WY) and Adam Kinzinger (R-IL) to participate in the committee, and they agreed. As of September 2, Cheney is now the committee's vice-chair.
The committee has asked a wide variety of sources for a wide variety of records, prompting what certainly looks like concern from lawmakers who worked closely with the former president. When the select committee asked telecommunications companies to preserve the phone records of certain members of Congress, as well as the former president and members of his family, the lawmakers in question strongly opposed the committee's request.
McCarthy claimed that any company turning over private information was "in violation of federal law and subject to losing their ability to operate in the United States," although experts say there is no law that stops companies from complying with a subpoena (and, of course, Republicans demanded—and received—Hillary Clinton's private data in 2016). McCarthy seemed to issue a threat when he said: "If companies still choose to violate federal law, a Republican majority will not forget and will stand with Americans to hold them fully accountable under the law."
Eleven House Republicans wrote a letter to Yahoo (mistakenly addressing it to a CEO who left the company in 2017) warning that "the undersigned do not consent to the release of confidential call records or data," claiming that "your company has a legal obligation to protect the data of your subscribers and customers," and threatening that "[i]f you fail to comply with these obligations, we will pursue all legal remedies."
The eleven lawmakers signing the letter were those most closely associated with Trump: Andy Biggs (R-AZ), Matt Gaetz (R-FL), Scott Perry (R-PA), Louie Gohmert (R-TX), Jodie Hice (R-GA), Marjorie Taylor Greene (R-GA), Mo Brooks (R-AL), Madison Cawthorn (R-NC), Paul Gosar (R-AZ), Lauren Boebert (R-CO), and Jim Banks (R-IN), who seems to have aims for higher office.
Greene warned that any company complying with the committee's request would be "shut down." McCarthy also claimed that the Department of Justice had said Trump did not cause, incite, or provoke the violence on January 6. This prompted select committee chair Bennie G. Thompson (D-MS) and Vice-Chair Cheney to issue a statement "on McCarthy's January 6th misinformation campaign," calling "reports of such a conclusion… baseless."
The anti-government anti-mask movement also probably seemed like a better idea before the Delta variant hit. Governors like Abbott and DeSantis have doubled down on opposing mask mandates: DeSantis has gone so far as to use the government to prevent private businesses from requiring masks and to block local officials from requiring masks in schools.
But mask mandates are widely popular, and as hospitalizations and deaths spike among the unvaccinated, popular opinion is turning against anti-maskers. The area around Miami, Florida, has seen the deaths of at least 13 school staff from COVID-19; hospitalizations of children are rising; and north Idaho has begun to ration medical care; COVID hospitalizations on Labor Day 2021 were 61,000 higher than they were a year ago (99,000 versus 38,000), and health care workers are exhausted. Doctors are beginning to push back against the anti-maskers, while school boards in Florida are defying DeSantis's ban and Texas schools are challenging Abbott's rule in court.
Еrіc Lее and Bіll О'Lеаry
Letters from an Аmerican is a daily email newsletter written by Heather Cox Richardson, about the history behind today's politics