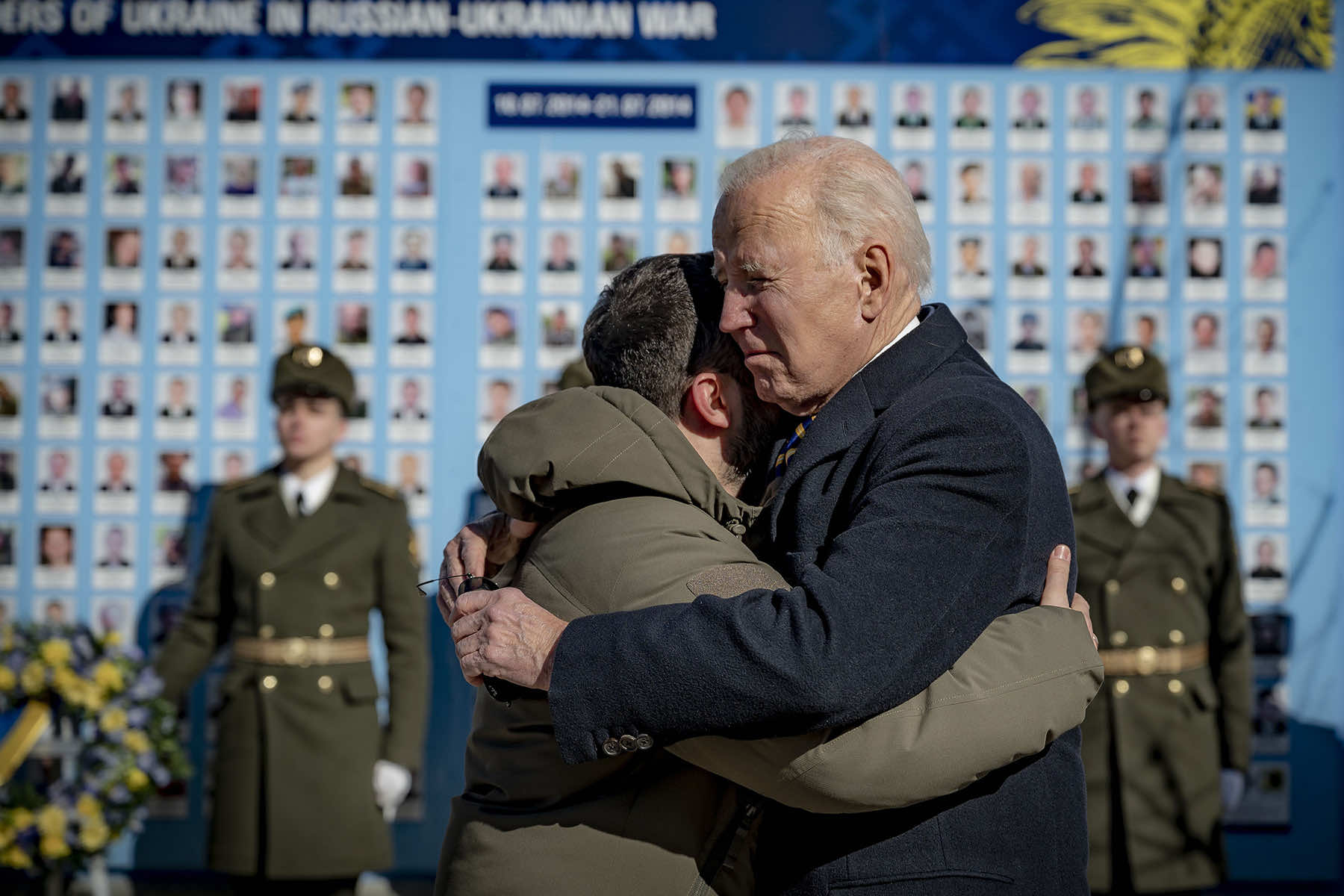 We awoke on February 20 to news that President Joe Biden was in Kyiv, Ukraine, where he pledged "our unwavering and unflagging commitment to Ukraine's democracy, sovereignty, and territorial integrity." Air raid sirens blared as Biden and Ukraine president Volodymyr Zelensky walked through the streets during the U.S. president's five-hour stay.
As National Security Advisor Jake Sullivan told reporters, Biden's visit was the first time a U.S. president has visited "the capital of a country at war where the United States military does not control the critical infrastructure" … in other words, an active war zone.
Biden traveled in a special mission plane from Germany to Poland, then took a train from Poland to Kyiv. To make sure there would be no attacks, the U.S. notified the Russians that Biden would be in Kyiv, but a Russian MiG 30 flew from Belarus during Biden's visit, triggering air raid sirens.
According to Sullivan, Biden felt it was important to visit Kyiv at the anniversary of the 2022 Russian invasion. The image of Biden and Zelensky standing together sent a message to Russian president Vladimir Putin, as David Rothkopf put it in the Daily Beast: "I am here in Kyiv and you are not. You not only did not take Kyiv in days as some predicted, but your attack was rebuffed. Your army suffered a humiliating defeat from which it has not recovered."
Just under a year ago, the global equation looked very different. On February 4, 2022, Chinese president Xi Jinping hosted Russian president Vladimir Putin on the opening day of the Winter Olympics. The two men pledged to work together in a partnership with "no limits" in a transparent attempt to counter U.S. global leadership and assert a new international order based on their own authoritarian systems.
At the time, Russia was massing troops on its border with Ukraine but fervently denied it was planning to invade. On February 24, 2022, Russian tanks rolled across the border and Russian planes covered them in the air. Biden remembered that Zelensky called him and said he could hear the explosions as they spoke. "I'll never forget that," Biden said. "The world was about to change." When Biden asked what he could do to help, Zelensky said: "Gather the leaders of the world. Ask them to support Ukraine."
And over 50 nations stepped up to make sure the rules-based international order in place since World War II, which prevents one country from attacking another, held. Those backing Ukraine against Russian aggression have squeezed Russia with economic sanctions and supported Ukraine with military and humanitarian aid. As Biden said today, standing next to Zelensky: "Kyiv stands and Ukraine stands. Democracy stands. The Americans stand with you, and the world stands with you."
Biden pledged another $460 million in aid to Ukraine, emphasizing that U.S. support for the country is bipartisan.
Biden mourned the cost Ukraine has had to bear, but championed its successes. "Russia's aim was to wipe Ukraine off the map," Biden said, but "Putin's war of conquest is failing. Russia's military has lost half its territory it once occupied. Young, talented Russians are fleeing by the tens of thousands, not wanting to come back to Russia. Not…just fleeing from the military, fleeing from Russia itself, because they see no future in their country. Russia's economy is now a backwater, isolated and struggling."
"Putin thought Ukraine was weak and the West was divided," Biden said. He remembered telling Zelensky that Putin was "counting on us not sticking together. He was counting on the inability to keep NATO united. He was counting on us not to be able to bring in others on the side of Ukraine." While Biden didn't say it, Putin had reason to think those things: the four years of the Trump administration had seen the U.S. offending allies and threatening to pull out of NATO, the North Atlantic Treaty Organization that stands against Russian aggression.
"He thought he could outlast us," Biden said. "I don't think he's thinking that right now…. [H]e's just been plain wrong. Plain wrong." A year later, Biden said, "We stand here together."
"You and all Ukrainians…remind the world every single day what the meaning of the word 'courage' is—from all sectors of your economy, all walks of life. It's astounding. Astounding.
You remind us that freedom is priceless; it's worth fighting for for as long as it takes. And that's how long we're going to be with you, Mr. President: for as long as it takes."
Zelensky answered, "We'll do it."
The world could stand behind Ukraine as it has because Biden and Secretary of State Antony Blinken have held a coalition together and presented a united front with Zelensky and allies and partners in defense of democracy.
In contrast, Representative Marjorie Taylor Greene (R-GA) explicitly called for dividing the nation on February 20. She tweeted: "We need a national divorce. We need to separate by red states and blue states and shrink the federal government. Everyone I talk to says this."
This once I will skip my usual lecture on how elite southern enslavers in the 1850s made this same argument because they resented the majority rule that threatened their ability to impose their will on their Black neighbors.
I will note, however, that former representative Liz Cheney (R-WY) helpfully reviewed "some of the governing principles of America" for Greene, tweeting: "Our country is governed by the Constitution. You swore an oath to support and defend the Constitution. Secession is unconstitutional. No member of Congress should advocate secession, Marjorie."
What Greene had to say next is of more interest in this moment. The Munich Security Conference, the world's largest gathering for international security discussions, has just reported that the Russian war on Ukraine is a war of authoritarianism on a rules-based international order.
At that conference, Vice President Kamala Harris said the U.S. had determined that Russia has committed crimes against humanity and noted that the bipartisan U.S. delegation to the conference was the largest we have ever sent.
The U.S. president has just entered a war zone to declare U.S. support for democracy and is now in Poland, where he will speak with the leaders of the nine countries that make up NATO's eastern flank and will deliver a speech that Blinken has described as "very significant."
In contrast, Greene echoed authoritarian leaders Viktor Orbán of Hungary and Putin himself when she called for splitting the nation over "the sick and disgusting woke culture issues shoved down our throats" and "the Democrat's [sic] traitorous America Last policies."
Authoritarian leaders insist that the equality that underpins liberal democracy threatens traditional society because it means that LGBTQ people, women, and minorities should have the same rights as white men. Greene appears to be taking the same position.
Meanwhile, Fox News Channel personalities, including Tucker Carlson, are trying to spin Biden's visit to Ukraine as proof that he does not care about the train derailment in Ohio. Scholar of disinformation behavior Caroline Orr Bueno noted: "There's a narrative being planted here; watch how support for Ukraine is framed as incompatible with U.S. national interests." She noted that a similar narrative in Canada argues that support for Ukraine hurts Canadian veterans.
A filing in Dominion Voter Systems' lawsuit against FNC for defamation revealed last week that FNC personalities knowingly lied to their viewers about the legitimacy of the 2020 presidential election, acting as a propaganda outlet for Trump.
The information is a handy backdrop for the news reported by Mike Allen of Axios, who said that House speaker Kevin McCarthy (R-CA) had given to FNC host Carlson — who figured prominently in the election fraud lies — exclusive access to 41,000 hours of footage from the U.S. Capitol of the January 6, 2021, attempt to overturn the results of the 2020 presidential election. According to Allen, Carlson's producers have already begun going through it to see what they can use on his show.
Putin addressed the Russian Federal Assembly on February 21. Billboards in Russia proclaimed: "Russia's border ends nowhere," but observers believed that he had been hoping for a major victory on a battlefield in Ukraine before the speech. Instead, Russian forces have taken severe losses in their recent stalled offensive in eastern Ukraine near Bakhmut.
Evan Vucci (AP) and Ukrainian Presidential Press Office
Letters from an Аmerican is a daily email newsletter written by Heather Cox Richardson, about the history behind today's politics