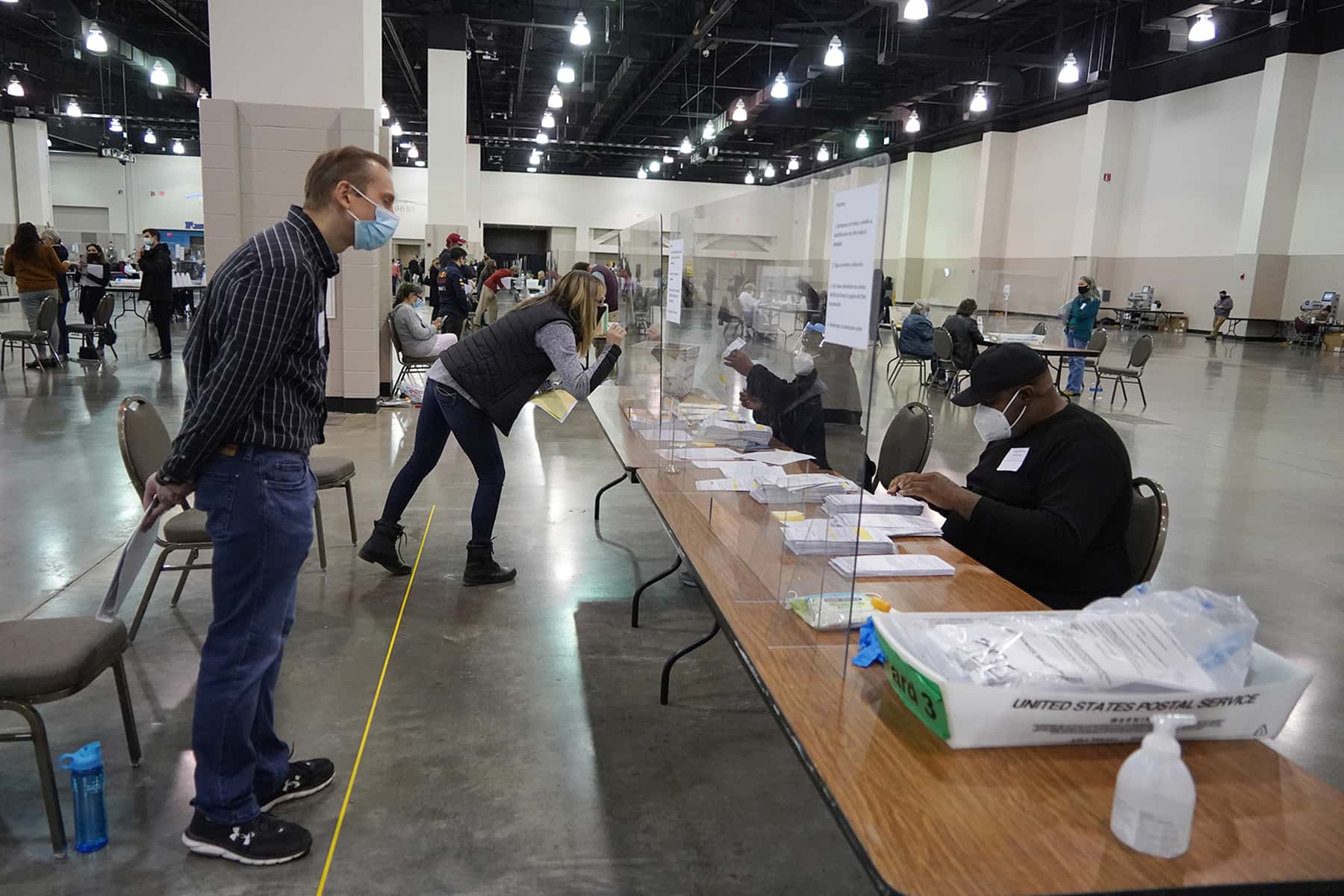 The recount of the presidential election in Wisconsin's two most heavily Democratic counties began on November 20 with President Donald Trump's campaign seeking to discard tens of thousands of absentee ballots that it alleged should not have been counted.
Joe Biden won Wisconsin by 20,600 votes and carried Dane and Milwaukee counties by a 2-to-1 margin. Trump only paid for recounts in those two counties, not in the 70 others, 58 of which he won. There is no precedent for a recount overturning a deficit as large as Trump's in Wisconsin, so his strategy has been widely seen as a political stunt to rally his base and a ploy for building another legal argument to take to court.
A small group of protesters from Souls to the Polls and the Service Employees International Union (SEIU) protested outside the Wisconsin Center, holding large letters that spelled the word "DECIDE." The group said that voters have already decided the presidential election, not Trump.
They called on the president to focus on solving the pandemic that has escalated out of control in Wisconsin and the nation, instead of wasting time and money on recounting votes. Rev. Gregory Lewis, founder and president of Souls to the Polls, recovered from COVID-19 earlier this year. He said that people cannot be with their families over Thanksgiving and are losing loved ones to the virus.
"Trump has turned his back on everything that needs to be done to resolve that situation and still thinks he deserves to cause people all this discomfort by doing things like this, recalls and accusations of fraud," Rev. Lewis said. "That is just insane. Sensible people should not put up with that kind of nonsense."
As the recount was set to being in Milwaukee on November 20, Trump's legal team presented a laundry list of objections. The tactic ultimately delayed the recount from starting by 6 hours, as the commission reviewed their requests. The effort reflected previous efforts by the Trump campaign to delay and derail similar proceedings.
Lawyers representing Trump claimed to be informed by unidentified observers, who were supposedly unable to see through the plexiglass and observe the ballots and materials being reviewed by election workers. Because of the coronavirus pandemic, observers have to maintain physical distancing, and plexiglass is required as a safety measure to help prevent the possible spread of COVID-19.
Along with the unfounded complaint of having an inadequate opportunity to observe the ballots, the Trump campaign submitted 7 other requests:
Requesting that all written applications for absentee ballots are present during the recount and are set aside for observation.
Requesting that all absentee ballot envelopes without a written application set aside for observation.
Requesting that all absentee ballot envelopes with different ink set aside for observation.
Requesting that all absentee ballot logs are available, that they include all absentee applications – including online requests – and set aside for observation.
Requesting that all absentee envelopes and applications that identify indefinitely confined voters set aside for observation.
Requesting that all copies or other evidence of all photo identification for any absentee ballot identification set aside for observation.
Requesting that all data for all the tabulating machines and all images of the ballots be preserved today and available for observation. And, that any and all audit trails and/or error trails from tabulating machines from Nov 2-5, 2020 be made available for observation, as well as the names of any technicians that performed any of this work or updates during November 2 to 5, 2020.
The team also sought to have ballots discarded where election clerks filled in missing address information on the certification envelope where the ballot is inserted; any absentee ballot where a voter declared themselves to be "indefinitely confined" under the law; and any absentee ballot where there was not a written application on file, including roughly 69,000 that were cast in-person during the two weeks before Election Day.
Trump attorneys argued that certification envelopes filled out by people who voted absentee in-person do not count under the law as a written application, even though the envelope is identified as such. The board of canvassers, controlled 2-1 by Democrats, voted unanimously to reject the complaint.
The campaign additionally argued that people claimed to be indefinitely confined even though they were not. Such a declaration exempts the voter from having to show a photo ID to cast their ballot. The Republican-controlled Wisconsin Supreme Court this spring ruled that it is up to individual voters to determine whether they are indefinitely confined, in line with guidance from the bipartisan Wisconsin Elections Commission. The canvassing board voted 2-1 to count those ballots, with the Republican opposed.
Trump's attorney then claimed that the law does not allow clerks to fill in missing information on the envelope that goes with absentee ballots. The state elections commission told clerks before the election that they can fill in missing information on the absentee ballot envelopes, a practice that has been in place for at least the past 11 elections. The canvassing board voted unanimously to count those ballots.
The canvassing board agreed to Trump's request to set aside all absentee ballot envelopes where voters claimed "indefinitely confined" status and those with two different colors of ink, perhaps indicating that someone other than the voter completed the information. Trump also asked to separate absentee ballots with or without written applications and to observe absentee ballot logs that would account for those requested through the state's myvote.wi.gov website.
Several hundred volunteers signed up to observe the recount at the Wisconsin Center. While Trump lawyers made their arguments to the canvassing board, several of the observers shouted out in protest when the requests were rejected. The individuals were removed by Milwaukee County Sheriff's Deputies, along with a person who refused to wear a mask.
After the canvassing board set the guidelines for poll workers to follow, the actual recount process finally began. It was quickly derailed by Trump observers.
Witnesses saw Trump observers repeatedly intimidate the nonpartisan poll workers as they attempted to sort ballot envelopes. It was also noted that Trump observers disproportionately clustered around tables staffed by people of color. Several Trump observers also exercised an authority they did not have by directing Milwaukee officials on issues outside the guidelines set by the election commission.
The Trump campaign later objected to the procedure of objecting, further impeding progress with the counting process. At one point, Trump observers and lawyers packed together, surrounding the three canvassing board commissioners, in violation of the social distancing rules.
As news media filmed and photographed the meltdown, a lawyer from the Trump campaign took a further step of intimidation by telling the media that they were not permitted to document the situation. It was claimed that the discussion was protected by attorney-client privilege, even though the meeting took place at a public setting, surrounded by observers, poll workers, and the commissioners.
The recount process has raised issues that did not come up four years ago, partly because of the experience in other states. In Wisconsin, state law says the chair of the Elections Commission, who is currently a Democrat, alone has the power to certify election results once a recount is complete. But the Republican commissioner suggested the full six-member commission might need to give its approval.
The Wisconsin Elections Commission has a meeting scheduled for Tuesday, December 1, the deadline for the certification of election results.
"I think it's irresponsible by the Trump campaign and by Donald Trump himself, and it shows his lack of empathy for the American people," said Milwaukee County Clerk George Christenson. "We don't have to ruin the Thanksgiving holiday for people for an unnecessary recount, while there is a surge in the coronavirus pandemic."