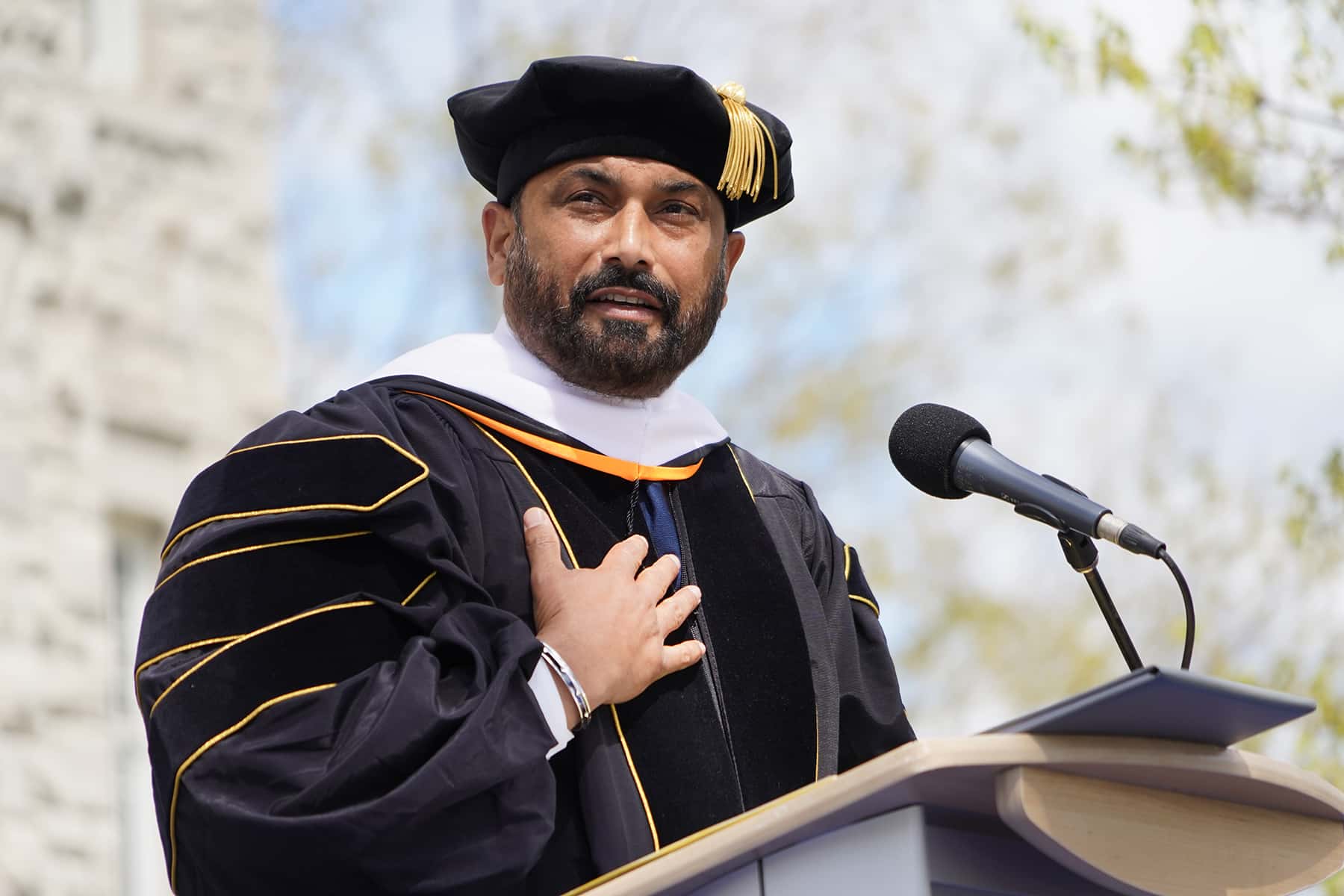 The 8th of May was a beautiful sunny Saturday morning on the main lawn of Carroll University, when President Dr. Cindy Gnadinger welcomed the newest class of graduates to the spring 2021 ceremony.
Dr. Gnadinger is the first women President at Wisconsin's oldest four-year collegiate institution. Founded in 1846, the University recently celebrated 175 years on February 3, 2021 under the backdrop of COVID-19 and virtual gatherings.
After the isolation and remote viewing of the past year, it was all the more special that the students, faculty, and families were able to finally gather in-person and celebrate nearly six hundred students being able to walk across the stage to physically be handed their diplomas from Dr. Gnadinger.
I was also honored to deliver the commencement speech and receive an honorary Doctor of Humane Letters Degree from Carroll University.
A week prior to the speech, my partner asked me what message would I have for the students. I thought, and maybe overthought, about how heavy this past year has been for educational institutions. And I considered how much worry graduating students must be feeling at this moment in history, as they embark on yet another chapter of their lives under the uncertainty brought on by the pandemic.
I also reflected on how hesitant I felt when I was in their shoes. I experienced a mixture of excitement and worry. So for my address, I wanted to help students leave the ceremony feeling more optimistic. But then remembered that the times we are living in may require hard truths.
I would end up talking with the students about how all of our lives are continuously evolving. We may not play a musical instrument, we may not paint a portrait, nor dance in an ensemble, but we are all artists. Our existence is our canvas, and as long as we are listening to the pains and joys in our lives, we are creating.
However, creating does not necessarily translate to being creative, much like producing does not always translate to being productive. This was a lesson that I had not learned until much later in my life, especially in the what-have-you-done-lately-to-prove-your-worth Midwest mindset of either you are accomplishing or you are failing.
The goal of post-graduation for most students remains the same as in my day: get a job, move out on your own, and make a living. However, the reality of post-graduate life has become a bit more complex. Students today face a sometimes overwhelming stream of issues that we may not have faced in the past. Issues such as growing student loan debt, financial related health concerns, affordable housing, and lagging career opportunities.
Some psychosocial concerns that we should also be mindful of are having trouble adjusting to changing situations, general anxieties around family expectations, relationship difficulty, depression, hopelessness, and low self-esteem.
I recall my own post-graduate depression. Going months working at our family's small business while searching for my first job. The issues was that I had recently graduated and could not find employment. I wondered what was wrong. I drank and partied profusely. My self-esteem caused conflicts with the people who loved me most. Not many people talk about their post-graduation journey to find their purpose. A journey that requires the struggle of not feeling like you are enough to accomplish the goals you set out for, but having faith that you have always been enough.
May 8 ended up being an amazing day, with amazing weather. After the ceremony, families lingered to enjoy the atmosphere of a genuine in-person connection, while also being cautious of social distancing and mask requirements. There were many other college graduations throughout Wisconsin and if someone you love graduated, congratulations.
Carroll University has a foundation which embraces respect, integrity, and stewardship at its ethos. Dr. Gnadinger's words resonated in that spirit.
"The resilience and perseverance each of you has called upon to succeed in the past four years is now part of you. Your futures hold unknown challenges and as yet-unimagined joys. And I have witnessed, day in and day out, your ongoing commitment to, and the embodiment of, the Carroll Ethos. May your journey be fruitful. May you never cease learning."
Life is beautiful because of the challenges we overcome. This is true for institutions and individuals. Students, staff, and faculty have faced an unprecedented year and have bounced back, adjusted, and continue to grow. In that growth is a deliberate effort that strives to be more inclusive and nurturing.
I am proud of the work that Carroll University and other institutions are doing to address the unique concerns that they are facing. With my hand over my heart, thank you Carroll University for preparing our graduates to take on the growing challenges of the world. I am proud to be a Pioneer.