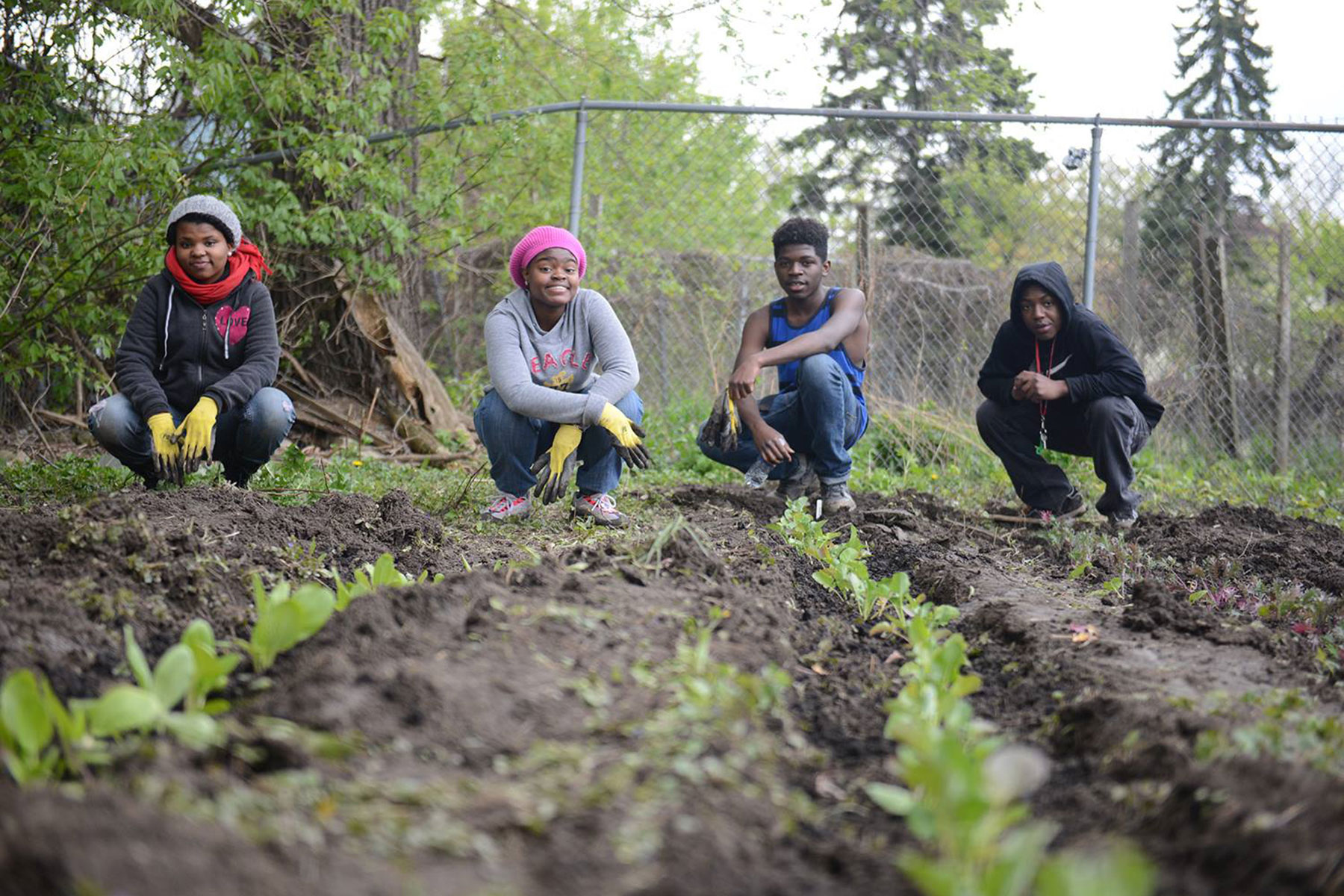 Remember Kid President? Eight-year-old YouTube sensation Robby Novak and his spunky speeches that urged us to "treat everybody like it's their birthday? For four years, his witty motivations used what often sounded like cute middle-school-poster platitudes to give Americans a kid-sized dose of President Obama's audacious hope: "Don't be mean, be meaningful." "If you can't think of anything nice to say, you're not thinking hard enough." "Life is tough, but so are you." "Give people high fives just for getting out of bed. Being a person is hard sometimes." "If it doesn't make the world better, don't do it." "Doing nothing is a great way to change nothing." As we enter an uncertain 2020 where so much is at stake, my recent interviews with 48 Milwaukee teens have confirmed for me something that I've always known but that is easy to forget: the kids are all right.
As the new Education Director for the local nonprofit Teens Grow Greens, my first task was to interview 48 high school applicants for our nine-month paid internship. Our mission is to "develop teens through transformative experiences that cultivate belonging, skill building and connections to opportunities that grow leadership." Teens Grow Greens is grounded in three principles of Respect, Responsibility and Resilience, for self, others and the environment. Through hands-on experiences with food production and preparation, mentoring of children and character development, and entrepreneurship and professionalism, Teen interns will become equipped to engage their world with greater self-efficacy, confidence and integrity. As our motto states, "We grow more than plants."
Over two weeks, my colleagues and I interviewed these teens, who hail from schools like Carmen Northwest and Messmer, Milwaukee High School of the Arts and Milwaukee School of Languages, Riverside, Rufus King, and Washington. My counterpart on the south side interviewed 30 students from South Division, Pulaski, Escuela Verde, Bradley Tech and other schools. Between the two of us, we needed to select 50 students from an incredible pool of talent and interest, which was no easy task.
What was easy for me was seeing in each of these teens a future Kid President. Here were teens who expressed wisdom about their generation: how despite what some adults might think, they want to be leaders not followers. How despite the numbing effects of social media addiction – which affect adults just as much as young people – they still want to, as one teen said, "soak up as much knowledge as possible." They wanted to know more about Trump and Iran. They were saddened and angered by Milwaukee's gun violence and speeding, by the bullying in their schools and the media's images of women's bodies, by food deserts and water health, homelessness and police brutality, and the divisions – not just racial segregation – that prevent us from being "open," "together," "peaceful," and "neighborly."
Members of so many of their families had endured great hardships, yet the teens glowed as they described their resilience and wisdom. So many of the teens had confronted racism in their classroom, on the streets, in stores – too often by adults. Their responses spoke to their self-control as well as their indignation and advocacy for others.
These self-described initiators and collaborators, peacemakers and peacekeepers, yearned to be role models for their peers and younger kids, just as their parents and grandparents, siblings and cousins, teachers and, for one girl, the security guard at her apartment are for them. They spoke with so much hope about how much more diverse, empathetic and accepting the world is becoming, attributing a lot of this positive trend to the younger generation.
The teens came to us as readers and athletes, musicians and artists, debaters and authors who were published in the Milwaukee Courier or a book of poems about fair and affordable housing. Many of them were on their honor rolls. They came to us with firm intentions of going to college to study real estate and interior design, law and criminal justice, pediatrics and nursing, therapy, orthopedics, trauma surgery. All kinds of -ologies: cosmetology, dermatology, forensic psychology, neurology. All kinds of engineering: medical, civil, software, aerospace. And they wowed us with their entrepreneurial dreams of opening their own salons or dance companies, culinary schools or catering businesses. One young woman wants to make enough money to eventually start a foundation to help children with Down's Syndrome, another plans to open a mental health outpatient clinic in her neighborhood and yet another aspires to be a politician. "Someone in our city has to look out for the little people," she said.
These 48 teens are part of a growing tide of increasingly younger activists. Even if they were not selected to be part of this year's Teens Grow Greens cohort, I have no doubt that each of them will continue to bring their optimism and genuine concern for the world to their families, schools and communities. In my mind, they have the potential to join the ranks of young activists like Nobel Peace Prize winner Malala Yousafzai and documentarian Zuriel Oduwole, advocating for girls' education; mountain-preserver Xiuhtezcatl Martinez and bee savior Mikail Ulmer; super-recycler Ryan Hickman and #BlackGirlBooks' Marley Dias; the youngest speaker at the Women's March on Washington, 10-year-old Sophie Cruz, an undocumented American advocating for fair immigration policies, and 17-year-old Greta Thunberg, storming the world with other kid climate activists like Jamie Margolin, who is queer, Jewish, and Latina; Flint, Michigan's Mari Copeny; and Mexico City's Xiye Bastida. Not to mention the thousands of young people who mobilized for March for Our Lives.
Most of the teens will just be forces of good in their homes, neighborhoods, schools and workplaces. And that kind of justice will be just all right for Milwaukee. As Kid President would say, "The most important thing to remember is that you have purpose and you're a wonderful contribution to the world. Don't forget that!"
Elizabeth Lynch and Teens Grow Green
Milwaukee Independent is an award-winning and advertising-free daily news magazine that advocates for inclusive social understanding by publishing positive news content that covers a wide range of topics as a catalyst for community development. Our content is open to the public, with no access restrictions. As a nonprofit news organization, we are supported through charitable contributions from organizations and individuals in order to produce our activating, engaging, and solution-focused coverage of news in Milwaukee. Please consider supporting our work or making a donation.