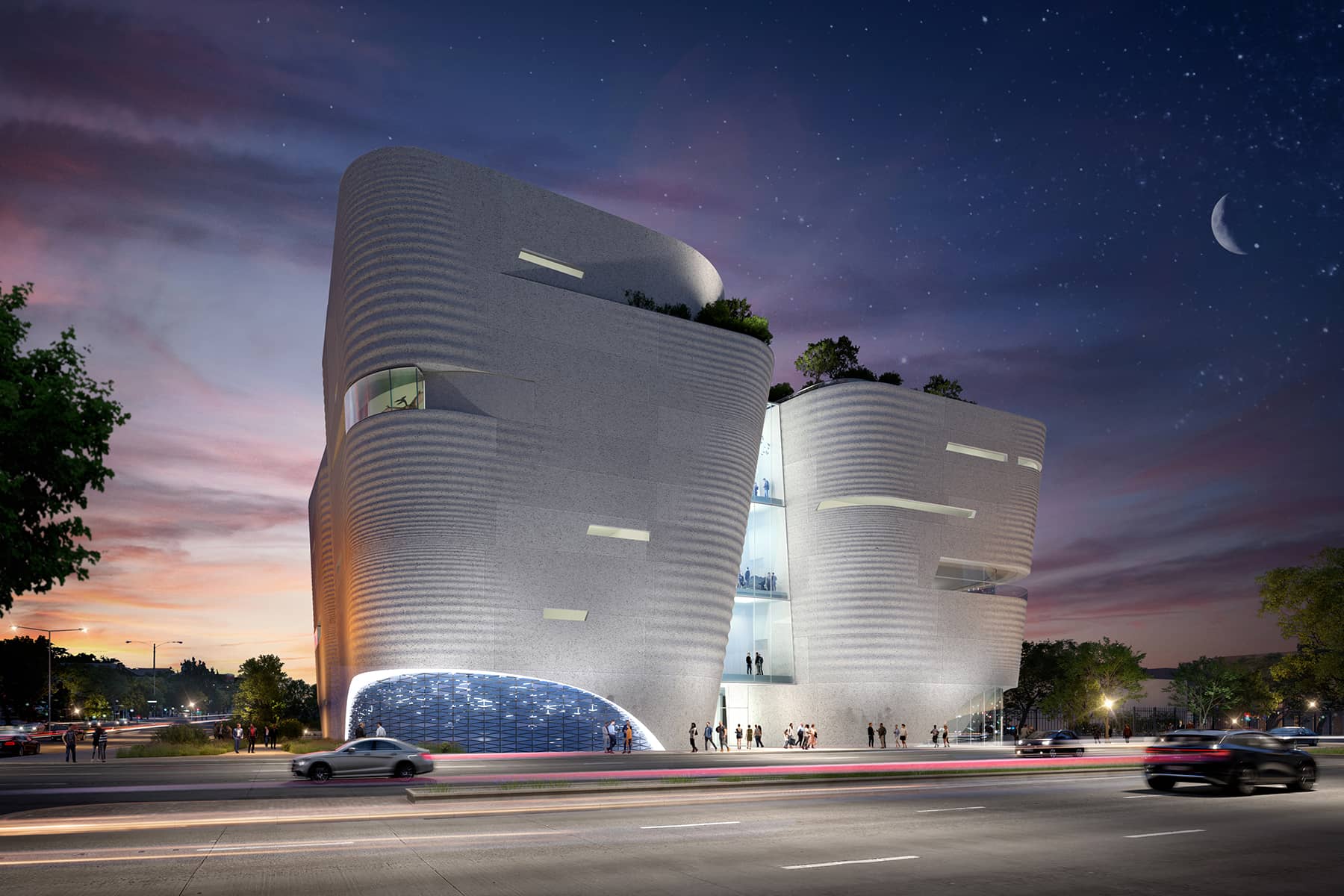 Milwaukee Public Museum kicked off the public phase of its "Wisconsin Wonders" fundraising campaign on July 18, aimed at enabling the once-in-a-lifetime construction of a new Museum in Milwaukee.
To be located on a 2.4 acre development at the corner of Sixth and Vliet Streets in the Haymarket neighborhood adjacent to the city's Deer District, the new museum will be the largest cultural project in Wisconsin history.
"Our community has the privilege and opportunity to reimagine what this beloved institution can be and further our mission to inspire curiosity and knowledge of our world's natural and cultural diversity," said Dr. Ellen Censky, MPM President and CEO. "While it is thrilling to see what the future may hold, it is also of the utmost importance to remember why we have undertaken such a titanic effort. A new museum building is the only way to ensure the continuity of this institution and the safety of its collections for the enjoyment of future generations. Through the Wisconsin Wonders campaign, our community can sustain a place of experiential learning and cultural importance."
Representing nearly half of the necessary funds, $110 million has already been dedicated to the creation of the new museum, including $40 million from the State of Wisconsin, $45 million from Milwaukee County, and $25 million in private donations by 72 cornerstone donors.
"This is a bold project that will have a transformative effect across the state and around the world," said Jay Williams, former Museum president and campaign co-chair alongside his wife, Madonna. "With enthusiastic commitment of corporations, foundations and private citizens, and with the significant public investments made by the State of Wisconsin and Milwaukee County, we can create a multi-generational impact."
Several key donors has set a strong foundation for the capital campaign, including JoAnn & Richard Beightol, Lynn & Douglas Brengel, Bucyrus Foundation, Melitta S. & Joan M. Pick Charitable Trust, David & Julia Uihlein, and We Energies Foundation. Ongoing fundraising efforts, fueled by the momentum of these gifts, will continue until the goal is met.
Designed by Ennead Architects and Kahler Slater, the new museum will stoke curiosity, awe and connection before guests even step inside through the architectural homages to natural environments and the intentional gathering places that will bring diverse groups of people together to commune, to learn and to educate one another.
"The new Museum building will be an iconic, one-of-a-kind monument to Wisconsin and its people," said Katie Sanders, MPM Chief Planning Officer. "Different from most creative processes, this design was developed as a result of input from thousands of people from both far corners of Wisconsin and right here in the Haymarket neighborhood, paired with inspiration drawn from a tour of the entire state."
Heavily influenced by the ecological histories of Milwaukee and Wisconsin, the design of the new museum will be reminiscent of the geological formations in Mill Bluff State Park, emblematic of the region's diversity of landscapes formed by the movements of water through time. The convergence of Milwaukee's three rivers — the Milwaukee, Kinnickinnic and Menomonee — inspire the museum's interior commons, with entrances welcoming visitors into a dynamic gathering space.
"For generations, the Milwaukee Public Museum has inspired curiosity and understanding among its visitors. This new home offers a different inspiration – an architecturally inspiring appearance that is a wonderful addition to the Haymarket and Hillside neighborhoods," said Mayor Cavalier Johnson. "New investments and developments are extending into areas surrounding downtown, and the Milwaukee Public Museum is a big part of that."
The building will be approximately 200,000 square feet, including five stories; the first floor will house an open museum commons atrium where visitors and the public can gather and bask in natural light from a sunlit lightwell; the four upper levels of exhibit space — which are currently in the schematic design phase led by Thinc Design — will be offset from neighboring floors in the museum's collections storage lobe, allowing visitors to peek into and preview different exhibit floors and collections that are not part of specific exhibits or dioramas.
The new museum will also include two gardens designed by GGN, located near the entrance to the museum and on the rooftop, providing an opportunity to bring native plants back into Milwaukee's urban environment. Offsite, a separate 50,000 square foot storage space will house additional collections.
"The Milwaukee Public Museum has been serving generations of students and visitors for more than 140 years, and by coming together now we can ensure this important institution serves our community for many years into the future," said Milwaukee County Executive David Crowley. "The Museum's diverse visitorship is a point of pride for Milwaukee. It is a place where families of all backgrounds come together to learn about our natural and cultural history, as well as the present and future, through the four million objects and specimens in the Milwaukee County Collections. As County Executive, I was proud to sign into legislation the County's commitment of $45 million to support the construction of a new Museum to house and care for those collections, and I am proud to see the incredible design that those funds will help bring to life."
Primarily a concrete and glass structure, the museum's exterior texture will mimic the ancient sea stacks present in Mill Bluff State Park. The building itself is designed as an organic form, with rounded corners portraying the erosion and weathering that happens as landscapes — particularly Wisconsin landscapes, which were in large part shaped by glacial forces — evolve over time.
Groundbreaking for the building is slated for late 2023, with Mortenson and ALLCON overseeing construction, and the new museum is due to open in 2026. The Milwaukee Public Museum's current home will remain open until the new space is finished.
"I was proud my recent budget proposed investing $40 million to support one of the largest, most ambitious cultural projects in our state's history, and I'm glad to see that vision come to fruition," said Governor Tony Evers. "This building design is an iconic reflection of our communities, our cultures, and our natural wonders. This new building will be a critical educational resource for educators, kids, families, and folks across our state where future generations of Wisconsinites can be inspired by our shared history, innovation, and humanity."
The Milwaukee Public Museum is a natural and human history museum located in downtown Milwaukee, Wisconsin. The Museum was chartered in 1882 and opened to the public in 1884. MPM has three floors of exhibits that encompass life-size dioramas, walk-through villages, world cultures, dinosaurs, a rainforest, and a live butterfly garden, as well as the Daniel M. Soref Dome Theater & Planetarium. The Museum houses more than four million objects and hosts some half-a-million visitors each year.
"It is inspiring to see how thousands of members of our community have come together to provide their input and hopes for the future Museum, how this expert team of architects has immersed themselves in Milwaukee and Wisconsin cultures to listen and understand us, and how generous public and private donors have been to further our vision," said PJ DiStefano, Board Chair of Milwaukee Public Museum. "One common goal – ensuring that this beloved Museum continues to exist and inspire future generations – has united us."
MPM is operated by Milwaukee Public Museum, Inc., a private, non-profit company, and its facilities and collections are held in trust and supported by Milwaukee County for the benefit of the public.