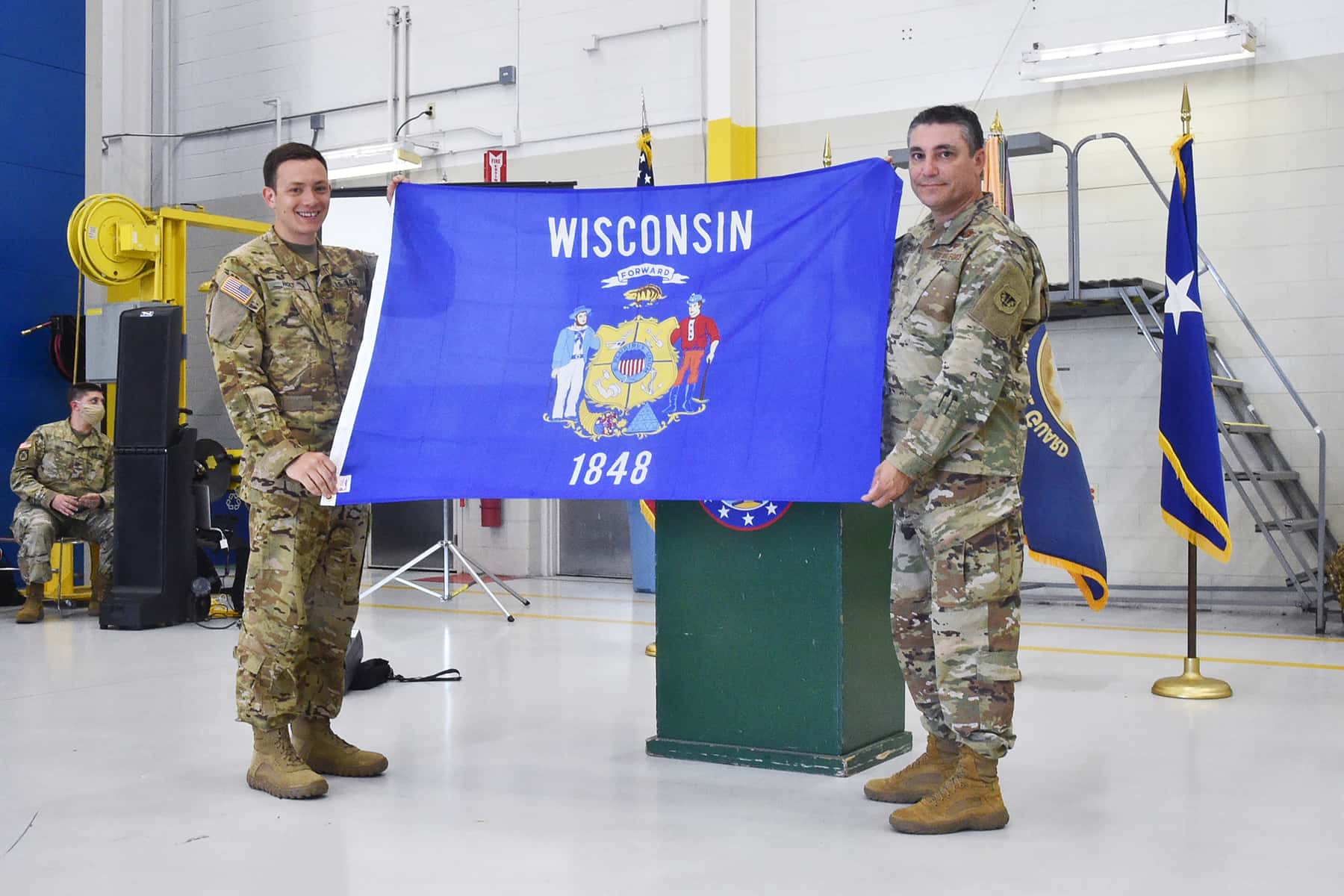 March 5 marked the Wisconsin National Guard's 184th birthday, and year 183 was a notable one for the history books.
The Wisconsin National Guard's official birthday is March 5, 1837 – the date on which Wisconsin's territorial Governor Henry Dodge commissioned Morgan L. Martin of Green Bay, Wisconsin, as a captain and the commander of the Green Bay Rangers volunteer company of mounted riflemen.
The creation of the Green Bay Rangers predated Wisconsin statehood by 11 years, and the new civilian supplemented military force had a mission of protecting what was then the Wisconsin Territory.
Today, some 184 years later, the modern day Wisconsin National Guard continues that core mission of serving Wisconsin – protecting its citizens and serving in times of emergency or natural disaster – while simultaneously fulfilling its federal missions as part of the Army and Air Force and deploying overseas to combat theaters around the globe.
Those missions were on full display in year 183 – in what many have dubbed "the year of the Guard" – as the Wisconsin National Guard took on countless roles ranging from flying missions to fight wildfires in California, preserving public safety during periods of civil unrest, battling COVID-19, and securing the presidential inauguration, to staffing polling sites during elections, and deploying overseas to places like Iraq, Afghanistan, and Ukraine.
The 183rd year of Wisconsin National Guard history may go down as the most historic and unprecedented in its legacy – a feat all the more impressive when considering that it's a history that includes the Iron Brigade's service in the Civil War, the 32nd "Red Arrow" Division's enemy line-piercing ways in France during World War I, the same Red Arrow Division's 654 days in combat during World War II – more than any other division in the war – a year-long mobilization during the Berlin Crisis in the 1960s, and service in Iraq and Afghanistan in the years following the terrorist attacks of September 11, 2001.
Events of the past year come close to rivaling that impressive lineage for the depth and breadth of missions the 10,000 Citizen Soldiers and Airmen of the organization completed.
On the Wisconsin National Guard's birthday last year, it welcomed a new leader – Major General Paul Knapp, who was sworn in as the adjutant general in a ceremony at the state capitol in Madison. At the time, more than 800 Citizen Soldiers and Airmen were deployed overseas to places like Iraq, Afghanistan, Ukraine, and the Horn of Africa in what already represented a high number of mobilized troops supporting the Guard's federal mission as the primary combat reserve of the Army and Air Force.
Just a few days later – the Guard began an historic effort to fight coronavirus in Wisconsin.
The Wisconsin National Guard's mobilization to support Wisconsin's response to the COVID-19 pandemic alone represents the largest sustained domestic mobilization in the organization's proud history. Beginning March 12, 2020 – the same day Gov. Tony Evers declared a public health emergency in Wisconsin – more than 1,800 troops would mobilize at some point to serve in direct support of the response to the COVID-19 pandemic.
That same day, approximately 30 Soldiers mobilized to help transport a group of cruise ship passengers from Wisconsin back to their homes after they were exposed to COVID-19 on board. In the weeks that followed, hundreds of additional Citizen Soldiers and Airmen left their civilian careers or tabled their education at state colleges and universities to mobilize for the ongoing pandemic response.
Those troops began developing and refining processes and procedures for mobile drive-thru COVID-19 testing sites and trained on the proper use of personal protective equipment, and later that month, troops deployed to a senior living facility in Grafton, Wisconsin to assist after a COVID outbreak at the facility resulted in a critical staffing shortage.
By April, the first COVID testing teams were out in Wisconsin communities providing testing at senior living facilities, correctional facilities, businesses, and eventually at community-based testing sites statewide. In what would become the Wisconsin National Guard's main effort in the fight against COVID, Guard teams would go on to collect more than one million COVID tests and counting in every corner of the state – the most collected by National Guard troops in any state.
Those troops also staffed a state call center that placed 565,000 calls to inform people of their COVID test results, staffed self-isolation facilities with medical and administrative personnel, helped staff a warehouse handling personal protective equipment shipments coming into the state, and are now helping to manage the state's vaccine inventory and administer vaccines as a key component of Wisconsin's mobile vaccination teams. To date those teams, made up of four Guard members and two vaccinators from other sources, have assisted in administering nearly 30,000 vaccines in Wisconsin.
Wisconsin National Guard troops also achieved another historic first in their 183rd year. When 2,400 troops mobilized to serve as poll workers in Wisconsin's April 7, 2020 election due to a shortage of volunteers to staff polls, it marked the first time in our nation's history that the Guard had performed such a role. A total of 3,700 troops mobilized to assist in four separate elections over the course of the year from April to November as COVID fears left many traditional volunteers wary of working at polling sites.
Other critical missions awaited the Wisconsin National Guard here at home, even as hundreds of troops remained deployed to combat theaters overseas, and thousands of troops were mobilized for the COVID response and election support.
In late May, nationwide protests erupted after the death of George Floyd in Minneapolis. Some communities turned to the National Guard to help preserve public safety and set the conditions for individuals to exercise their First Amendment rights to demonstrate peacefully. In Late May and early June, more than 1,200 Wisconsin Guard members mobilized in response to requests for assistance from Milwaukee, Madison, Green Bay, Racine, and Kenosha to help preserve public safety amidst civil unrest.
That marked only the beginning of months of mobilizations for Citizen Soldiers and Airmen on whom the state and nation called repeatedly to help preserve public safety in Wisconsin communities and elsewhere. In late June, another 150 troops mobilized to assist after violent protests around the state capitol in Madison. In August more than 2,000 troops, including more than 700 from National Guard units in Michigan, Alabama, and Arizona, mobilized to assist civil authorities in Kenosha after an officer-involved shooting there led to days of unrest.
In October, more than 500 troops mobilized to Wauwatosa, Wisconsin in preparation for a charging decision in a different officer-involved shooting.
Just after the 2021 New Year began, violence at the U.S. Capitol in Washington DC prompted security concerns at state capitols nationwide, and the Wisconsin National Guard received a request for assistance from the Capitol Police in Madison to assist with security.
With the presidential inauguration approaching, the National Guard Bureau called on every state and territory to send troops to assist with security efforts around the U.S. Capitol in Washington DC. More than 550 Wisconsin National Guard troops joined more than 25,000 troops from around the nation in the security effort before returning to Wisconsin January 23. Nearly 5,000 troops mobilized for civil unrest or public safety missions during year 183.
As all of those missions occupied Wisconsin's Citizen Soldiers and Airmen – most of whom are full-time college students or work civilian jobs and put those endeavors on hold when mobilized – the organization's normal operational rhythm continued with overseas deployments, annual training periods, drill weekends, and even a month-plus mission to California where two UH-60 Black Hawk helicopter crews helped the California National Guard battle wildfires.
The year remained a heavy one in terms of overseas mobilizations too. More than 800 Soldiers and Airmen either deployed or returned from overseas deployments during the past year, including 400 troops from the 1st Battalion, 128th Infantry, that returned from Afghanistan, more than 160 troops from the 32nd "Red Arrow" Infantry Brigade Combat Team's headquarters, that returned from Ukraine, 150 troops from the 829th Engineer Company, that returned from several countries across the Middle East and Southwest Asia, and the 924th Engineer Facilities Detachment, which returned from Kuwait, and the 1967th Contracting Team that returned from the Horn of Africa.
West Bend, Wisconsin-based Detachment 1, of G Company, 2nd Battalion, 104th Aviation, and its 35 Soldiers remain deployed to the Middle East conducting medevac missions, while the 176th Cyber Protection Team is mobilized at Fort Meade, Maryland, and dozens of Airmen from Wisconsin Air National Guard units continue deployments to locations worldwide.
The 135th Medical Company, one of the units that played a key role in the early stages of the COVID response in Wisconsin, is slated to deploy to the Middle East this spring. Other highlights from throughout the year included news that the U.S. Air Force had selected Truax Field Air National Guard Base and the 115th Fighter Wing's to receive the F-35 joint strike fighter, a decision that secured the future of the 115th Fighter Wing and the base for decades to come.
The organization also learned it had been selected as the new partner for Papua New Guinea as part of the National Guard's State Partnership Program. The calendar year ended tragically with the death of 115th Fighter pilot Major Durwood "Hawk" Jones, who perished after his F-16 crashed in Michigan's Upper Peninsula.
Sadly, the Wisconsin National Guard also lost two former adjutants general in Major General James Blaney, who served as adjutant general from 1997-2002, and Major General Albert Wilkening, who held the post from 2002-2007. Both leaders were instrumental in shepherding the Wisconsin National Guard into the post-9/11 era and the Global War on Terror.
In addition to Knapp taking over as the present day adjutant general, a host of other new leaders took the helm at key positions across the Wisconsin National Guard, including new commanders at the 128th Air Refueling Wing in Milwaukee, Volk Field Combat Readiness Training in Camp Douglas, Wisconsin, the 32nd "Red Arrow" Infantry Brigade Combat Team in Camp Douglas, and as well as a new deputy adjutant general for air, a new Air Guard state command chief, and a new command chief warrant officer in the Army Guard.
The Wisconsin National Guard has endured longer and larger mobilizations in its history. Tens of thousands of Wisconsin troops fought the Confederacy during the Civil War in the 1860s. The entirety of the Wisconsin National Guard mobilized as part of the 32nd Division in World War I in France and again 20 years later in the Pacific Theater during World War II. Likewise, the Berlin Crisis represented a high point for federal mobilization.
But never before in the Wisconsin National Guard's now 184 years of history has it mobilized so many troops repeatedly and for such an extended period of time here at home than it has in since its 183rd birthday on March 5, 2020.
For an organization that has battle streamers from places like Antietam, Bull Run, Gettysburg, the Meusse-Argonne, New Guinea, the Philippines, Iraq, Afghanistan, and more, along with a long history of service during floods, in the aftermath of severe weather, during periods of civil unrest, and more, it's hard to peg any one year as the most historic out of 184. But year 183 may stake a claim on the title for the vast array of missions and sustained nature of the many missions the organization undertook.
Never before has the state and nation relied more heavily on the Citizen Soldiers and Airmen of the Wisconsin National Guard, who time and again, put their civilian lives on hold to answer the state and nation's call – whether here at home battling COVID, preserving public safety, fighting wildfires, securing an inauguration, staffing polling sites, and deploying to combat overseas.
But now, 184 years since its birth, the men and women of the Wisconsin National Guard remain "Always Ready and Always There" to fulfill any mission. From the Black Hats of the Iron Brigade and Old Abe, to the jungles of the Philippines, and the deserts of the Middle East, to our own communities, serving the people of the Wisconsin and the nation remains the Wisconsin National Guard's core mission.