Thousands march for immigrant rights on May Day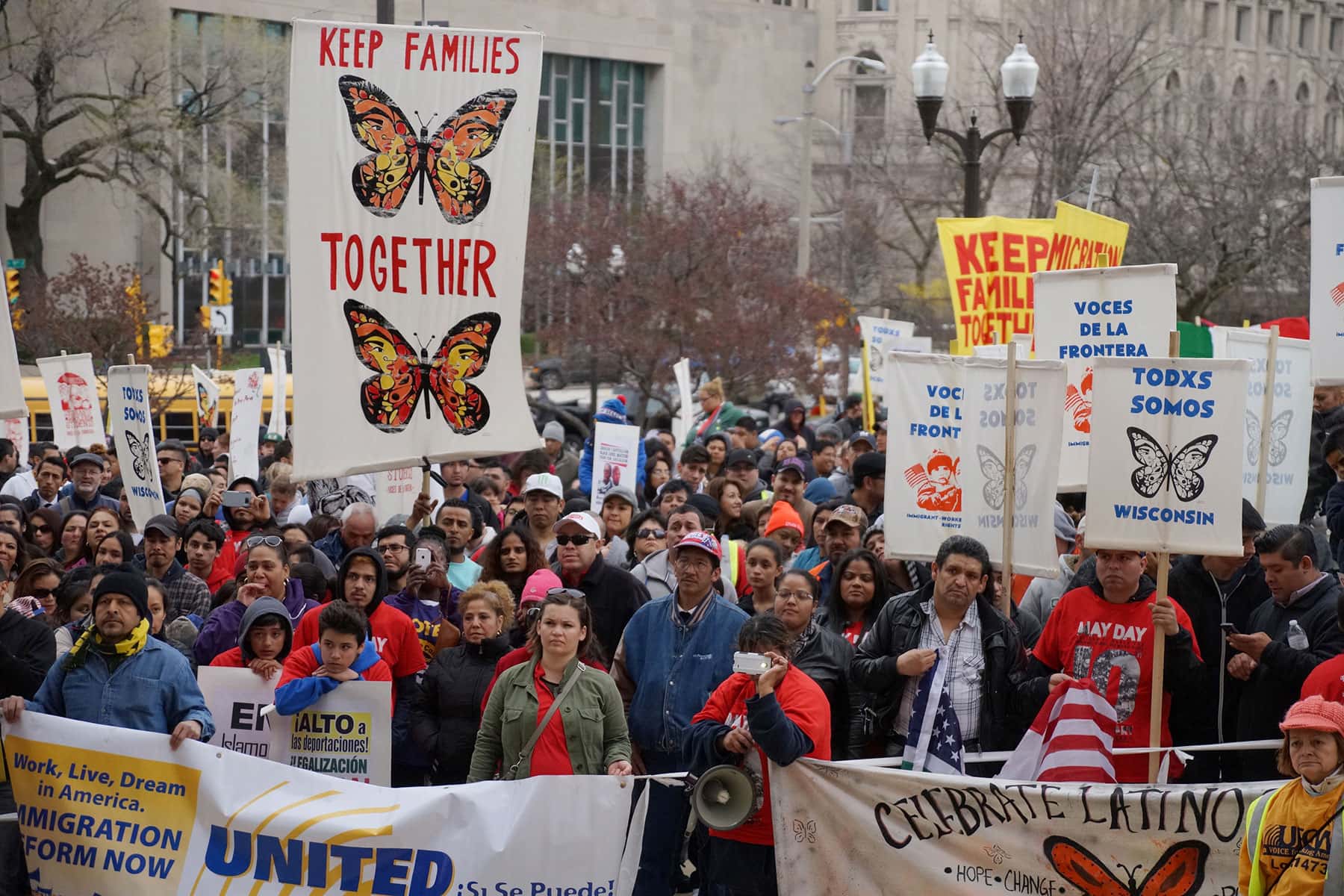 Over 8,000 people joined the Wisconsin May Day March for Immigrant, Worker, and Student Rights in Milwaukee on May 1.
Marchers carried signs and banners urging the U.S. Supreme Court to uphold DAPA and DACA Plus, an expansion of deportation protections to parents and immigrant youth, and demanding dignity for immigrant communities.
Workers, students, and their families, including many from cities outside Milwaukee, marched from Voces de la Frontera's offices to the Milwaukee County Courthouse, where speakers called for Milwaukee ID cards, living wages, and the implementation of DAPA.
"Day after day we live in fear of being arrested and deported," said Gabriel Ruiz, a foundry worker and father from Racine who qualifies for DAPA. "I only ask the government to give us a chance with DAPA, so we can come out of the shadows and continue to contribute to this country. I want to live without fear!"
Former U.S. Senator Russ Feingold spoke of his commitment to support immigrant rights if he is elected to the Senate again. "We need to provide a pathway to citizenship for all those living in the shadows," said Feingold. "A lot of Republicans say that first they have to close the border, but that's just an excuse to avoid providing a path to citizenship and equal status to 11 million people here who are working so hard to build our country and build the great state of Wisconsin."
Alderman José Pérez and Common Council President Ashanti Hamilton, joined by Alderman Nik Kovac, both promised to fight for City of Milwaukee local identification cards available to undocumented people. "We know that the Governor is trying to prevent us from creating local IDs, but on behalf of my colleagues here and colleagues that aren't here, we are going to fight to the end to make sure that we get our local IDs," said Alderman Pérez. "We have local control and we are going to exercise it. We're going to make sure everyone is counted in our community."
"The civil rights and the human rights of people who live in this city will not be ignored or denied," said Milwaukee Common Council President Ashanti Hamilton. "Whoever stands in the way of this fight, whether on the state or federal level, we want them to look at this crowd, and we say face us in November! ¡Sí se puede! We are with you, united in this fight."
Speakers called for a boycott of Menards, Scott Walker's largest corporate donor, because Walker signed the anti-immigrant bill SB533, which blocks counties from issuing local identification cards.
"I'm boycotting Menard's because I'm not willing to pay for the further spread of hate, racism, and anti-immigrant politics," said Voces de la Frontera member Nancy Garcia of Appleton, a former employee of Menards and mother of four. "When I worked for Menards I was paid $7.80 an hour. Meanwhile John Menard Jr., the billionaire owner, secretly donated $1.5 million to help Governor Walker prevail in the bitter 2012 recall election. Today I ask all roofers, contractors, and any businesses that are considering purchasing their materials from Menards to stand with me. I ask you to join the boycott, to help Latinos and immigrants who deserve not only justice but dignity. We will hold the Governor and his corporate backers accountable for joining Wisconsin to the lawsuit blocking DAPA, and for signing SB533, a racist, anti-immigrant bill."