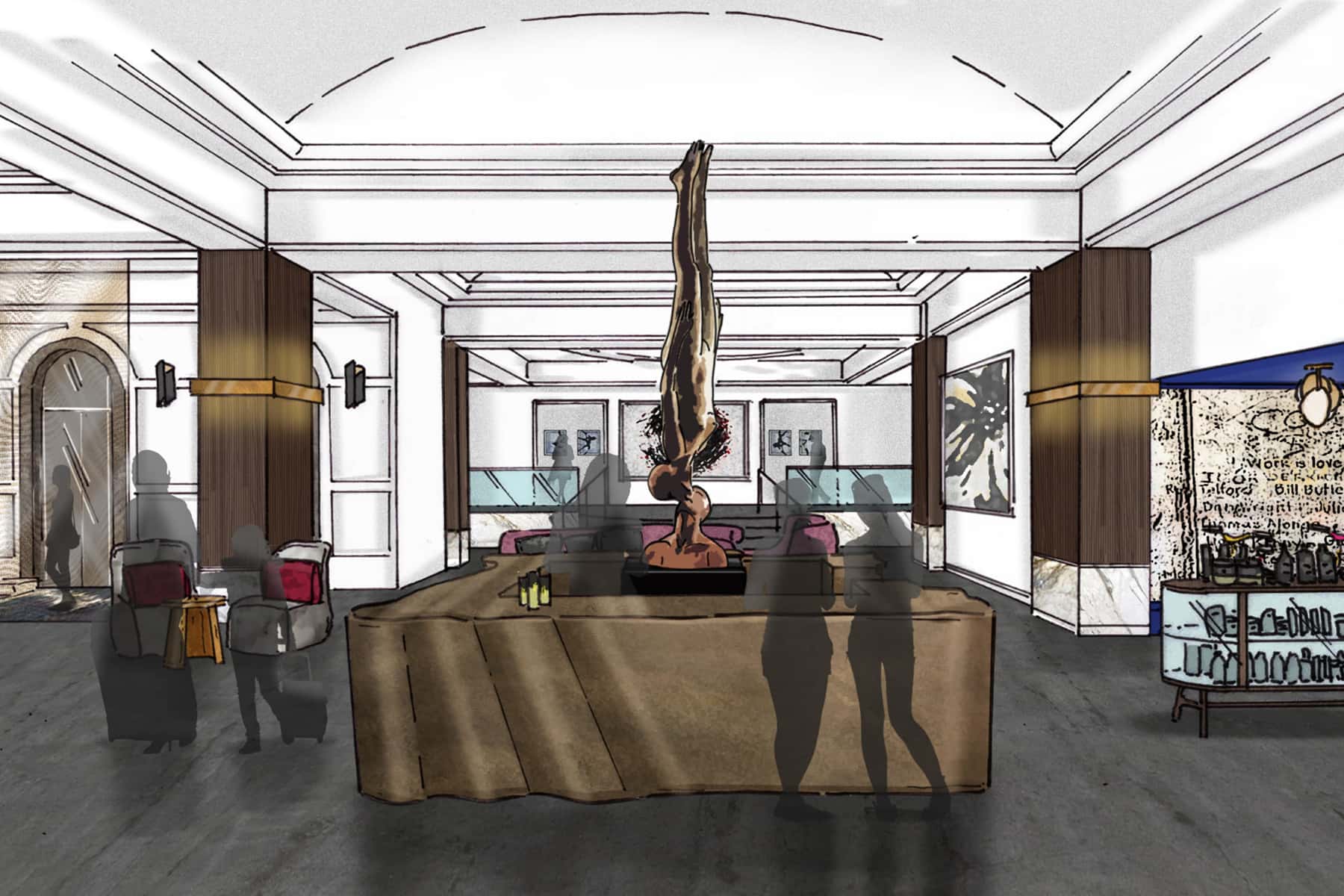 Named for Saint Catherine, the patron saint of artists, the first-of-its-kind hotel in downtown Milwaukee is promoting itself as an experience that celebrates of the arts.
Expected to open in spring 2019, Saint Kate The Arts Hotel, developers hope it will become a place to create discussion and drive collaboration among visitors. Blending exceptional hospitality with artistic expression, the hotel's motto, "invite participation and expect change," will challenge visitors to keep an open mind, embrace change, and evolve as individuals.
At an unveiling event held November 12, in collaboration with Milwaukee's vibrant creative community, over 400 artists witnessed the vision and story of Saint Kate unfold, and learned how they can be a part of the hotel's dynamic creative process and experiential DNA. Artists were invited to use Saint Kate as a space to share their vision, passion, and imagination with travelers and locals alike.
"Saint Kate is a place for everyone who treasures the arts and appreciates all that art can bring to our lives and communities. Like art in its most basic form, this hotel is fully inclusive and a home to experience the power of contrasts. Saint Kate will help show the world that Milwaukee is a vibrant destination for creative expression," said Reginald Baylor, one of Wisconsin's best-known artists and the first Artist in Residence of The Pfister Hotel in Milwaukee. "All our lives are made richer by letting go of the familiar and embracing the process of creativity. At Saint Kate, our community can unite to embrace the beauty of what could be."
The experiential destination will celebrate art in its many forms, from music to dance, painting to sculpture, and film to poetry. Located in the heart of Milwaukee's theatre and entertainment district, the 219-room hotel will feature art-inspired guest rooms, 13,000 square feet of flexible meeting space, 11 event rooms and three restaurants, as well as bars and lounges.
"We are in the business of asking what-if and why not? People like adventure and authentic experiences and the opportunity to step out of their day-to-day. Saint Kate will be full of surprises for those who crave an enriching travel experience – to engage and explore, rather than simply observe," said Greg Marcus, president and CEO of The Marcus Corporation. "Our number-one goal is to challenge people's thinking about art and the creative process. By tapping into our creative community, we are using art as a tool to show that there is beauty in the process as well as the finished product. All can be celebrated at Saint Kate."
Design plans unveiled at the preview event included a theatre that will feature plays, lectures, musical and dance performances, a world-class gallery space, a working Artist-in-Residence studio, and event spaces to host rotating exhibitions, screenings, and workshops. The hotel is currently seeking proposals from artists around the world, which will be reviewed by an independent arts advisory board.
"Where there is art, there is change and appreciation. Every time you visit Saint Kate it will be a different experience, a new perspective and a rewarding individual journey. From the moment guests walk through the door, they will have a new view of Milwaukee and the creative spirit that pulses through our streets," added Marcus. "We are inviting the curious, the seekers, the inventors to be part of the Saint Kate experience and to use this new platform to share their expressions with the community."