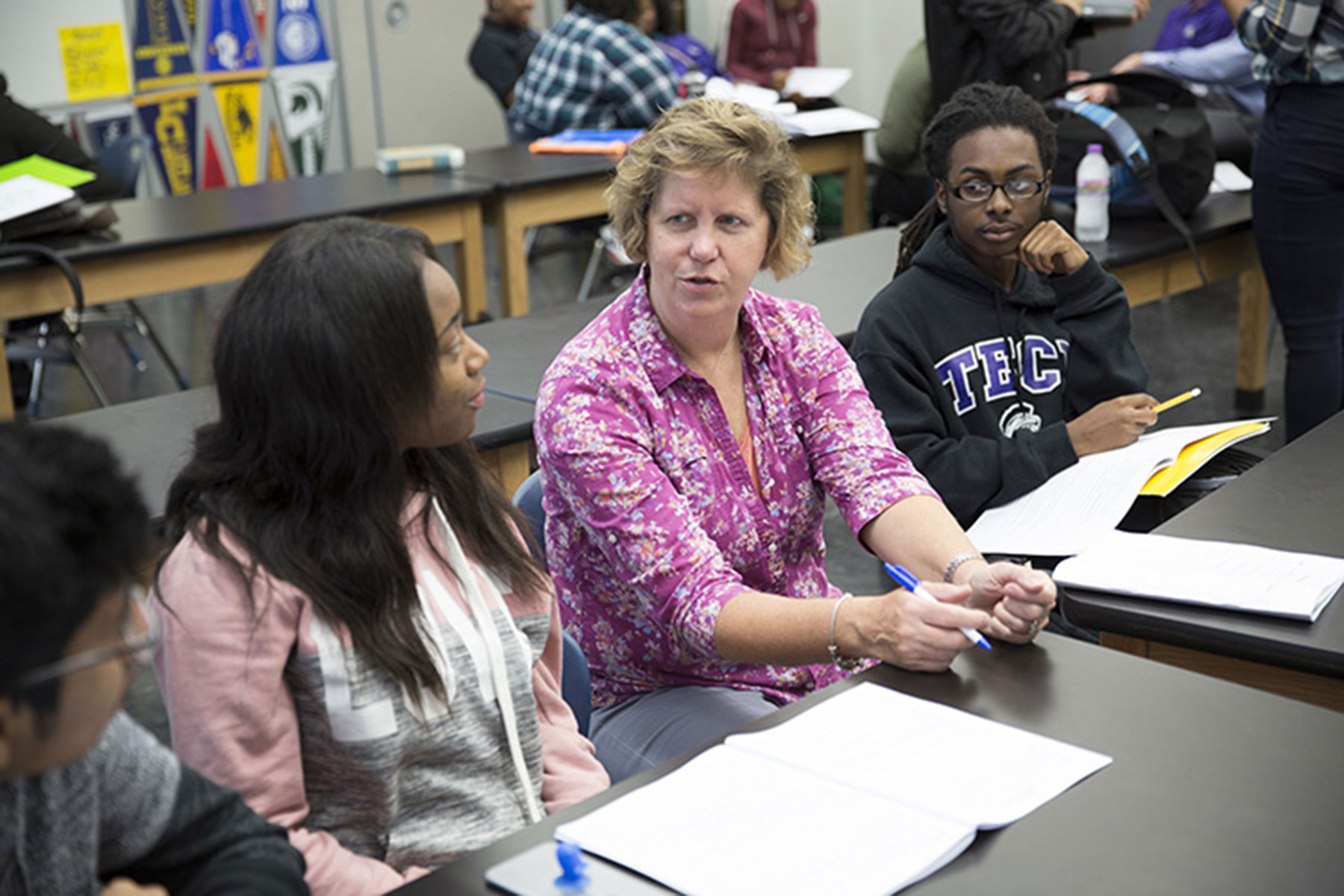 Rebecca Neumann specializes in international finance and macroeconomics, but she also devotes a lot of time to an issue that hits closer to home: preparing students for a life of financial security.
Neumann, an associate professor of economics, designed and teaches "The Economics of Personal Finance," a one-credit, seven-week short course that gives UWM students the basic skills they need to come to grips with their financial situation and, more importantly, to plan for their futures. More than 3,100 students have taken the course so far.
"We teach the fundamental concepts and techniques of personal finance," Neumann says. "Students start by tracking their expenses in detail, which gives them the basis for developing a budget."
She is a big proponent of saving, urging to students to "pay yourself first" by treating savings as a regular expense in their budgets. From these basics, students go on to learn about managing debt, including credit cards. They are required to learn and keep track of their credit ratings. The course also encourages a longer view of personal finance, with discussions about investing and various types of insurance. Many of the students who take the course are Lawton Scholars, who are required to take it as a condition of their award.
Neumann thinks it would be good for all students, many of whom are dealing with managing debt, income and expenses for the first time. She was recently recognized for her work, receiving the 2016 Governor's Financial Literacy Award in February. Neumann knows from personal experience that such knowledge is not always easy to come by.
"My father was an accounting professor, but he spoke very little about his own financial matters," Neumann recalled. "We were each given a bank book and, rather than giving us an allowance directly, he'd enter credits and debits," Neumann said.
Neumann, a saver by nature, accumulated a substantial account. Her father did arrange to indirectly impart some financial wisdom to Neumann and her siblings.
"When I realized he wasn't paying interest, I said I wanted to take my credits and put the money in a bank account, which would."
Her father approved. Neumann's role as UWM's financial literacy guru came about somewhat unexpectedly. In 2007 the university was approached by Milwaukee lawyer and philanthropist Bill Hotz, who as a member of Make a Difference Wisconsin (recently renamed SecureFutures) was involved in getting financial literacy classes established in Milwaukee area high schools. Hotz proposed establishing a financial literacy course for UWM students, and Neumann responded by designing and teaching the course, Econ 110.
"Bill's thinking was, 'We're doing financial literacy at the high school level, but a lot of these kids don't yet have income, so let's look at the college level,'" she recalled. "Somehow it came to me, and I was very interested."
That relationship led to Neumann's involvement in SecureFutures. She now serves on the board of directors and volunteers in the organization's Money Coach program.
"I'll be at Bradley Tech High School twice a month this semester," she said. "We'll do one-on-one money mentoring with students, along with some other programming about budgeting and tracking expenses. It's been eye-opening. I've gone across the gamut of high schools, from Shorewood High to Washington High. I see kids who are working full-time jobs, even supporting their families – while in high school. I think back to my high school years – I couldn't even have imagined that."
Neumann has found the work in high schools particularly compelling. She tries to help the students set goals. Many want to go to college, for example, and she sees some financial coaching as a way to help them meet that goal.
"I see the pressure these students are facing these days," she said. "We're just trying to do our part, saying 'let's look at the financial side of this and get you off to a good start.' There's nowhere else students are getting this information," she said. "There's discussion about mandating financial literacy, but it's still not part of a basic curriculum."
Neumann feels she's been drawn into a vacuum of information, a yawning gap between what students need to know and what they are likely to be taught. She knows from some personal mistakes that a little forethought can go a long way. Ultimately, Neumann is motivated by what she sees as a peculiar code of silence that seems to have been built up around personal finance.
"It's so easy to get into trouble, but even having some sense of 'OK, I'm getting myself into trouble' gives them a choice," she says. "I just would like to make the money side of things – financial literacy, personal finance – something we talk about. "Let's take it out of the list of taboo subjects."
University of Wisconsin-Milwaukee