Policy Talk: Joe Biden makes first official trip as President to Milwaukee for CNN town hall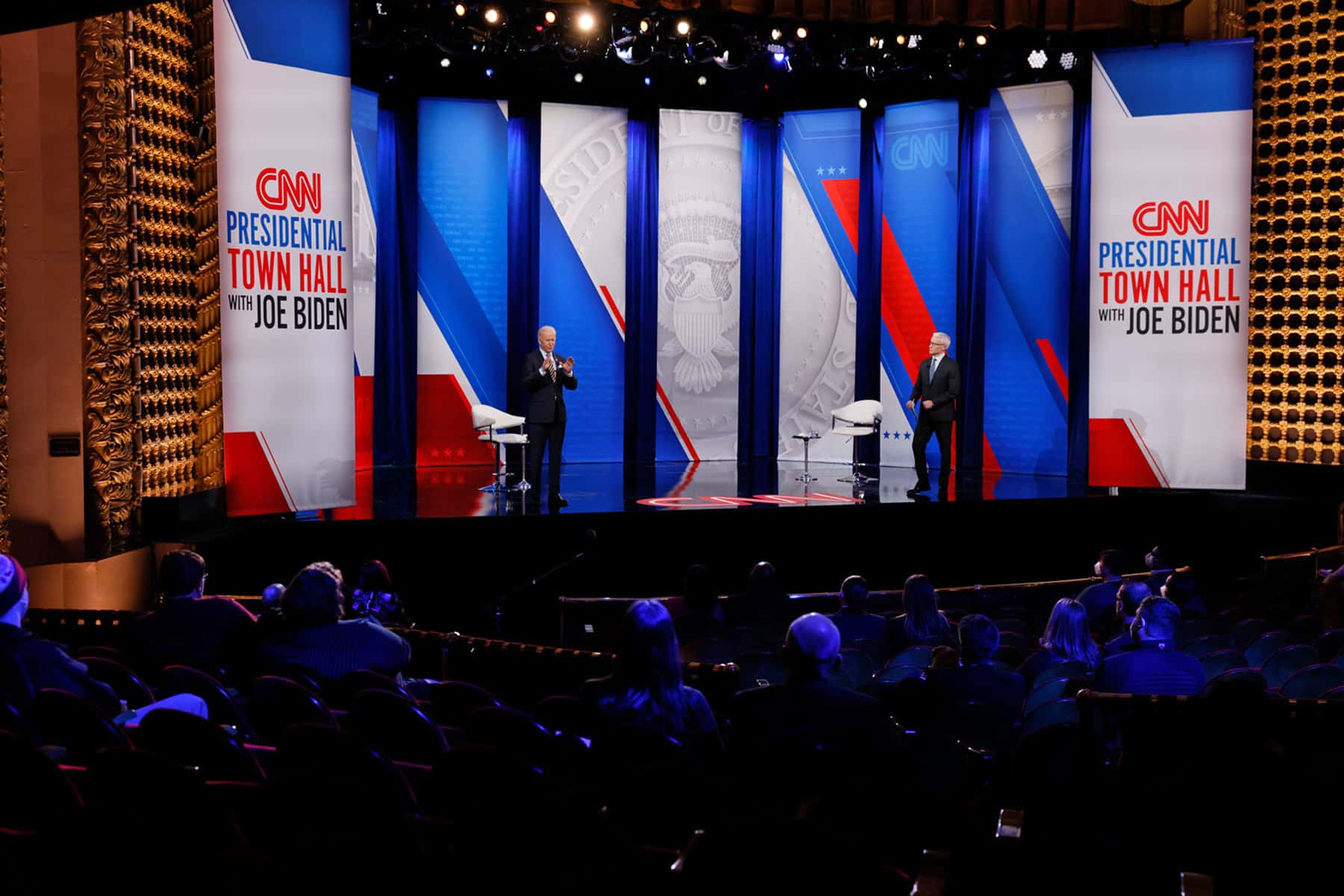 President Joe Biden arrived in Milwaukee on February 16, hours after a winter storm dumped inches of snow on the city, for a CNN town hall meeting to discuss a list of concerns with local residents at the the historic Pabst Theater.
The town hall was Biden's first official trip as president, and touched on a range of issues related to the coronavirus, from protections for small businesses to the administration's vaccination plans. President Biden said that by the end of July there would be 600 million doses of the vaccine available, enough to vaccinate every American.
But with many of his answers, he sought to emphasize the need for funding to achieve his goals. The town hall was aimed at selling his $1.9 trillion coronavirus aid package directly to the American people, part of an effort designed in part to put pressure on Republican lawmakers and refocus Congress on speedy passage of the bill now that his predecessor's impeachment trial was behind him.
President Biden underscored how much he wanted to move beyond Trump, repeatedly refusing to talk about the ex-president and saying at one point, "I'm tired of talking about Donald Trump. For four years, all that's been in the news is Trump. For the next four years, I want to make sure all the news is the American people," he said to applause from the Milwaukee audience.
During the town hall, President Biden also offered a flavor of the moderate stance that helped win him purple states like Wisconsin in 2020. He resisted a questioner's request for his administration to embrace the progressive goal of forgiving $50,000 in student loan debt, reiterating his commitment to forgiving just $10,000. He suggested one of the ways to improve policing was to provide more funding to police departments, running counter to calls from some progressives to defund the police. He also said he was optimistic about passing legislation to study police reforms.
He also weighed in on the immigration bill his administration is expected to unveil this week. President Biden affirmed that a pathway to citizenship for undocumented immigrants is essential for any bill he'll support, but also suggested he'd be open to a piecemeal approach to immigration reform rather than a comprehensive bill, if necessary.
"There's things I would do by itself, but not at the expense of saying I'm never going to do the other," he said.
President Biden seemed to enjoy his first opportunity for extended interaction with ordinary Americans since the inauguration. Comforting a second-grader who had not been able to attend school in-person and was worried about getting the virus, President Biden told the girl that children were less likely to get infected, adding, "I wouldn't worry about it, baby, I promise you."
President Biden stressed that his massive virus aid bill already has broad public support, and noted some analysts have argued in favor of significant government spending to help boost the economy. "Now is the time we should be spending," he said.
What stood out most during the town hall was an exchange between the president and the mother of a young man with health issues, who could not get on a list in Wisconsin to receive the coronavirus vaccine. President Biden told the woman that he could make recommendations to the states, because the order of who was administered the vaccine was up to them.
"But here's what I'd like to do," President Biden continued. "If you're willing, I'll stay around after this is over, and maybe we can talk a few minutes and see if I can get you some help."
It was a powerful echo of an exchange President Franklin Delano Roosevelt had with a Black farmer, Sylvester Harris, in 1934.
In the depths of the Great Depression, Harris was about to lose his Mississippi cotton farm because he could not make the mortgage payments. In desperation, he traveled a dozen miles into town, picked up a telephone, and called the White House. News stories told readers that Harris had reached FDR, who had promised to stop the impending foreclosure of Harris's mortgage, and within days, the bank gave him an extension.
In the exchange with Biden, Americans saw a president who cared, and a government that finally – after its previous leader had told them to get out of a terrible catastrophe on their own – responded to their needs.
President Biden landed on a snow-covered tarmac to below-freezing weather shortly before the evening program. He took questions from a small audience of Democrats, Republicans, and independents invited for a small, socially distant gathering at the historic Pabst Theater.
President Biden's trip to Wisconsin, a political battleground state he narrowly won last November, came as coronavirus infection rates and deaths appeared to be falling after the nation endured the two deadliest months of the pandemic so far.
President Biden has stressed that the nation still has a long road ahead as thousands of Americans die each day in the worst U.S. public health crisis in a century. The virus has killed more than 485,000, and newly emerging variants are complicating the response effort.
The Biden administration has been trying to get enough Americans vaccinated to achieve "herd immunity" and allow life to return to a semblance of normalcy. But it was unclear when the vaccination would be widely accessible to all Americans.
President Biden's team hoped that funding provided in the coronavirus aid bill would help accelerate vaccination production and distribution. His team also argued that the federal government must keep open the spigot of government relief to help people who were suffering economically, and to get the country back to pre-pandemic employment levels.
But many GOP lawmakers – after giving billions in tax breaks to the rich – continue to bristle at the price tag of a package that calls for sending $1,400 checks to average Americans, as well as assistance for businesses, schools, homeowners, and renters.
Ааmеr Mаdhаnі and Аlеxаndrа Jаffе, with Hеаthеr Cоx Rіchаrdsоn
Tаylоr Glаscоck / CNN, Front Room Photography, Аdаm Schultz and Cаrlоs Fyfе / The White House