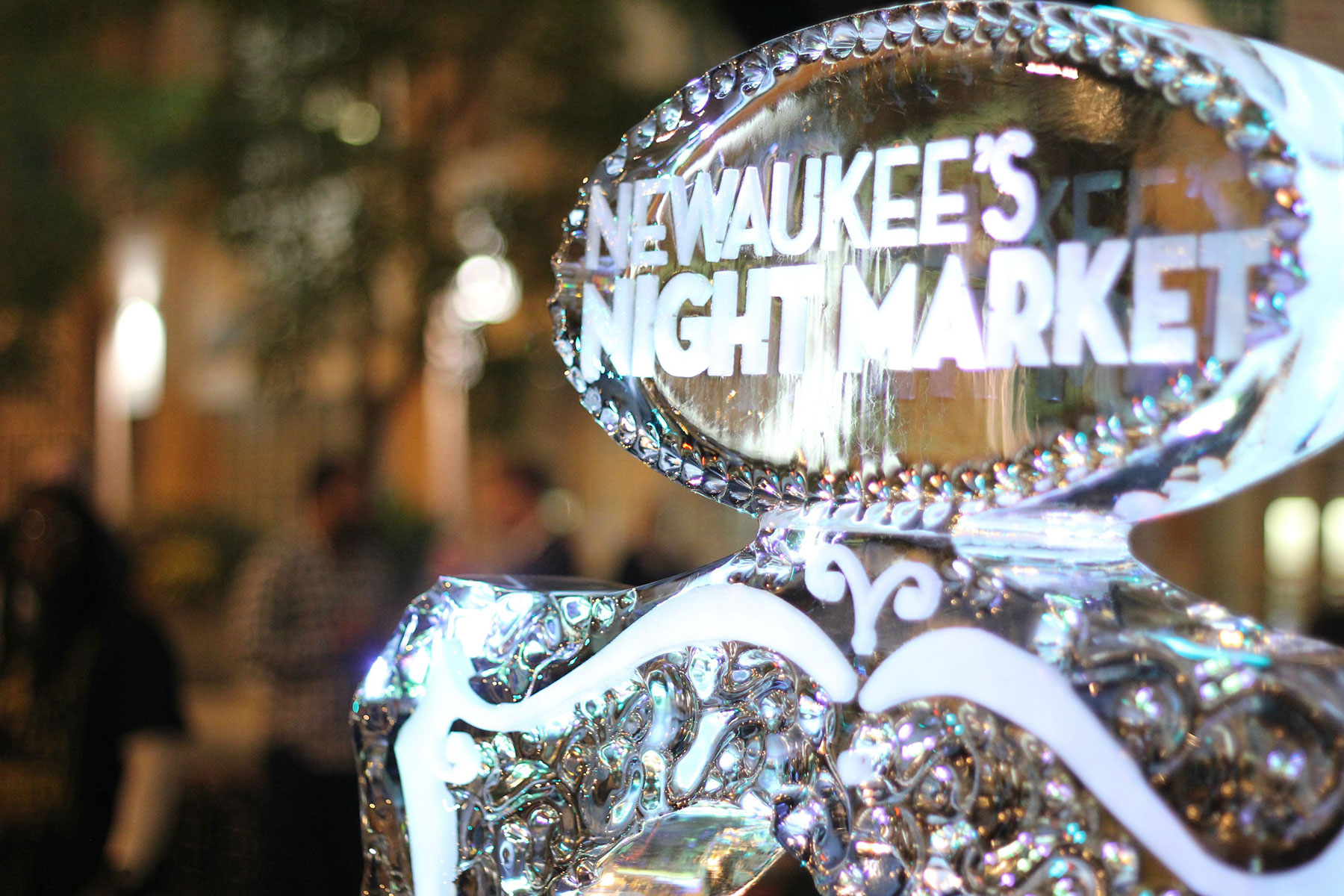 NEWaukee announced the 3rd annual Night Market, a monthly open-air market that offers a wide variety of experiences for people of all backgrounds and ages on West Wisconsin Avenue between 2nd and 4th Streets. Coming back this year are the programmatic and artistic collaborations that aim to connect the Westown Association Farmers' Market and River Rhythms along with the Night Market to further expand upon the exciting momentum in the downtown's western neighborhood.
NEWaukee founded the Night Market in the summer of 2014 with the goal of creating a free, vibrant, safe and interactive place in downtown Milwaukee for people to experience culture at night. The program features art and craft vendors, food trucks, live art creation, pop up performances, local music, a beer garden and interactive non-profit booths, performances and activities from some of the 24 NEWaukee non-profit partners for 2016.
Westown Farmers' Market is downtown Milwaukee's largest and oldest open-air market. The Farmers' Market runs Wednesdays in the summer from 10 a.m. to 2 p.m. in Zeidler Park. It features more than 50 local vendors selling produce, prepared food and handcrafted art, as well as live music and special entertainment.
River Rhythms is Milwaukee's destination for music on Wednesday evenings. Concerts are Wednesdays in the summer from 6:30 p.m. to 9 p.m. in Pere Marquette Park and are free to the public. River Rhythms features musicians with unique styles and sounds, from reggae to rock, blues to alternative, country and more.
Also included in this collaboration is the #MKEMural on 4th and Wisconsin and Postman's Plot on Wells St. and 2nd Street. The #MKEMural, created by artist Reginald Baylor in partnership with Zilber Property Group,  titled "The Answer to the Area…A) Persons B) Places C) Things D) All of the Above E) None of the Above" is comprised of equations and symbols. The #MKEMural creates a question without defining the answer, intending to spark conversation about the potential of Westown. Visitors are encouraged to share their interpretation of the mural and what they believe Westown needs through social media using the hashtag #MKEMural starting Monday, May 16th until Wednesday, September 14th to win cash and other prizes.
Postman's Plot is Milwaukee's first Pop Up Park featuring "social furniture." The park will also feature a 14-foot dinner table and a letter-box for Milwaukeeans and tourists to mail their #LetterstoMilwaukee. The second phase of the park will feature a small stage for performances and movie viewing. On May 24th, the community will come together to help build the park.
"Westown is the heart of Milwaukee's downtown and the center of summer on Wednesday evenings," says Angela Damiani, CEO of NEWaukee. "Whether you haven't visited in awhile or you make down to the avenue every day, we hope the community is able to relish in the vibrancy and splendor of Westown this season."
The physical proximity of the concurrent programs happening on Wisconsin Avenue, Zeidler Union Square, and Pere Marquette Park will be highlighted through guided walking tours during NEWaukee's Night Market as well as implementing an Urban Trail system to feature the four locations including Postman's Plot and the RiverWalk.
The 2016 Night Market runs on West Wisconsin Avenue from 5 to 10 p.m. on the following Wednesday evenings: June 15th, July 13nd, August 17th, andSeptember 14th. Westown's River Rhythms takes place in Pere Marquette Park weekly on Wednesdays, June 8th to August 31st from 6:30 to 9 p.m.Westown's Farmers' Market occurs in Zeidler Union Square every Wednesday June 1st to October 26th from 10 a.m. to 3 p.m.