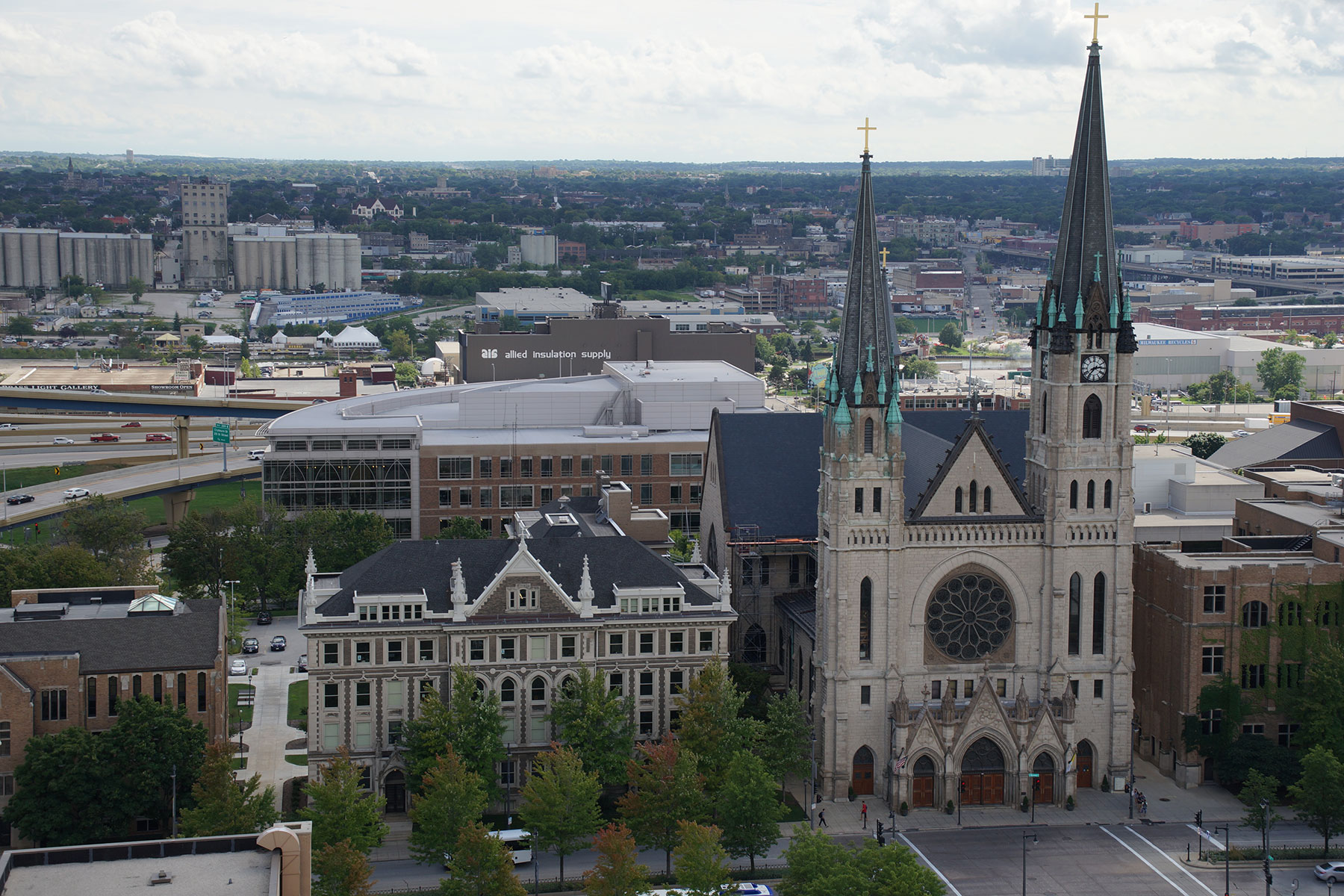 The Sheldon and Marianne Lubar gift of $5.5 million will fund Marquette Law School's public policy initiative.
Sheldon and Marianne Lubar and Marquette University Law School announced that the Law School will establish the Lubar Center for Public Policy Research and Civic Education. The endeavor will be endowed by an additional gift of $5.5 million, expanding upon the present fund, of $1.5 million, created by a gift from the Lubars in 2010.
"Marquette University has long been an important part of the Milwaukee community," said Sheldon Lubar. "In recent years in particular, Marquette Law School has played a leading role in significant discussions and research on important topics. At the same time, there is so much more to be done. We are pleased to expand our support of this work."
The Lubar Center will support public policy research initiatives and civic education work at the Law School and beyond. This includes public events, funding for faculty and staff involved in the center, and research and reporting projects.
"We all benefit from the many community-building contributions of the Lubar family," said Marquette President Michael R. Lovell. "Marquette greatly appreciates the faith of Shel and his family in our university's ability to bring greater understanding through constructive conversations."
Milwaukee's public square
Over the past decade, the Law School has engaged in extensive public policy research and civic education, including the following:
On the Issues with Mike Gousha. Gousha, an award-winning broadcast journalist, joined the Law School in 2007 as distinguished fellow in law and public policy. He hosts an extensive series of conversations with newsmakers at Eckstein Hall.
Public programming focused on K-12 education issues, including the work of senior fellow in law and public policy Alan Borsuk.
The Marquette Law School Poll. Established in 2012 under the direction of Professor Charles Franklin, the poll is the most extensive statewide public opinion project in Wisconsin history.
The Water Law and Policy initiative, led by director David Strifling, to support the university's broader efforts to help the Milwaukee region continue to lead on water-related research and governance issues.
Public lectures by leading scholars and conferences on significant issues of public importance.
Political debates between candidates for public office, which have been broadcast live to statewide audiences.
Many of the Law School's public events occur in Eckstein Hall's Appellate Courtroom, which will be renamed the Lubar Center.
"We are so grateful for the affinity and support of Shel and Marianne Lubar, and the Lubar family more generally, for our work," said Joseph D. Kearney, Dean and Professor of Law. "Marquette University Law School is deeply committed to serving our community in ways even beyond our primary goal of providing outstanding legal education to our students. In addition to our work within the legal profession, we have made contributions on the public policy research and civic education fronts, especially since Mike Gousha joined us more than a decade ago. Indeed, shortly after the opening of Eckstein Hall, our new home, in 2010, the "Milwaukee Journal Sentinel" characterized us as 'Milwaukee's public square.' We seek to enhance that role and to bring important ideas and people to our community through the Lubar Center for Public Policy Research and Civic Education."
The initial Lubar gift has supported numerous research projects and innovative partnerships with journalism entities. For example, the Law School has partnered with the "Milwaukee Journal Sentinel" on projects ranging from political polarization to the topic of a new sports arena in Milwaukee and, most recently, the long-term effects of childhood trauma, and with the "Milwaukee Business Journal" on the future of Milwaukee's airport and on workforce development. In addition to the Lubar Fund, the Law School supports its public policy initiative from donations to its annual fund.
"Whether it's hearing from candidates for public office, exploring new ideas for addressing serious policy challenges, or providing independent research, data collection and analysis, our goal is to be a resource for the region and state," said Mike Gousha, distinguished fellow in law and public policy. "The new Lubar Center will enable Marquette Law School to further contribute in a meaningful way to the betterment of our community."
Sheldon B. Lubar founded Lubar & Co. in the early 1960s, based on a business investment strategy he called "Professional Ownership." The concept was to serve as a knowledgeable, sophisticated private investor bringing together large pools of institutional capital and the many buy-out opportunities that existed. Five decades and dozens of successful businesses later, with son David Lubar now in charge of daily operations as president and CEO, Lubar & Co. continues to partner with management teams to pursue new investment opportunities.
The Lubar family and the partners and officers of Lubar & Co. have always exhibited a strong commitment to their community, something they also encourage among their portfolio companies and employees. The Lubar family and Lubar & Co. continue to actively support a variety of worthy institutions and organizations.