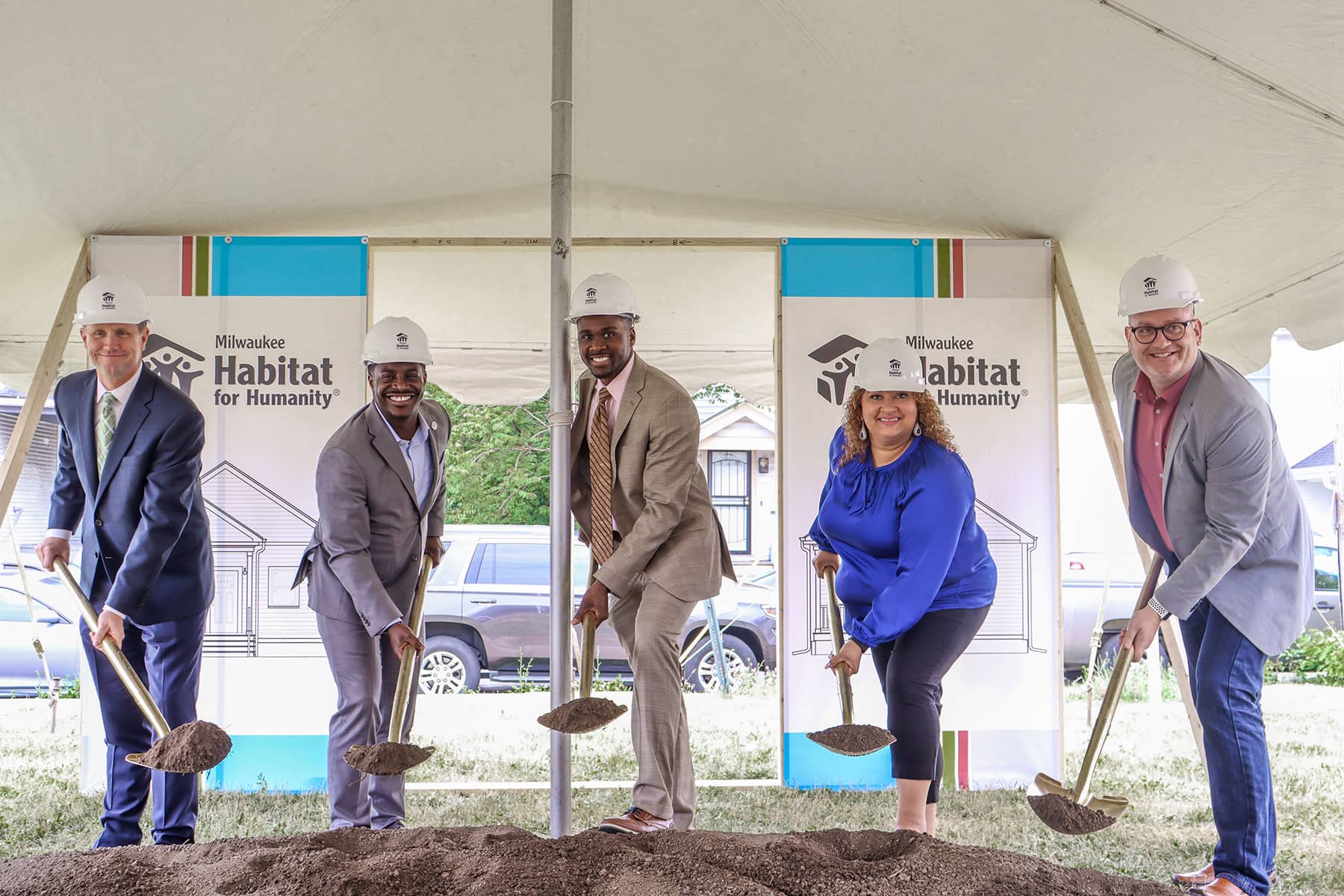 Milwaukee Habitat for Humanity broke ground on June 6 for an ambitious new goal to help twice as many families become first-time homebuyers by 2028.
Last year, the nonprofit homeownership organization built 20 new homes, in addition to providing affordable home repairs for existing homeowners. Over the next five years, their goal is to expand to consistently build or rehab more than 30 homes per year on their way to 40 per year by 2028.
"Right now, mortgages in Milwaukee are hovering near 20-year highs," said Brian Sonderman, Milwaukee Habitat for Humanity's Executive Director. "As housing prices continue to outpace wage growth, it's increasingly difficult for local families to invest in the stability and equity of homeownership."
As housing prices soar to record highs, Milwaukee Habitat has aligned with the Community Development Alliance's (CDA) Collective Affordable Housing Plan to make housing more affordable, and more equitable.
Through this partnership, Milwaukee County has designated $4.2M of American Rescue Plan Act (ARPA) funds to help create affordable homeownership opportunities in Milwaukee's King Park and Midtown neighborhoods.
The funds, along with additional private and public financial support, will be used to build 80 affordable homeownership opportunities in the King Park and Midtown neighborhoods. The grant is equivalent to a down payment on Habitat's ambitious plans to double the number of families they serve by 2028.
Habitat for Humanity has helped break down the barriers to homeownership for local families who are struggling with the soaring cost of housing in Milwaukee. Through partnerships with public and private supporters, the organization aims to make homeownership affordable for local families earning below the median income
Brand new homes, built with help from volunteers, are sold exclusively to first-time homebuyers. The typical mortgage payment for a move-in ready Habitat home is less than $950 per month.
County Executive David Crowley, 15th District Alderman Russell Stamper II, Teig Whaley-Smith of the CDA, Michael Emem of Emem Group, and Johanna Jimenez of the Milwaukee Habitat Board/Take Root Milwaukee joined Milwaukee Habitat to break ground on the site of a future King Park home.
As part of the nonprofit's plans to grow, Milwaukee Habitat announced that they will be expanding new construction homeownership opportunities to multiple neighborhoods including King Park, Midtown, and Harambee.
The organization also unveiled plans for a new three-bedroom ranch style home during the event. Milwaukee Habitat noted that these single story homes will be more efficient to build and will help maintain affordability for prospective buyers. The house design is named the "Allen" after Bill Allen, a long-time Milwaukee Habitat volunteer who has served with the organization for more than 35 years.
© Photo
Milwaukee Habitat for Humanity