H. Carl Mueller's commitment to Scouting recognized at special Eagle Scout Ceremony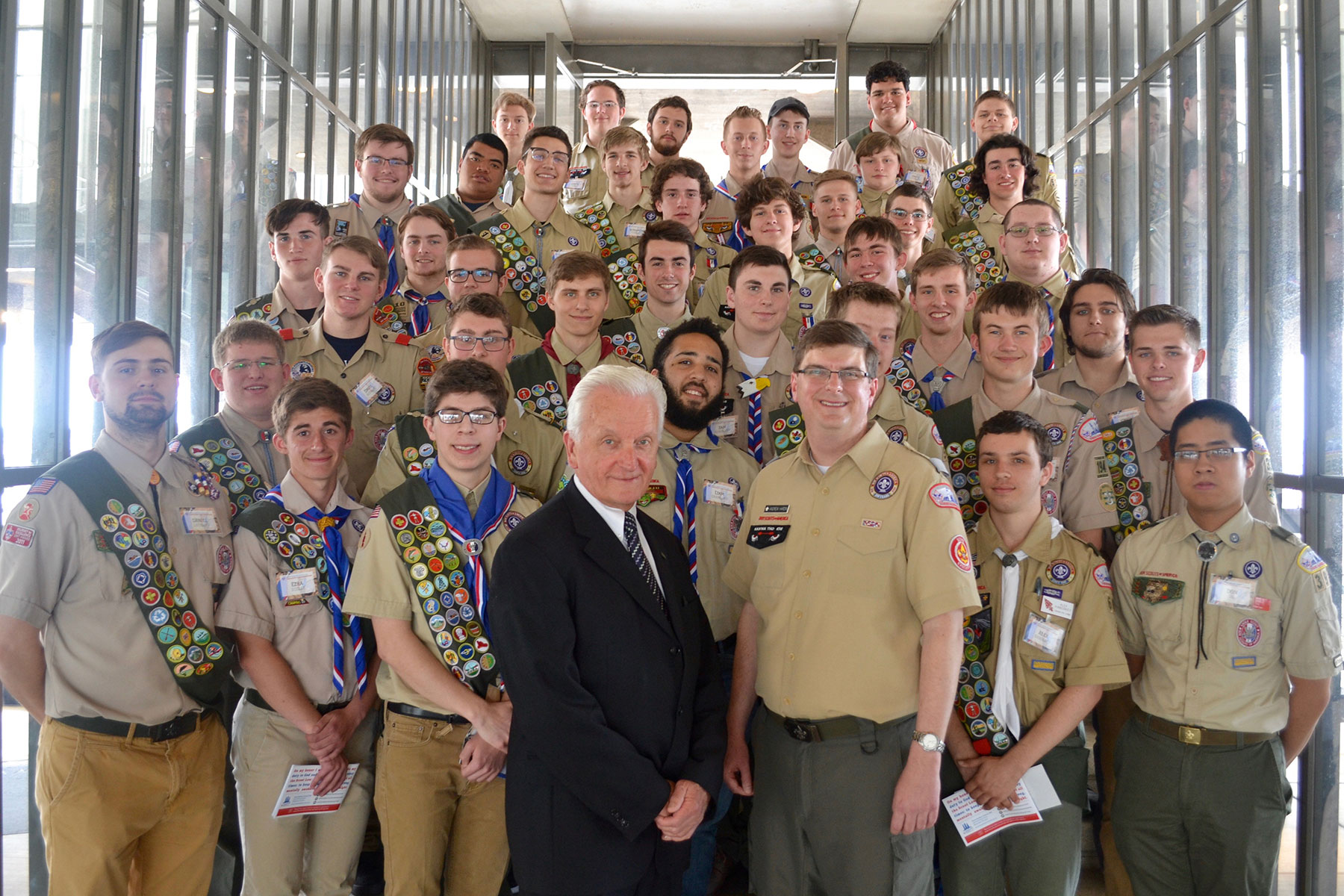 The Three Harbors Council, Boy Scouts of America recently recognized the 2017 Eagle Scout Class in the name of special keynote speaker and honoree H. Carl Mueller, Chairman and CEO of Mueller Communications at the annual Eagle Scout Recognition Ceremony held at the Milwaukee County War Memorial.
At the event, Three Harbors Council recognized 145 young men throughout Kenosha, Milwaukee and Racine counties who achieved the distinction of Eagle Scout. The honor and distinction of the Eagle Scout rank can only be achieved through hard work and commitment to the ideals of the Scouting movement.
"We are proud of the achievements of this year's class of Eagle Scouts who are being recognized with the highest honor in scouting," said Andrew Hardin, Scout Executive and CEO for Three Harbors Council. "We are honored to name the class after H. Carl Mueller, a Milwaukee native who exemplifies the highest ideals of Scouting."
The achievement is so rare, that only six percent of Scouts earn the Eagle rank. Since its introduction in 1911, the Eagle Scout rank has been earned by more than two million young men. Eagle Scouts can be found represented in the military service, academy graduates, in higher education and academia, major professions, the clergy, business and politics. Exactly 55,494 young men worldwide became Eagle Scouts in 2017, the fourth largest Eagle Scout class in history.
Carl Mueller, a former Boy Scout and patrol leader for Troop 133 at Epiphany Lutheran Church, has carried the core values and principles he learned in Scouting, the Scout oath and law – most importantly "Be Prepared" and "help other people at all times" – throughout his career. It is because of his commitment to living out the Scouting principles that he is honored for his leadership and civic dedication.
About Three Harbors Council
Three Harbors Council was established in 2011 as a result of the consolidation of the Milwaukee County Council and the Southeast Wisconsin Council. Three Harbors Council delivers Scouting programs to over 26,000 young people in Kenosha, Milwaukee and Racine counties.