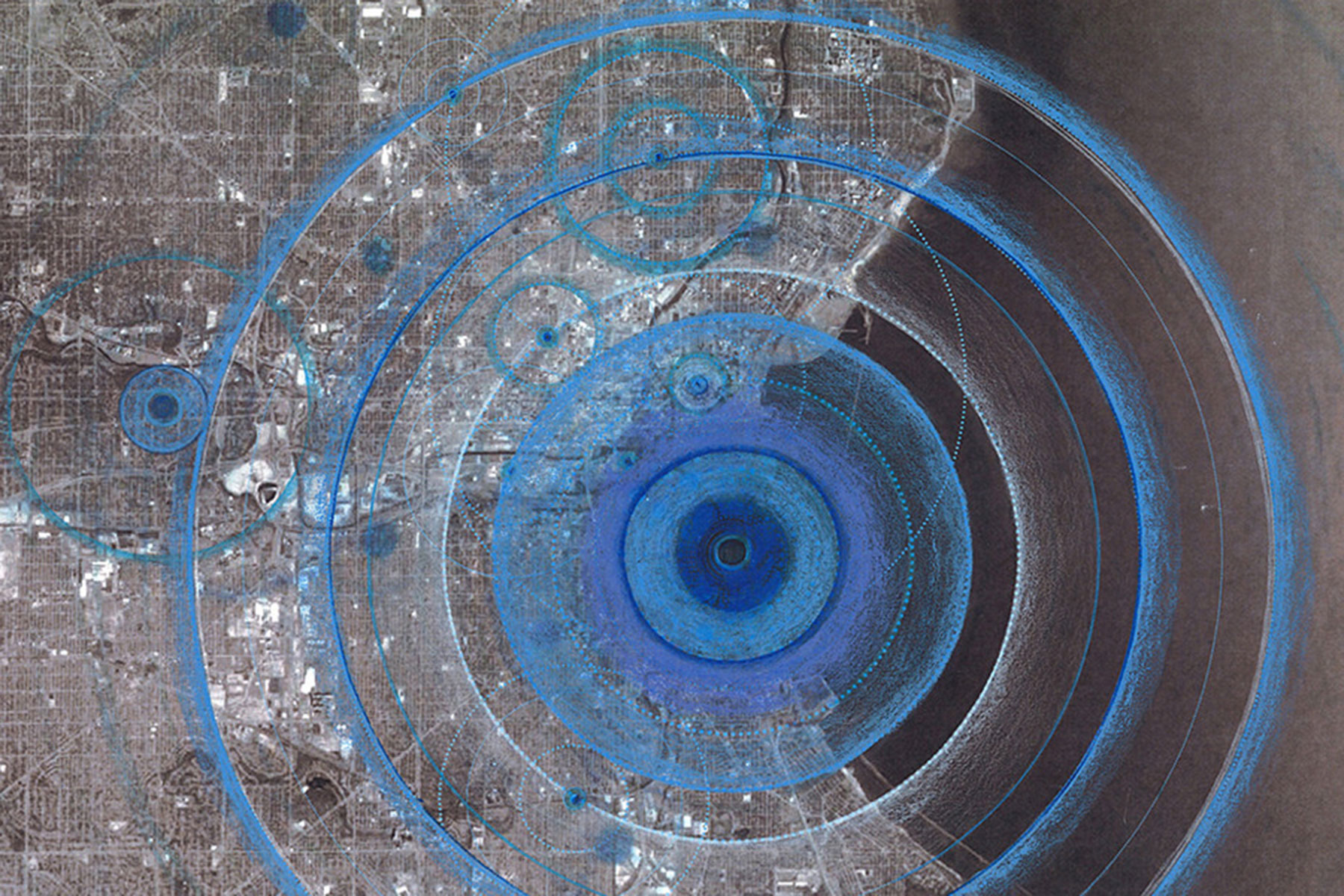 Marquette University's Haggerty Museum of Art was awarded a $146,404 federal grant from the Institute of Museum and Library Services for a public art project by artist Mary Miss that creates place-based experiences exploring water systems throughout Milwaukee's urban landscape.
In collaboration with Marquette and the Haggerty, Miss is creating Watermarks: An Atlas of Water and the City of Milwaukee. Watermarks aims to create an urban-scaled vision of the city, providing a platform from which citizens explore their relationships to the natural water systems and infrastructure supporting their lives.
Through this innovative project, Miss aims to highlight the community's reliance on water by collaboratively developing and implementing an urban-scaled atlas of sculptural markers that call out Milwaukee's "water story" at specific locations beginning in Milwaukee's Inner Harbor, the confluence of Milwaukee's three rivers, and Lake Michigan. The project intends to expand organically, becoming larger and more diverse to reflect the ever-increasing depth and diversity of social and ecological connections.
"We're thrilled to partner with IMLS' new Community Catalyst initiative to engage artists, scientists, and Milwaukee community members in a dialogue initiated by artist Mary Miss about the critically important role that water plays in our individual and collective well-being," said Susan Longhenry, director of the Haggerty Museum of Art. "The arts provide a powerful framework for that conversation."
Construction is expected to begin in 2018. The IMLS grant will fund 10 Watermarks community programs over the next two years in order to initiate conversations about art, environmental sustainability, museums and water research. IMLS funded 12 organizations nationwide through its Community Catalyst initiative. The Haggerty is the only arts organization to be funded.
"We envision Watermarks as a means to create a unifying network for the many messages and stories around the topic of water in Milwaukee," Miss said. "By allowing citizens of the city to recognize their own roles as 'vessels' in their own communities, Watermarks will allow people to begin to appreciate their responsibility for water as a resource that is vital to life as well as general well-being across the region."
The first-year development of the project was supported through a 2016 grant from Marquette's Strategic Innovation Fund. This IMLS grant will support collaborative Watermarks community programming and the construction of the first physical marker.
Several striking focal points will be implemented in the coming years. A 350-foot smokestack at Jones Island will become the icon of the project. This stack, located at the water reclamation facility just south of downtown Milwaukee, will glow blue in the evenings. When rain is due the next day, however, it will glow red — calling on community members to restrict use of water to help the city avoid polluting overflows into Lake Michigan.
A secondary series of 15 to 20 human-scaled sculptural markers (Focal Points) will be installed at sites throughout the Inner Harbor District, Walker's Point and Walker Square neighborhoods. These initial sculptural markers will establish the overall project language, eventually and incrementally radiating outward from these central sites to populate neighborhoods throughout the City of Milwaukee. Information about each Focal Point will be accessed through a Watermarks app.