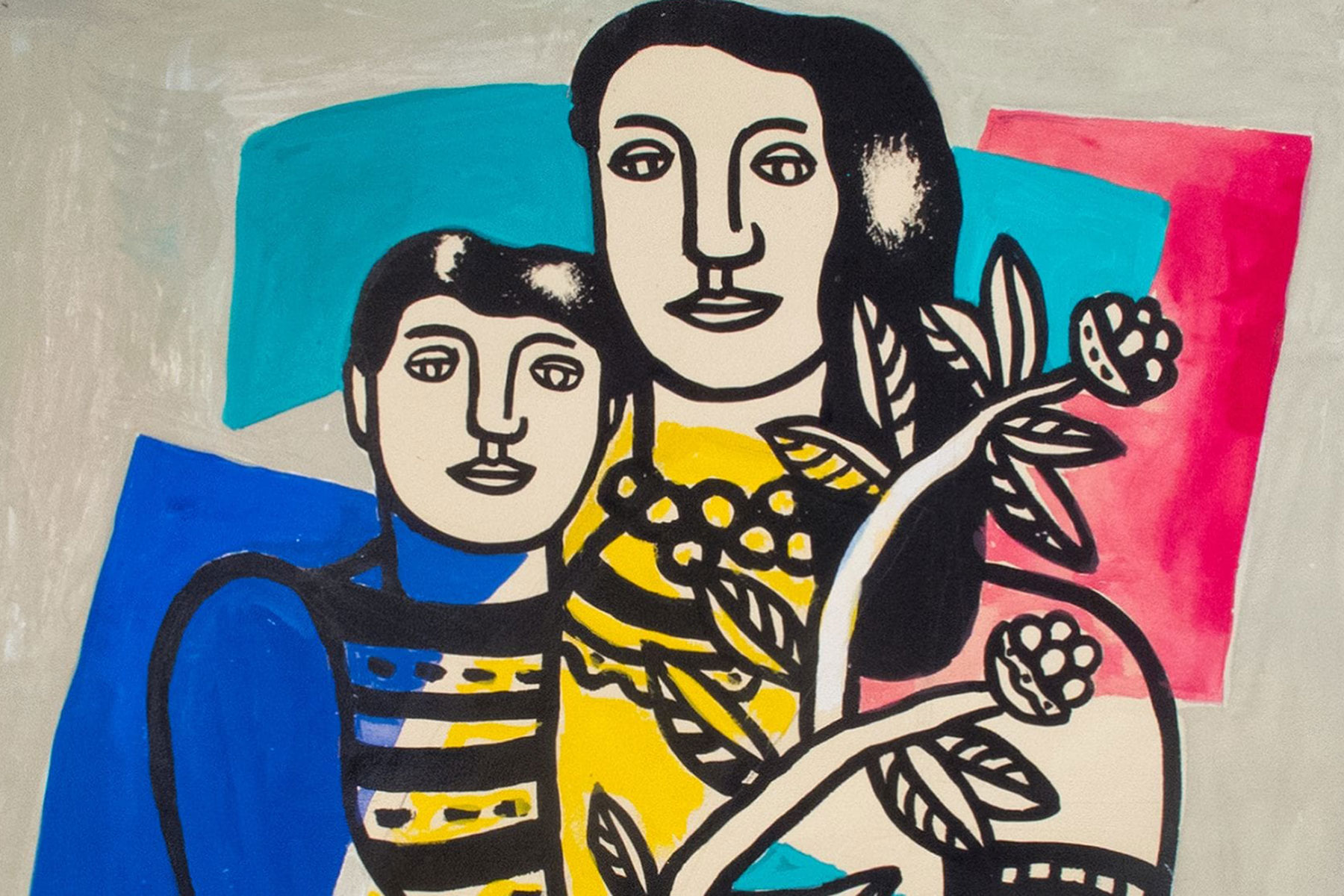 Works by masters of modern art including Manet, Degas, Van Gogh, Matisse, and Picasso come to the Milwaukee Art Museum November 4 through January 28.
The Milwaukee Art Museum will tell the story of modern art's development through 150 works by influential artists working in Paris during the nineteenth and twentieth centuries. The paintings, drawings, prints and sculptures in the exhibition will lead Museum visitors chronologically through this dynamic transformation in the history of art. Degas to Picasso: Creating Modernism in France will be on view from November 4, 2017 to January 28, 2018.
Paris became the epicenter of modern art in the nineteenth century. Artists from around the world, including Eugène Delacroix, Édouard Manet, Edgar Degas, Mary Cassatt, Camille Pissarro, Paul Cézanne, Vincent van Gogh, Pablo Picasso, Fernand Léger, and Marc Chagall, gathered in its studios, galleries, salons, and museums. They moved away from traditional subjects and styles and, through experimentation and abstraction, charted a new course for art making. Degas to Picasso: Creating Modernism in France presents this evolution, including transformative movements such as Impressionism and Cubism.
The exhibition focuses especially on works on paper, highlighting the different ways that modern artists used drawings and prints, and the important role played by these media in their artistic practices. Materials such as pastel, graphite, and ink, along with techniques including lithography and etching, provided artists with ways to think through and reinterpret themes that fascinated them. Visitors will be able to see the arc of modernism develop through these intimate and experimental works.
Degas to Picasso begins around 1800, with a group of masterpieces by artists such as Manet and Cézanne who challenged and reinterpreted the traditions of the French Academy during the nineteenth century. The art of Degas is represented in particular depth, revealing the important connections that existed between his experimentation in various media—including drawings, sculptures, and various printmaking techniques. The exhibition culminates with works by twentieth-century practitioners including Matisse, Léger, and especially Picasso.
It features a substantial group of works spanning the entirety of Picasso's career, from some of his earliest sketches to powerful drawings dating from the last years of his life, showcasing the artist's revolutionary perspective and his reduction of recognizable subjects to geometric forms. Picasso's cubist works in particular influenced a generation of artists, including Juan Gris, Jacques Villon, and Albert Gleizes, whose abstract paintings, prints and drawings will lead visitors through a key moment in the history of modern art.
"Degas to Picasso will give Museum visitors the opportunity to experience modernism in the way that artists themselves did: not as a single style or an organized movement, but as a process of exploration that began in Paris and connected generations, from Delacroix to Degas and Cézanne to Picasso," said Britany Salsbury, the Museum's associate curator of prints and drawings. "Both first-time and experienced Museum visitors will be impressed by the energy of the works and the artists' creative negotiation of the limits of what art could be."
Fact Sheet:
Exhibition Title: Degas to Picasso: Creating Modernism in France
Date: November 4, 2017—January 28, 2018
Number of works in exhibition: 150
Exhibition highlights:
Several of the prints by Manet, Pissarro, and Degas are included in two states (or variations) in the exhibition, so viewers can see how the artists changed their compositions as they continued to work on their printing plates.
Some works in the show are studies for other famous works, allowing viewers to see rare glimpses into the process and vision into those works
Artists featured and number of works in the exhibition:
Antoine-Louis Barye
André Beaudin
Louis-Leopold Boilly
Pierre Bonnard
Eugène Boudin
Georges Braque
Rodolphe Bresdin
Mary Cassatt (2)
Paul Cézanne (5)
Marc Chagall
Théodore Chassériau
Henri Edmond Cross
Honoré Daumier (3)
Jacques-Louis David
Jacques-Louis David's drawing An Old Man and a Young Woman was once owned by the well-known modern sculptor Henry Moore, whose own art looks very different at first glance, but who was equally interested in depicting solid, intimately intertwined bodies.
Edgar Degas (16)
There are pastel drawings, lithographs, etchings, and sculptures of female nudes by Edgar Degas in the exhibition, allowing viewers to see how he approached this subject in a wide range of media in a single gallery. A self-portrait drawing by Edgar Degas in the exhibition is related to a painting in the Musée d'Orsay in Paris.
Eugène Delacroix (3)
Robert Delaunay
Gustave Doré
Raoul Dufy
Jean-Honoré Fragonard
Paul Gauguin (2)
Théodore Géricault (3)
Anne-Louis Girodet de Roucy-Trioson
Albert Gleizes (7)
Juan Gris (3)
Marcel Gromaire
Jean-Baptiste-Armand Guillaumin
Jean-Baptiste-Armand Guillaumin's pastel drawing, Harbor Scene, which was owned by the American Impressionist artist Mary Cassatt (also in the exhibition), who kept it in her family for several generations.
Auguste Herbin
Victor Hugo
Jean-Auguste-Dominique Ingres (3)
Jean-Baptiste Isabey
František Kupka
Roger de la Fresnaye
Fernand Léger (7)
André Lhote
Édouard Manet (9)
Louis Marcoussis
Andre Masson
Henri Matisse (3)
Jean Metzinger (5)
A drawing of a bicycle racer by Jean Metzinger was developed into a painting now in the Peggy Guggenheim Collection in Venice.
Jean-François Millet
The drawing by Jean-François Millet, Shepherdess Seated on a Rock, once belonged to Kenneth Clark, director of London's National Gallery and the presenter of the landmark television series Civilisation.
Claude Monet
Pablo Picasso (11)
Some of the Picasso drawings come from the dealer Daniel-Henry Kahnweiler, who worked closely with Picasso, Braque, and other artists, championing, selling and writing about their work. He was among the first to show cubist art in his gallery and he played a large part in making it as well-known as it is today. The Picasso drawing, Study for 'Three Musicians,' also known as The White Coffee Table, is a study for the painting The Three Musicians at the Museum of Modern Art, New York The Picasso drawing Study of Four Nudes is probably an early sketch for Les Demoiselles d'Avignon, one of the artist's most famous paintings, also at the Museum of Modern Art, New York. Picasso's design for his monumental steel sculpture on Daley Plaza in downtown Chicago is also in the exhibitionCamille Pissarro (8)
Pierre-Paul Prud'hon
The Prud'hon Study of Putti is related to a painting in the Louvre
Odilon Redon
Pierre-Auguste Renoir
Pierre-Henri Révoil
Georges Rouault (3)
Georges Seurat
Henri de Toulouse-Lautrec
Vincent van Gogh
Vincent Van Gogh's etching, Portrait of Doctor Gachet, which depicts the doctor who was treating his mental illness, is the only print the artist produced in his entire career. Just two weeks after making the print, Van Gogh tragically committed suicide.
Jacques Villon (9)
Edouard Vuillard
Types of mediums featured in exhibition and descriptions:
Drawings, prints, paintings and sculpture
Types of prints: lithographs, etchings (including drypoint, aquatint, roulette, and soft ground), and woodcuts
Drawing materials include: pastel, graphite, watercolor, ink, charcoal, chalk, gouache
Sculptures are all bronzes
Paintings are oil on canvas
The time period covered by this exhibition:
The nineteenth and twentieth centuries, more specifically, about 1800 through 1960.
Styles or movements of art reflected in this exhibition:
7 including: Neo-classicism, Romanticism, Realism, Impressionism, Post-Impressionism, Fauvism, and Cubism.
Definitions for styles of movements of art:
Neoclassicism was a movement in late eighteenth- and early nineteenth-century Europe focused on reviving the cultures of ancient Rome and Greece due to the order, logic and restraint that was seen as characterizing the style and subject matter of art from those places and periods.
Romanticism began around 1800 in response to the austerity and sobriety of Neoclassical art. It was a movement that focused on emotion and subjectivity, often using expressive color and mark-making to enhance the portrayal of subject matter.
Realism began in the mid-nineteenth century and rejected the idealization that artists saw in traditional academic painting in favor of direct and un-idealized depictions of modern life.
The Impressionists were a loosely-formed group of artists who organized their own exhibitions in late nineteenth-century Paris and made art focused on capturing quick impressions of contemporary life using sketchy brushstrokes and bright colors meant to translate the effects of natural light.
Post-Impressionism emerged in response to Impressionism, and encompassed a range of styles that responded to that movement. Some artists focused on esoteric, dream-like subjects rather than those taken from contemporary life, and others experimented with new ways of using color and form.
Fauvism began in early twentieth-century France and focused on using bold colors and loose brushstrokes to respond subjectively to subject matter. The movement's name comes from the French word for "wild beast"—a phrase used to describe these artists' paintings in an early exhibition by a contemporary critic.
Cubism was a movement started by Pablo Picasso and Georges Braque in the early twentieth century that focused on reducing objects or figures to basic geometric forms, often in order to present different perspectives within the same image.
Definition of modern art:
Although modern art is a broad term, it can generally be said to have begun in nineteenth-century Paris as artists began to move away from the traditions and hierarchies that had governed painting for centuries and to seek out new ways to express themselves and the world around them.
ADAGP Paris and DACS London