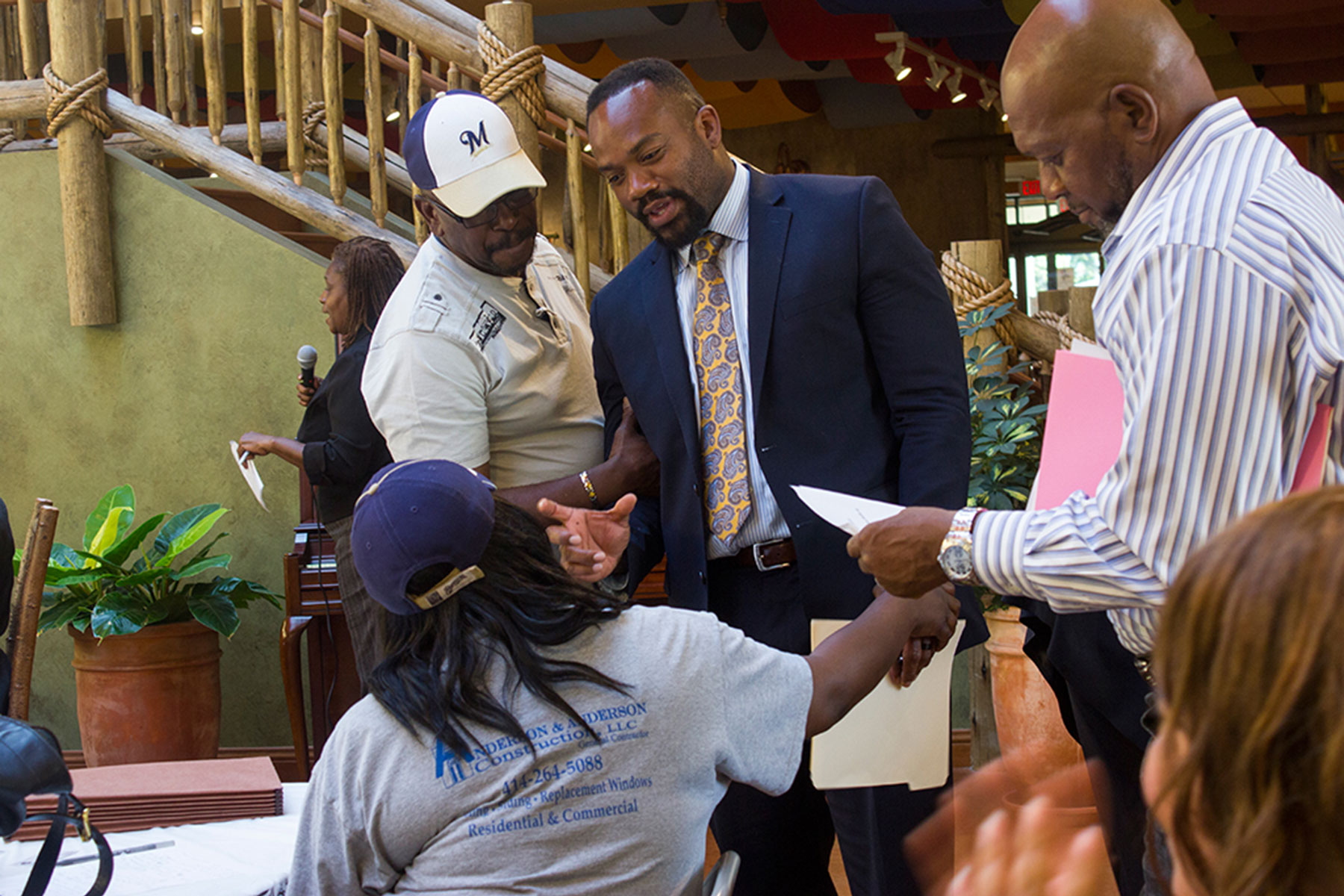 It was the anti-shark tank.
Taking an untraditional approach, a Milwaukee business incubator event held Wednesday, June 29, gave north-side entrepreneurs advice on how to realize their business dreams and nurture their neighborhood in the bargain.
"I saw so many business hopefuls getting together with one another and discussing possibilities for collaboration and how they could succeed together," said Sister Edna Lonergan, president of St. Ann Center for Intergenerational Care, which hosted the incubator in collaboration with Ald. Russell W. Stamper II and the Marketplace Business Improvement District 32. "Everyone walked away with practical information to help them grow a successful business. There wasn't one winner…there were many."
Eighteen entrepreneurs from Aldermanic District 15 gathered at St. Ann Center's Bucyrus Campus, 2450 W. North Avenue, for an opportunity to pitch their ideas to a panel of investors, lawyers and business coaches. With the theme "Building the Neighborhood from Within," the aim of the incubator event was to promote homegrown commerce by tapping the talents and creativity of residents who live and work in the district.
John Anderson, who wants to expand his residential and commercial construction company, came to the incubator looking for resources to upgrade his business office. "I met a gentleman here today who trains people in office skills, and he's willing to help me develop my staff," he said. A fellow incubator entrepreneur, who has a computer sales and service business, "suggested how I can set up a more modern and efficient computer system," Anderson added.
Jessie Spraggins submitted her proposal to the incubator, hoping to grow her business startup, the Job Development Resale Center. She uses a storefront on 56th and Vliet Street to sell gently used designer clothing, and to train her volunteer staff on every aspect of getting a job—from preparing a resume to interviewing and dressing for success. "This incubator was a wonderful networking opportunity," she said. "I talked to people I'd not normally run into, with great ideas about business development. There are plenty of 'no's' out there. I just have to keep searching until I find my 'yes.'"
Husband and wife Sharon and Larry Adams were impressed with the number of business mentors and investors who were excited about their idea for a neighborhood garden center. "Our goal is to be in a start-up operation in 2017…maybe, a launch with lilies," Sharon Adams said. "It would be a wonderful symbol of resurrection."
Stamper expressed gratitude to the dozens of community members who submitted business ideas and to the incubator coordinators. "Thank you to Sister Edna and the St. Ann Center team for their commitment and service to this community. We have developed a partnership through teamwork to bring resources together to help build this community, and I look forward to much more progress in the 15th District." Plans are being discussed to hold another business incubator on an annual or semi-annual basis.