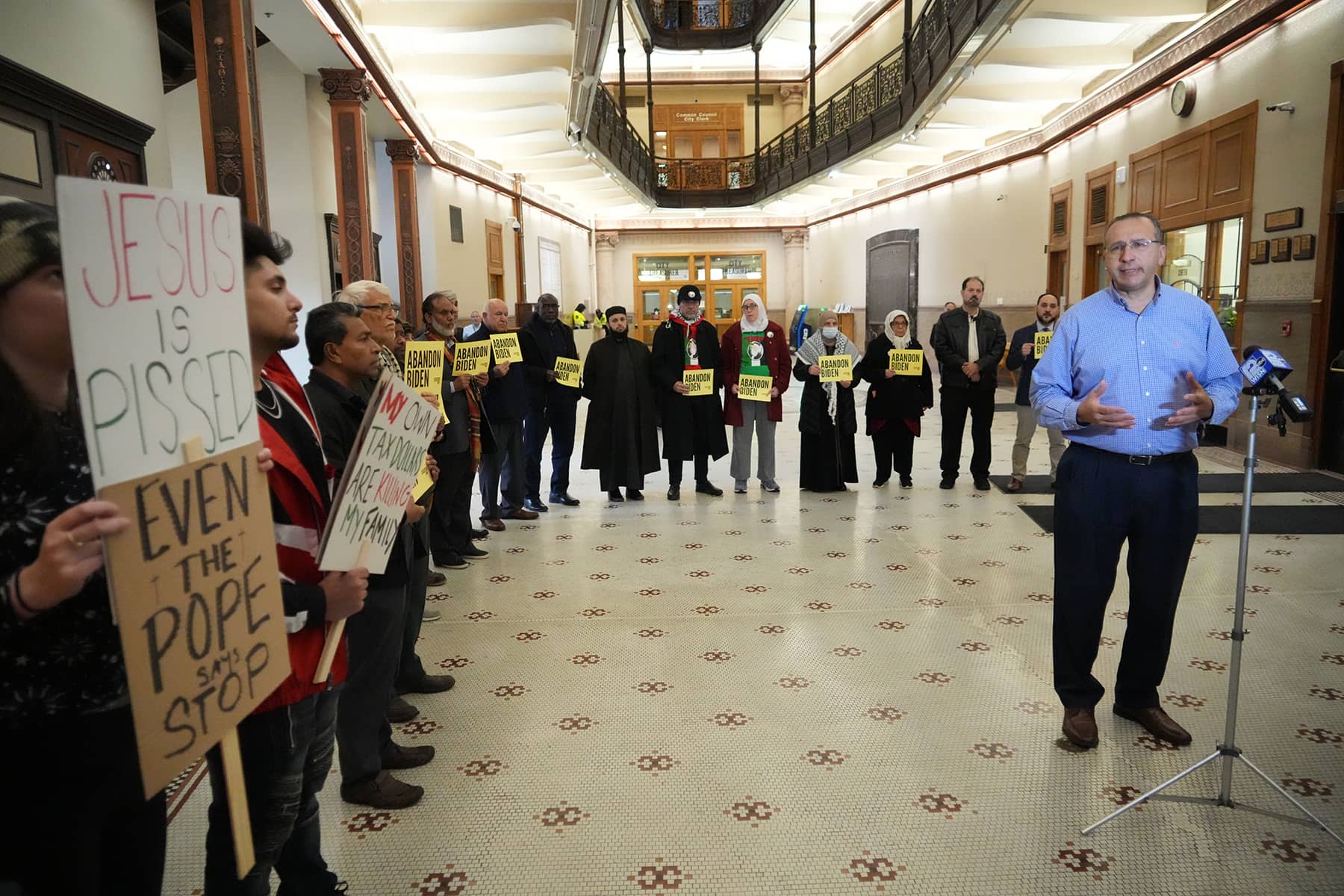 Muslim leaders from across the state and the Wisconsin Christians for Justice in Palestine held a press conference at Milwaukee City Hall on November 9, making a public pledge that without a ceasefire and immediate assistance of the people in Gaza, they would not vote for President Biden or other any elected officials in the next election.
The collection of Wisconsin leaders, in their individual capacities, pledged to #AbandonBiden, and other elected officials in 2024, and to actively campaign for their communities to follow suit.
"Some people will say, 'well, are you gonna vote for one of the Republicans like Trump or DeSantis, who had been saying terrible things as well?' The answer to that is no. The answer to that is we have a conscience. And it's not going to be a vote for the lesser of two evils anymore," said Othman Atta, Executive Director of the Islamic Society of Milwaukee. "The Democratic Party is on notice, as is the Republican Party, that you pick the candidates and we can choose not to vote for them. So you better pick the right candidate."
The war, now in its second month, was triggered by the October 7 Hamas attack in southern Israel. Almost 11,000 Palestinians have been killed since, with 75% of them being women and children. The U.N. recently referred to Gaza as a "graveyard for children."
"I speak at my individual capacity here to all of you," said Younis Zaidan, president of the Islamic Center of Wisconsin in Appleton and the Fox Valley area. "I do speak with my community members in Appleton, and in the surrounding areas off to Green Bay and Neenah, and other towns. I can tell you for sure, neither I nor my community members in Appleton and the Fox Valley area would vote for Biden, if there is no ceasefire immediately."
Members of the coalition contended that the Biden Administration has facilitated the genocide of Palestinians in Gaza, through his refusal to demand a ceasefire.
"People in Gaza have run out of water. People are even sharing their last 8 ounces a day ration with animals in the street because even they are suffering," said Janan Najeeb, President of the Muslim Milwaukee Women's Coalition. "Babies have no formula. In a place where they wash diapers, they have no water. There is no longer fuel to support the incubators in the remaining hospitals. The situation is critical."
More than two-thirds of Gaza's population of 2.3 million have fled their homes since the war began, with hundreds of thousands heeding Israeli orders to flee to the southern part of the enclave. But the conditions there are also dire. Israel has continued to strike what it says are militant targets in the south, but often crushing homes with families inside.
"I don't use the word genocide very often. But there is no doubt in my mind that is what is going on right now against innocent civilians. How can we allow a humanitarian nightmare to take place?" added Atta. "Ironically, today is the anniversary of Kristallnacht, which was another major war crime – if I can call it a crime against humanity – where Jews were attacked in Europe. And today, after more than a month, we see another entire civilian population that is being wiped off the face of the earth in Gaza."
Also on November 9, embattled Israeli Prime Minister Benjamin Netanyahu reluctantly agreed to put in place four-hour daily humanitarian pauses in its assault on Hamas in northern Gaza. President Joe Biden reportedly pressed for a multi-day stoppage to the fighting in a bid to negotiate the release of hostages held by the militant group.
"I've asked for even longer pauses," said President Biden during a press conference in Washington DC. He added that there was "no possibility" of a formal cease-fire at the moment, and said it had "taken a little longer" than he hoped for Israel to agree to the humanitarian pauses.
Secretary of State Antony Blinken warned Netanyahu during his recent visit to Israel that he risked destroying an eventual possibility for peace unless he acted swiftly to improve humanitarian conditions in Gaza for Palestinian civilians, as he intensifies his war against Hamas.
In a blunt call for Israel to pause military operations, to allow for the immediate and increased delivery of assistance, Blinken said the situation would drive Palestinians toward further radicalism and effectively end prospects for any eventual resumption of peace talks.
"Three of the four Christian gospels record Jesus taking special care to emphasize the inherent value of children: 'let the children come to me and do not hinder them,'" said Rev. Dr. Lisa Bates-Froiland of Redeemer Lutheran Church. "The number of civilians dead — over 4,000 of them children — is reprehensible beyond words and cannot be considered 'defense.' The killing must stop: Cease-fire now."
The U.S. House recently passed a plan to provide $14.2 billion dollars in aid to Israel, and additionally voted to censure Rashida Tlaib, the only Palestinian-American member of Congress, for condemning Israeli war crimes.
More than 1,400 people have died in Israel since the start of the war, most of them civilians killed by Hamas militants during their initial incursion. Israel said 32 of its soldiers have been killed in Gaza since the ground offensive began.
After the press conference concluded at City Hall, the crowd of several hundred marched along Water Street to the ManpowerGroup's headquarters in downtown Milwaukee. A secondary rally was held outside the building. The ManpowerGroup has a major presence in Israel, with at least 18 subsidiaries working under the brands Manpower, Experis, and Talent Solutions.
Members of the Wisconsin Coalition for Justice in Palestine called on the company to join the Boycott, Divestment, and Sanctions (BDS) movement to protest Israel's apartheid system that activists say treats Palestinians as less than human.